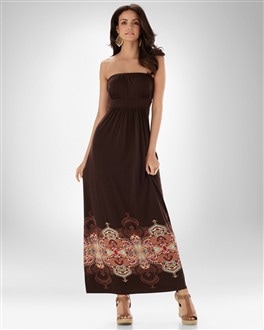 mouse over photo to zoom

click for larger image
Vanessa Maxi Dress
Style:
Supremely soft knit dress. Includes removable straps for multiple looks. Try it with our Multi Way Allura Bra for even more support.
So luxuriously soft and silky, our stretch knit feels absolutely yummy and drapes beautifully.
Includes removable, convertible straps. Wear it strapless, crisscrossed or traditional.
Double-layered bust.
Empire waist.
Length: 56.5".
90% Polyester, 10% Spandex. Machine wash, cold. Imported.
We're so sorry: this item sold out sooner than expected. For an equally comfortable substitute, please call our Solution Experts at 1.866.768.7662. Or click on Soma Chat below for immediate assistance.