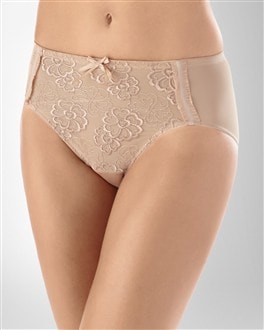 mouse over photo to zoom

click for larger image
Soma Embroidery High Leg Brief
Style:
New Arrival!
Choose 5; Buy 3, Get 2 Free
Embroidery highlights the floral motif of this beautiful brief with a soft lace front edged in ruffles, and a silky smooth, microfiber back.
Full back coverage.
Lace front lined in soft mesh.
Layered bow at center front.
100% cotton liner.
85% Nylon, 15% Spandex. Machine wash, warm. Imported.
We're so sorry: this item sold out sooner than expected. For an equally comfortable substitute, please call our Solution Experts at 1.866.768.7662. Or click on Soma Chat below for immediate assistance.