Unassigned Products - SOMA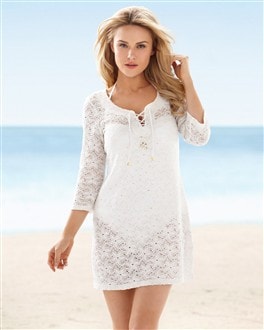 mouse over photo to zoom

click for larger image
Stretch Lace Tunic
Style:
Jessica's Pick!
Live. Lounge. Wear.™ Lace skips the formalities on a soft knit tunic that is cool and relaxed over leggings, slim pants or a swimsuit.
Slender silhouette.
Neckline drawstring capped with goldtone beads.
3/4 sleeves.
Side vents.
67% Rayon, 33% Nylon. Machine wash, cold. Imported.
WHY JESSICA LOVES THIS
Since last year's royal nuptials, there's been quite a fashion frenzy over lace. We've interpreted this feminine trend in a modern and versatile way, with a sophisticated tunic that can be worn with a cami over slim pants or leggings, or as a chic swimsuit coverup.
We're so sorry: this item sold out sooner than expected. For an equally comfortable substitute, please call our Solution Experts at 1.866.768.7662. Or click on Soma Chat below for immediate assistance.