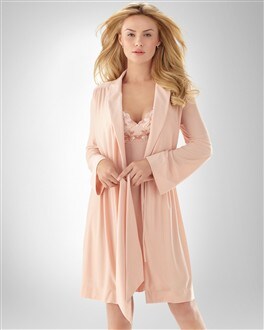 mouse over photo to zoom

click for larger image
Sensuous Lace Robe
Style:
With a fluid, velvety softness that invites you to melt into relaxation, this jersey knit robe has a soft-draping shawl collar, long sleeves, side pockets and set-in sash. Wrap over the Sensuous Lace Chemise, or Cami and Short.
Sensuous stretch knit jersey.
Pretty drape from soft gathers at the shoulders.
Wrap front with inside anchor tie.
Set-in sash.
Length: 37.5" from shoulder.
90% Polyester, 10% Spandex. Machine wash, cold. Imported.
We're so sorry: this item sold out sooner than expected. For an equally comfortable substitute, please call our Solution Experts at 1.866.768.7662. Or click on Soma Chat below for immediate assistance.