Additional 30% Off Already Reduced Clothing & Sleep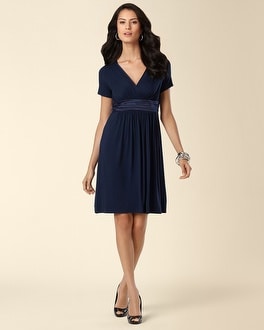 mouse over photo to zoom

click for larger image
Satin Banded Navybound Dress
Style:
As if wearing this sensuously soft knit didn't feel luxurious enough, we've added satin charmeuse pleats at the empire waist. They band the waist with a soft luster between a satin-piped surplice neckline and gathered skirt.
Pullover ease.
Satin-piped surplice neckline. Soft gathers on the shoulders. Empire waist banded with pleated satin charmeuse in the front. Short sleeve.
Length: approximately 37.5".
95% Rayon, 5% Spandex. Machine wash. Imported.
We're so sorry: this item sold out sooner than expected. For an equally comfortable substitute, please call our Solution Experts at 1.866.768.7662. Or click on Soma Chat below for immediate assistance.