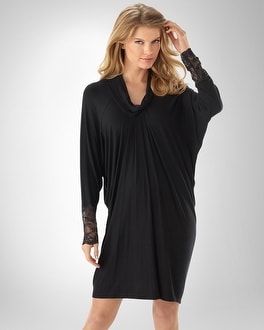 mouse over photo to zoom

click for larger image
Midnight By Carole Hochman Still The One Sleepshirt
Style:
Web Exclusive!
Comfortable for lounging at bedtime, this little black sleepshirt could easily take on hostess duties, or cover a swimsuit. The tapered silhouette is effortlessly sophisticated, with a soft cowl neckline, dramatic dolman sleeves, beautiful lace cuffs and soft draping in sensuously soft jersey knit.
Pullover stretch fit.
Generous draping covers waist and tummy.
From Midnight by Carole Hochman.
95% Modal, 5% Spandex. Machine wash, cold. Imported.
We're so sorry: this item sold out sooner than expected. For an equally comfortable substitute, please call our Solution Experts at 1.866.768.7662. Or click on Soma Chat below for immediate assistance.