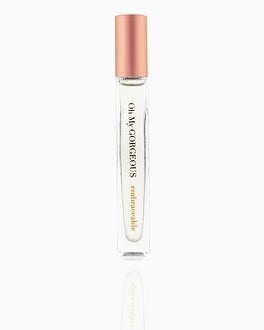 mouse over photo to zoom

click for larger image

Oh My Gorgeous Embraceable .33 oz Eau de Parfum Rollerball
Style:
Free Rollerball w/$49 Eau de Parfum Purchase
Oh My Gorgeous® Embraceable™ Eau de Parfum Rollerball has a fresh and alluring blend of bright bergamot and water lily embraced with elegant and intriguing jasmine, delicate musk and comforting woods.
Compact rollerball fits in your handbag for a quick refresh.
Fresh scent.
.33 fl oz/10 ml
We're so sorry: this item sold out sooner than expected. For an equally comfortable substitute, please call our Solution Experts at 1.866.768.7662. Or click on Soma Chat below for immediate assistance.