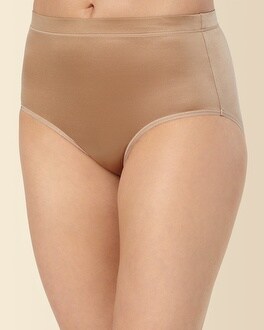 mouse over photo to zoom

click for larger image
Sensuous Modern Brief
Style:
6 for $36
Underneath it all, the everyday luxury you deserve. Soft, silky microfiber brief feels divine and looks smooth under clothes.
Lustrous sheen on the outside.
Wide, covered elastic waistband sits flat against the skin.
Soft, flat elasticized leg opening.
79% Nylon, 21% Spandex. 100% Cotton gusset. Machine wash. Imported.
We're so sorry: this item sold out sooner than expected. For an equally comfortable substitute, please call our Solution Experts at 1.866.768.7662. Or click on Soma Chat below for immediate assistance.