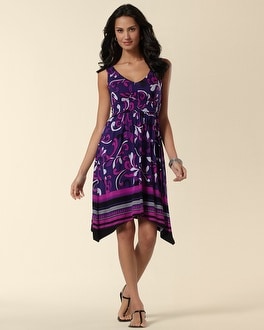 mouse over photo to zoom

click for larger image
Smocked Vibrancy Empire Dress
Style:
Mod border print in the gem-rich purples and pinks that bridge winter (with a shrug) to spring. A luscious print for this dress with a double-scooped neckline, smocked elastic waist and new scarf hem that is so very au courant.
Bra-friendly neckline and double-layered bodice for soft support.
Gathered skirt flows freely below an elastic smocked empire waist.
Approximate length 37.5" from shoulder.
95% Rayon, 5% Spandex. Machine wash, cold; tumble dry low. Imported.
We're so sorry: this item sold out sooner than expected. For an equally comfortable substitute, please call our Solution Experts at 1.866.768.7662. Or click on Soma Chat below for immediate assistance.