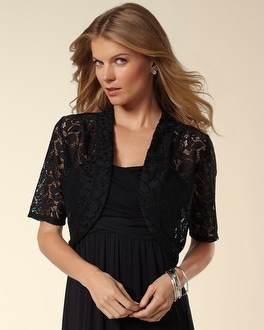 mouse over photo to zoom

click for larger image
All Over Lace Cover Up Shrug
Style:
All-over lace adds romance to our shrug's cover story. Pretty over bare shoulders.
Soft lace.
Open front with rounded hem.
Approximate length: 14".
100% Nylon. Machine wash, cold; tumble dry low. Imported.
We're so sorry: this item sold out sooner than expected. For an equally comfortable substitute, please call our Solution Experts at 1.866.768.7662. Or click on Soma Chat below for immediate assistance.