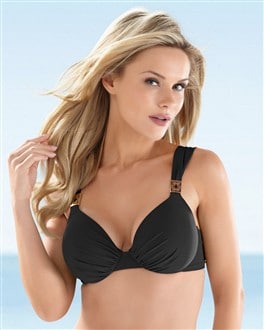 mouse over photo to zoom

click for larger image
Natori Solid Full Coverage Bikini Top
Style:
This bikini top is quintessentially elegant and undeniably feminine. Wider straps and a fabulous underwire bra support the fuller bust. Plus a tie back and Natori's unique sizing create a fit that's absolute perfection
Adjustable straps with signature hardware.
Underwire bra with molded foam cups.
Minimizes bust.
Fully lined.
Fabric has a soft, sensual feel.
Unique sizing features a tie-back close to offer multiple bra sizes in one.
Made by Natori.
92% Nylon, 8% Spandex. Machine wash, cold. Imported.
FREE SHIPPING AND RISK-FREE RETURNS.
We're so sorry: this item sold out sooner than expected. For an equally comfortable substitute, please call our Solution Experts at 1.866.768.7662. Or click on Soma Chat below for immediate assistance.