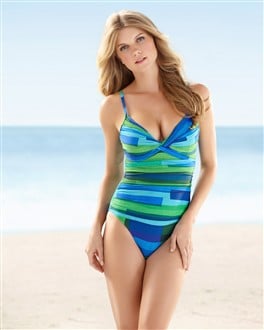 mouse over photo to zoom

click for larger image
La Blanca Blue Horizon One Piece
Style:
Modern maillot colorblocked with shades of the sea. A chic twist and ruched sides create a beautiful silhouette.
Adjustable straps.
Made by La Blanca.
80% Nylon, 20% Spandex. Hand wash. Imported.
FREE SHIPPING AND RISK-FREE RETURNS.
We're so sorry: this item sold out sooner than expected. For an equally comfortable substitute, please call our Solution Experts at 1.866.768.7662. Or click on Soma Chat below for immediate assistance.