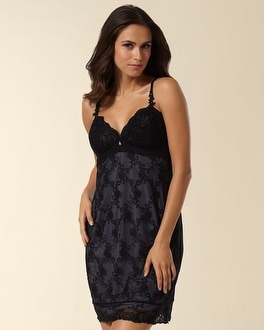 mouse over photo to zoom

click for larger image
Embroidered Mesh Chemise
Style:
A little night magic. Below a contoured bodice, embroidered flowers are trellised on black netting over a soft lilac knit lining. Embellished with diamante sparkle on the straps, centered rhinestone charm, and a piped scalloped lace hem.
Soft foam cups with brushed elastic underneath.
Scalloped lace contour band under a darted bust.
Back-adjustable stretch straps.
Approximate length 35.5" from shoulder.
28% Polyester, 14% Rayon, 53% Nylon, 5% Spandex. Machine wash, cold; tumble dry low. Imported.
We're so sorry: this item sold out sooner than expected. For an equally comfortable substitute, please call our Solution Experts at 1.866.768.7662. Or click on Soma Chat below for immediate assistance.