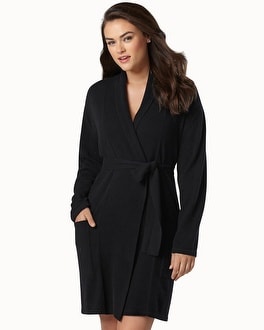 mouse over photo to zoom

click for larger image
Short Cashmere Robe
Style:
Online Only!
Luxurious cashmere robe caresses with unrivaled softness. Classically styled with a shawl collar, deep patch pockets and tie sash. Add the equally luxurious Cashmere Slide and be pampered head to toe.
Knit from the finest cashmere yarn, prized worldwide for its unrivaled softness and superior, lightweight warmth.
Belt loops and sash.
Pockets.
Approximately 36.5" long.
100% Cashmere. Dry clean. Imported.
We're so sorry: this item sold out sooner than expected. For an equally comfortable substitute, please call our Solution Experts at 1.866.768.7662. Or click on Soma Chat below for immediate assistance.