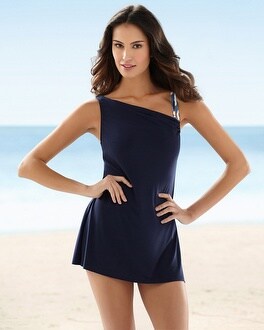 mouse over photo to zoom

click for larger image
Magicsuit Brianna Swimdress
Style:
Magicsuit® convertible one-piece navy dress with a wave of indigo blue abstract circles reveals a little or a lot. Adjust ruching for a more asymmetrical neckline, then tie the split skirt at the hips or waist to show the bottom beneath.
Underwire.
Due to the high spandex content, you may want to order one size up.
Double spaghetti straps on one shoulder meet at the low scoop back.
Eleven inch slit can be tied at the side to control coverage of the tummy and hips.
Full suit underneath.
Sizes: 8-16.
From Magicsuit® by Miraclesuit®.
69% Nylon, 31% Lycra. Hand wash, cold. USA/Imported.
All swimwear available online, or call your favorite Soma Intimates for specific style and size availability. Check our store locator on our home page for contact information.
FREE SHIPPING AND RISK-FREE RETURNS.
We're so sorry: this item sold out sooner than expected. For an equally comfortable substitute, please call our Solution Experts at 1.866.768.7662. Or click on Soma Chat below for immediate assistance.