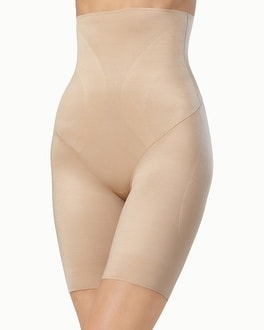 mouse over photo to zoom

click for larger image
Vanishing Edge High Waist Thigh Slimmer
Style:
Improved Fit! Now available in XXL! As Seen in O, The Oprah Magazine!
With breathable silicone inside at the top and at leg openings, this lightweight thigh slimmer stays perfectly in place and shapes with a flawless, no-lines look. Sleek compression fabric is fused with powerful, ultrathin panels to secretly tone and shape midriff, tummy and thighs.
Improved with breathable silicone at the top for an even better stay-put fit.
Medium control for tummy, waist and thighs.
Patented Vanishing Edge technology keeps leg openings in place with breathable silicone for a certified no-ride fit.
Smooth compression fabric has a silky feel.
Body: 68% Nylon, 32% LYCRA® Spandex; Reinforcement: 74% Nylon, 26% LYCRA® Spandex. Machine wash. Imported.
We're so sorry: this item sold out sooner than expected. For an equally comfortable substitute, please call our Solution Experts at 1.866.768.7662. Or click on Soma Chat below for immediate assistance.