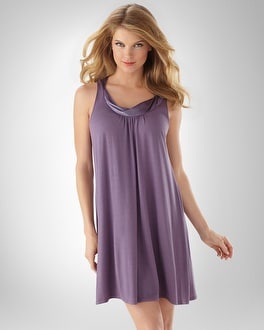 mouse over photo to zoom

click for larger image
Midnight By Carole Hochman Forever & Always Chemise
Style:
Web Exclusive!
Refined simplicity fits all occasions, and can be utterly elegant when it's designed as beautifully as this knit chemise with a graceful satin-twist neckline.
Ultra silky jersey knit.
Cut-in shoulders.
Gathers in front create a pretty drape and add comfort.
From Midnight by Carole Hochman.
Hits at mid thigh.
95% Modal, 5% Spandex. Machine wash, cold. Imported.
We're so sorry: this item sold out sooner than expected. For an equally comfortable substitute, please call our Solution Experts at 1.866.768.7662. Or click on Soma Chat below for immediate assistance.