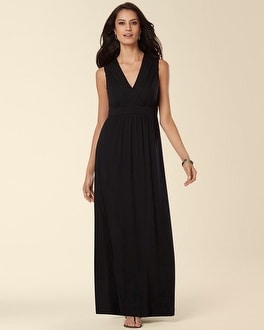 mouse over photo to zoom

click for larger image
Sleeveless Pleated Lace Maxi Dress Black
Style:
Online Only! Also available in XXL!
Long, lean and luscious. Pleats adorn the surplice neckline and waist of this maxi length dress in classic black with peak-a-boo floral lace inset at the upper back.
Soft jersey knit with comfort stretch and ease.
Sleeveless style with wrapped surplice neckline.
Side seam pockets designed to lie flat.
Lined bust.
Approximately 56.5" from shoulder on body.
95% rayon, 5% spandex. Machine wash, cold. Imported.
We're so sorry: this item sold out sooner than expected. For an equally comfortable substitute, please call our Solution Experts at 1.866.768.7662. Or click on Soma Chat below for immediate assistance.