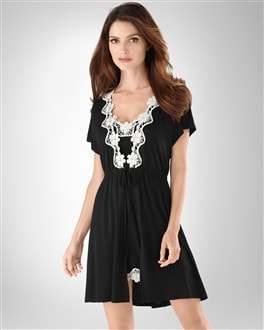 mouse over photo to zoom

click for larger image
Embraceable Cool Nights Heirloom Lace Robe
Style:
From our Embraceable™ collection, a short, flirty robe trimmed with a daisy chain of crocheted flowers. Soothingly soft In the Cool Nights™ knit you've come to love, it's adorable paired with the Heirloom Lace Chemise.
Superior to cotton in softness, our Cool Nights? knit naturally draws perspiration away from skin to keep you cool and dry at night.
Stretch knit retains shape and silky drape, even after countless washings.
Open front trimmed with crochet.
Ties at waist.
Raglan sleeves.
Non-clling.
93% Rayon, 7% Spandex. Machine wash, cold. Imported.
WHY JESSICA LOVES THIS
It's all in the details! I am obsessed with this gorgeous and feminine wrap with rich lace detailing and at $59, it looks much more expensive than it actually is!
We're so sorry: this item sold out sooner than expected. For an equally comfortable substitute, please call our Solution Experts at 1.866.768.7662. Or click on Soma Chat below for immediate assistance.