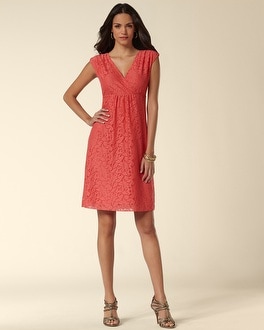 mouse over photo to zoom

click for larger image
Surplice Lace Dress
Style:
Simply gorgeous. A crossover neckline and allover lace give this soft knit dress a modern look with an easy fit. Wear with the Embraceable™ Average Cover Bra.
Surplice neckline.
Double-layered bodice.
Elasticized empire waist.
Approximate length: 37.5".
Lace: 100% Nylon. Liner: 92% Nylon, 8% Spandex. Machine wash, cold. Imported.
We're so sorry: this item sold out sooner than expected. For an equally comfortable substitute, please call our Solution Experts at 1.866.768.7662. Or click on Soma Chat below for immediate assistance.