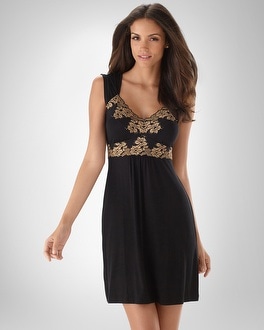 mouse over photo to zoom

click for larger image
Ravishing Cool Nights Chemise
Style:
Available in XXL!
Shimmering bronze embroidered lace brings elegance to a chemise of soft, cool and comfy Cool Nights™ knit. At the shoulders, soft gathers are a pretty touch leading to a high knit back perfect for cooler nights.
Breathable Cool Nights™ knit keeps you cool and dry, and is superior to cotton in softness.
Contoured elasticized seam with a band of stretch lace shapes the bodice and provides soft support.
Non-cling knit retains shape and silky drape, even after countless washings.
93% Rayon, 7% Spandex. Machine wash, cold. Imported.
We're so sorry: this item sold out sooner than expected. For an equally comfortable substitute, please call our Solution Experts at 1.866.768.7662. Or click on Soma Chat below for immediate assistance.