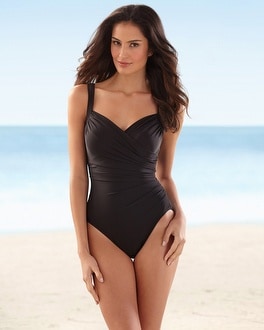 mouse over photo to zoom

click for larger image
Miraclesuit Must Haves Sanibel DD Cup One Piece
Style:
Online Exclusive!
Look 10 pounds lighter in 10 seconds®. Timeless one-piece offers perfect coverage and firm control, in a print inspired by nature. A surplice neckline and ruching at the midriff create a flattering, feminine fit.
Due to the high spandex content, you may want to order one size up.
Built-in bra with unlined, double-layered cups.
Underwire.
Wide, supportive straps.
Lined front.
Scoop back.
Sizes 10DD-18DD.
Made by Miraclesuit®.
69% Nylon, 31% Lycra. Hand wash, cold. US/Imported.
All swimwear available online, or call your favorite Soma Intimates for specific style and size availability. Check our store locator on our home page for contact information.
FREE SHIPPING AND RISK-FREE RETURNS.
We're so sorry: this item sold out sooner than expected. For an equally comfortable substitute, please call our Solution Experts at 1.866.768.7662. Or click on Soma Chat below for immediate assistance.