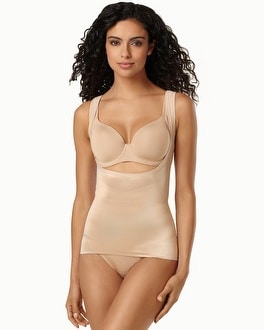 mouse over photo to zoom

click for larger image
TC Fine Intimates Even More Firm Control Torsette
Style:
Online Only!
Firm control torsette shapes and smoothes your tummy, waist and back with seamless, invisible control panels.
Smooth appearance with Wonderful Panel ® with targeted control yet adjustability.
Wonderful Edge ® on legs for no lines, no ride.
Wear with your own bra.
No hook and eye closures. Padded tank straps.
TC Intimates Even More ® control.
Body: 73% Nylon, 27% Spandex; Straps: 89% Polyester, 27 % Spandex. Machine wash, tumble dry. Imported.
We're so sorry: this item sold out sooner than expected. For an equally comfortable substitute, please call our Solution Experts at 1.866.768.7662. Or click on Soma Chat below for immediate assistance.