Embraceable Leopard Red Sleepshirt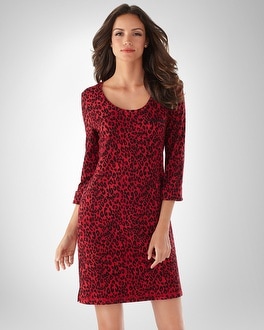 mouse over photo to zoom

click for larger image
Embraceable Leopard Red Sleepshirt
Style:
There's no substitute for the simple comfort of a sleepshirt warmed up in red-haute leopard. Add a pair of ultra plush Embraceable™ slippers.
Our Embraceable™ collection. The softest, most luxurious in the world.™
Scooped neckline.
Black charmeuse piping on the chest pocket.
3/4 sleeves with faux cuff.
Charmeuse binding on the neck seam.
57% Cotton, 38% Modal, 5% Spandex. Machine wash, cold. Imported.
We're so sorry: this item sold out sooner than expected. For an equally comfortable substitute, please call our Solution Experts at 1.866.768.7662. Or click on Soma Chat below for immediate assistance.