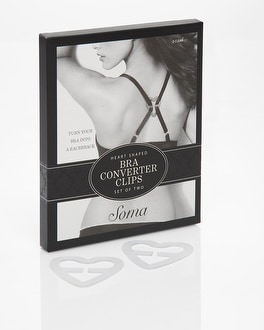 mouse over photo to zoom

click for larger image

Bra Converter Clips RTV
Style:
Heart-Shaped Bra Converter Clips are easy to use, and comfortably pull straps together under styles that are racerback, sleeveless, cutaway shoulder or criss-cross.
Set of 2 clips in clear and nude.
Prevent straps from slipping off. Great for narrow shoulders.
Comfortable against the skin.
Clean with damp cloth.
100% Acrylonitrile butadiene styrene. Imported.
We're so sorry: this item sold out sooner than expected. For an equally comfortable substitute, please call our Solution Experts at 1.866.768.7662. Or click on Soma Chat below for immediate assistance.