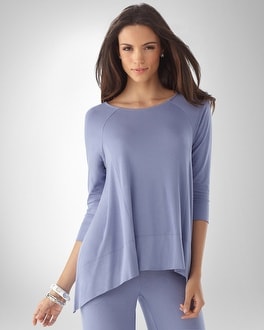 mouse over photo to zoom

click for larger image
Soft Jersey Boatneck 3/4-Sleeve Top
Style:
Ridiculously soft. That's the only way to describe this modern A-line top with a scarf point drape at the sides. A sublimely comfortable combination with the Soft Jersey Pant.
From our luxuriously soft and comfortable Live. Lounge. Wear.™ collection.
3/4 raglan sleeves.
Banded cuffs and hem.
Length: 26.5" from shoulder.
95% Rayon, 5% Spandex. Machine wash, cold; tumble dry low. Imported.
We're so sorry: this item sold out sooner than expected. For an equally comfortable substitute, please call our Solution Experts at 1.866.768.7662. Or click on Soma Chat below for immediate assistance.