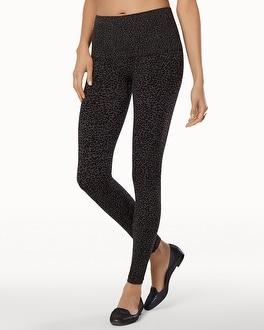 mouse over photo to zoom

click for larger image
Slimming Legging Luxe Leopard Black
Style:
Online Only! Also Available In XXL!
Our stretch legging feels luxurious and has a wide panel that smooths from waist to hip—making "muffin top" less of a problem. Pair with long sweaters, tunics and tees and stay comfy all day.
Tummy-smoothing waistband is ultra soft and ultra-comfortable. Wear it high or low.
27" inseam.
92% Nylon, 8% Spandex. Turn inside out, machine wash, cold; delicate cycle. USA.
We're so sorry: this item sold out sooner than expected. For an equally comfortable substitute, please call our Solution Experts at 1.866.768.7662. Or click on Soma Chat below for immediate assistance.