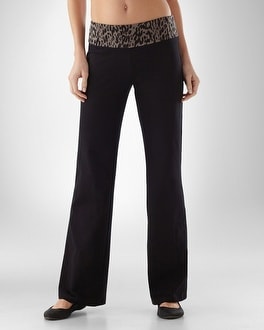 mouse over photo to zoom

click for larger image
Perfect Lounge Contrast Waistband Pant
Style:
When it's a question of comfort, these easy-to-love pants are the answer. An everyday favorite, with a leopard print waistband and just the right amount of stretch. Wear with the Essential Lounge Jacket in Uptown Leopard Cocoa print.
Medium-weight stretch knit.
Stretchy elastic waistband.
31" inseam.
95% Cotton, 5% Spandex. Machine wash, cold. Imported.
We're so sorry: this item sold out sooner than expected. For an equally comfortable substitute, please call our Solution Experts at 1.866.768.7662. Or click on Soma Chat below for immediate assistance.