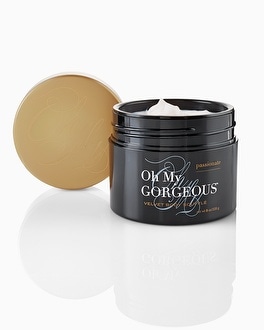 mouse over photo to zoom

click for larger image
Oh My Gorgeous Passionate Velvet Body Soufflé
Style:
Oh My Gorgeous® Passionate™ Velvet Body Soufflé has the richness of a cream formula whipped into a lightweight, highly moisturizing soufflé texture. A unique, luxurious experience scented with a bold and unforgettable blend of mandarin blossom, sheer gardenia and vanilla orchid layered with rich, sensuous amber and exotic patchouli flower.
Formulated with shea butter, coconut oil and heather extract.
Glides on smoothly.
Never greasy.
Net weight 8 oz/225 g
We're so sorry: this item sold out sooner than expected. For an equally comfortable substitute, please call our Solution Experts at 1.866.768.7662. Or click on Soma Chat below for immediate assistance.