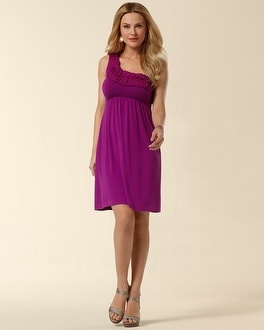 mouse over photo to zoom

click for larger image
One Shoulder Chiffon Applique Dress
Style:
Appliqued chiffon petals ripple along the neckline of this empire dress in our soft and flowy jersey knit.
Lined bodice with removable soft cups.
Includes optional adjustable strap for added support.
Elastic at the neckline and waist.
Approximate back length 37.5" from shoulder.
95% Rayon, 5% Spandex. Machine wash, cold; tumble dry low. Imported.
We're so sorry: this item sold out sooner than expected. For an equally comfortable substitute, please call our Solution Experts at 1.866.768.7662. Or click on Soma Chat below for immediate assistance.