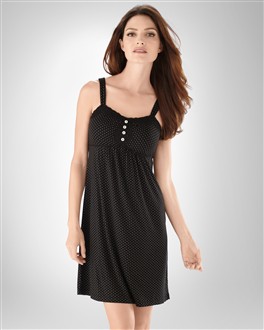 mouse over photo to zoom

click for larger image
Embraceable Cool Nights Mini Dot Black Chemise
Style:
Mini dots have plenty of dash on a chemise trimmed with lace and a quartet of buttons. Modestly revealing, yet undeniably feminine, it's from our Embraceable™ collection featuring the soothingly soft Cool Nights™ knit you've come to love.
Superior to cotton in softness, our Cool Nights™ knit draws perspiration away from skin to keep you cool and dry.
Stretch knit retains shape and silky drape, even after countless washings.
Adjustable straps.
Double-layered bodice.
Elasticized empire waist.
Non-cling.
93% Rayon, 7% Spandex. Machine wash, cold. Imported.
We're so sorry: this item sold out sooner than expected. For an equally comfortable substitute, please call our Solution Experts at 1.866.768.7662. Or click on Soma Chat below for immediate assistance.