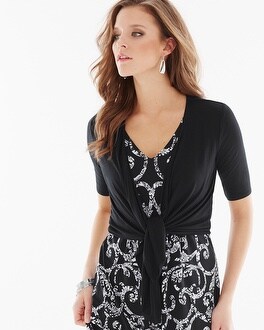 mouse over photo to zoom

click for larger image
Convertible Wrap Black
Style:
Online Only! Also available in XXL!
Goodbye cardigan, hello coverup. Add a touch of warmth and a whole lot of softness with this modern, open-front wrap with supple, extended cascading drape.
Supple, extended cascading drape can be worn tied or open.
Short sleeves.
Approximately 32.5" from shoulder.
95% rayon, 5% spandex. Machine wash. Imported.
Live. Lounge. Wear. Our collection of comfy separates you'll love spending the day in.
We're so sorry: this item sold out sooner than expected. For an equally comfortable substitute, please call our Solution Experts at 1.866.768.7662. Or click on Soma Chat below for immediate assistance.