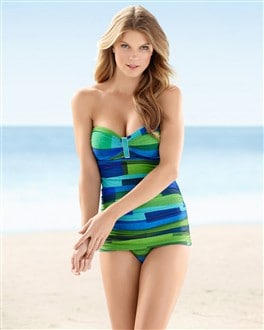 mouse over photo to zoom

click for larger image
La Blanca Blue Horizon Tummy Control Skirt One Piece
Style:
Colorblocked bandeau blends azure blues and verdant greens for a soft take on a hot trend. A sweetheart neckline plays up your curves, while a retro-inspired bottom tones the tummy and covers your hips.
Removable halter strap. Wear as a halter or bandeau.
Soft cup bra.
Side boning at bust.
Slimming, stabilizing mesh lining.
Made by La Blanca.
80% Nylon, 20% Spandex. Hand wash. Imported.
FREE SHIPPING AND RISK-FREE RETURNS.
We're so sorry: this item sold out sooner than expected. For an equally comfortable substitute, please call our Solution Experts at 1.866.768.7662. Or click on Soma Chat below for immediate assistance.