Picture a few of your favorite clothing items. Do you know what they're made of? Have you ever peeked at the tag on a T-shirt, recognized the name of the fabric, but didn't really know what it was? There are many clothing fabric types that aren't talked about often but are worth bringing to light. In fact, some of these materials are pretty common and likely make up a few best-loved items in your wardrobe. In this guide, we're going to sum up five of those fabrics so you can tuck new-to-you knowledge into your fashion toolbelt.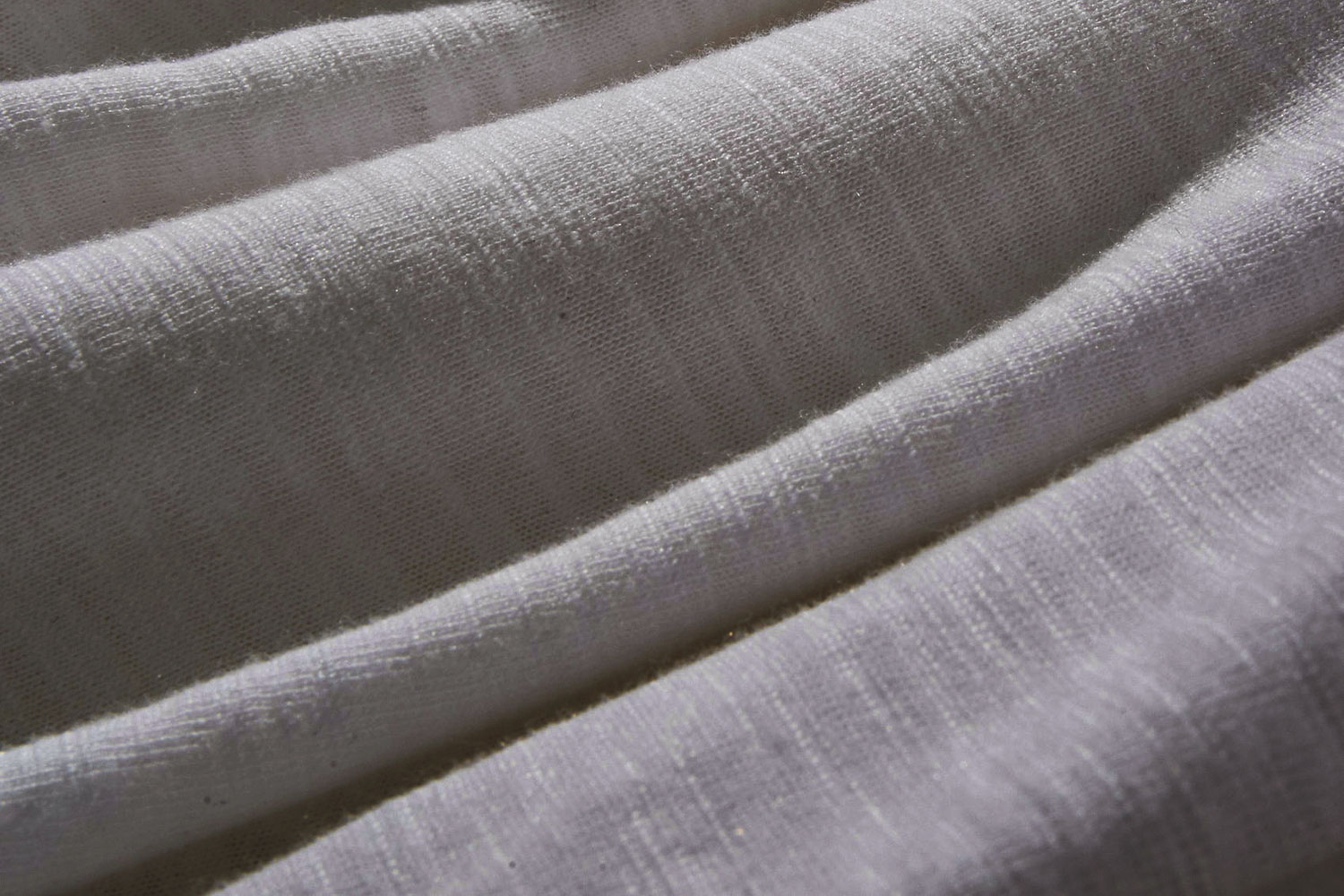 What Are the Most Popular Fabrics?
We've all heard of cotton, leather, and silk—they're some of the most well-known and popular fabrics in the world. But what about modal, recycled nylon, or pima cotton? We've got the answers for you. Keep scrolling to find out what these different types of clothing materials are made of.
What is Pima Cotton?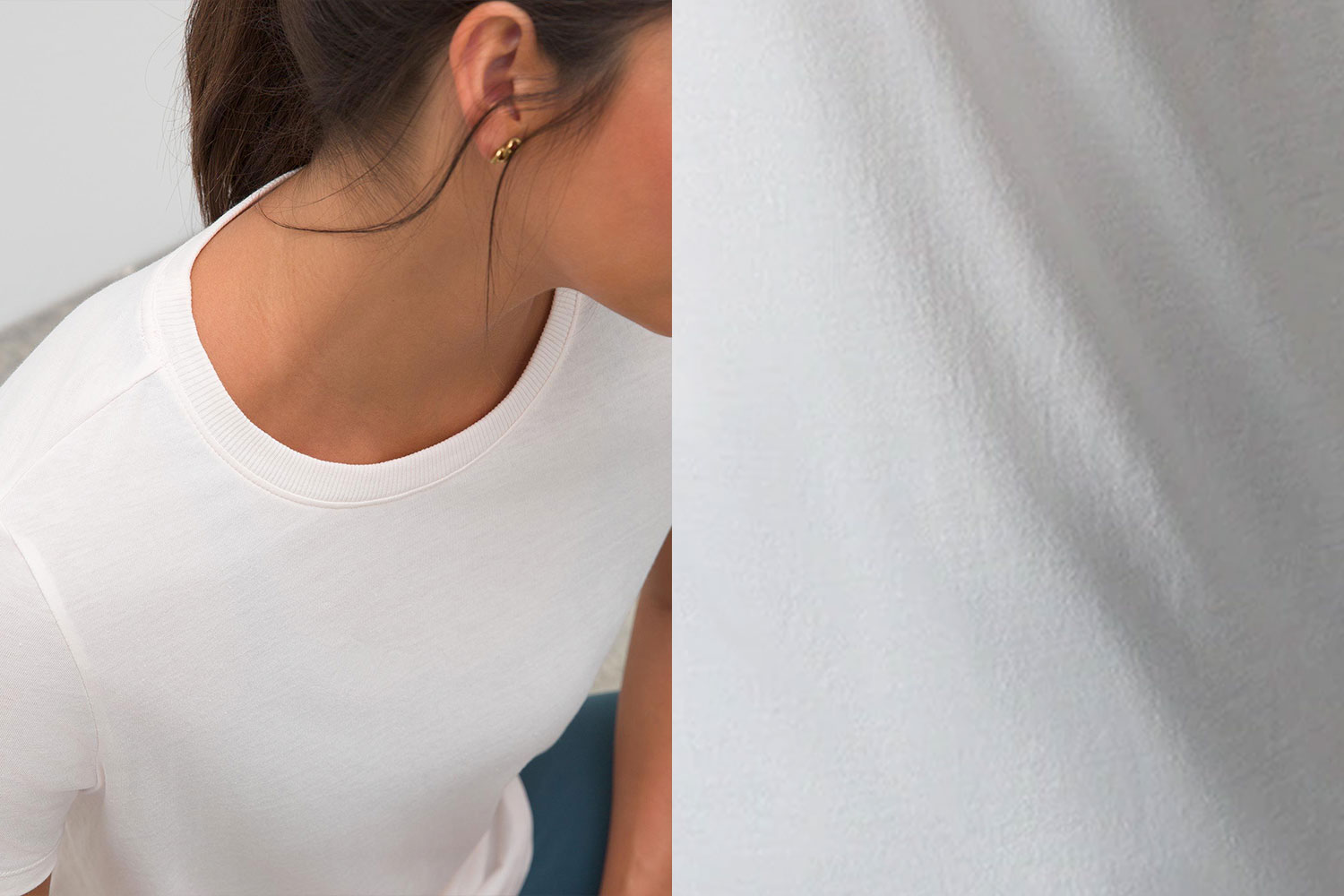 Cotton, the most widely produced natural fiber in the world, is made from a cotton plant's seeds—but what is pima cotton? Pima cotton has extra long cotton fibers which are thinner and silkier and create an incredibly soft, yet durable, fabric. In fact, pima cotton is very breathable, resistant to pilling, and hypoallergenic. So if you've got sensitive skin, this clothing fabric type will be the star of your wardrobe. Fun fact: pima cotton is most commonly used in T-shirts like our Pima Cotton Short Sleeve Tee as well as household items like bedding and towels.
Pro Care Tip: Handwashing is the ideal way to care for your pima cotton items. As any cotton fabric, it's prone to shrinking when submerged in hot water so stick to cool water to maintain the fabric's integrity.
What is Rayon?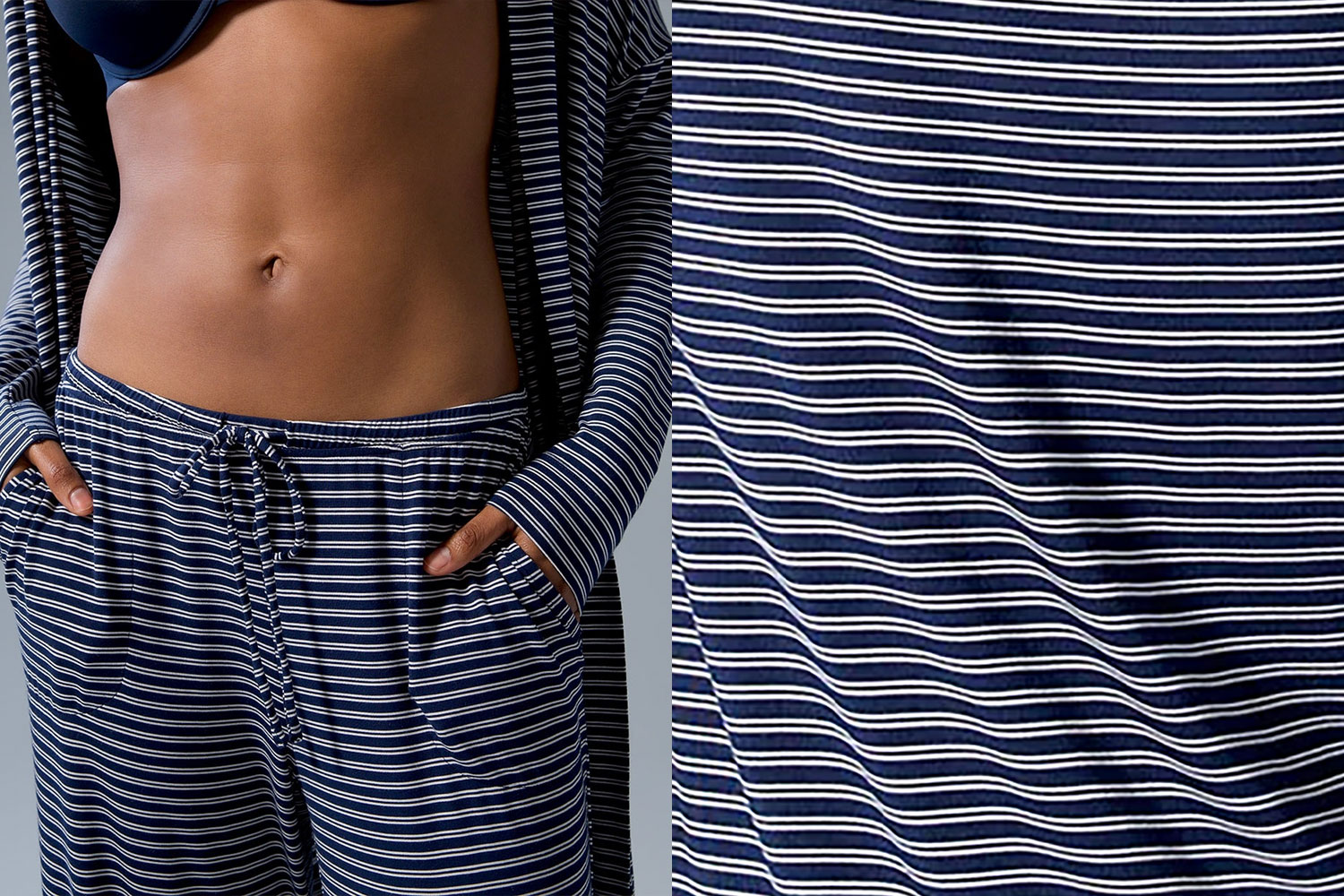 Now for the age old question: what is rayon? We've all heard of it, but most of us probably aren't aware of rayon's origins and properties. While some fabrics are natural and others are synthetic, rayon falls somewhere in the middle. It's considered a semi-synthetic fabric because it's derived from natural cellulose fibers but undergoes various steps of processing to achieve the final product.
The end result is a soft, smooth fabric that can range from having a subtle sheen to a very shiny texture similar to silk. In fact, rayon has the unique ability to mimic many different types of clothing materials which makes it ultra-versatile. Rayon is cool, breathable, and oh-so-soft making it perfect for pajamas—just like our Cool Nights® PJs.
Pro Care Tip: The good news is rayon can go in the washing machine. Feel free to pop into a load of delicates. The cool water will help prevent any mishaping or shrinkage from occurring. With that in mind, tumble dry low or lay flat to dry (to be on the safe side).
What is Modal Fabric?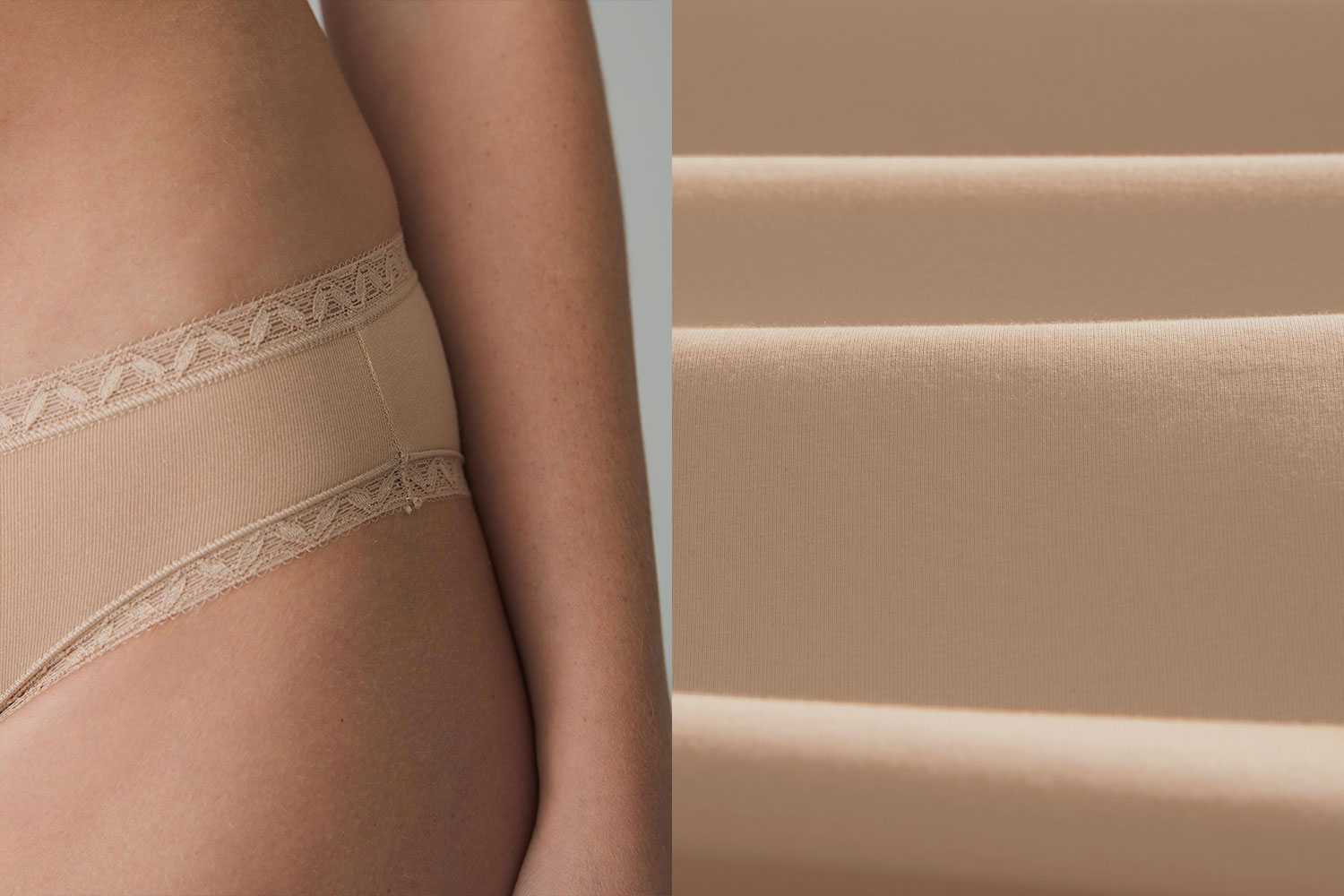 Ready to get a little personal? Often referred to as "underwear fabric," modal is a material you can trust close to the most intimate parts of your body. So, what is modal fabric? As a variation of rayon, modal fabric is also sourced from beech tree pulp but its superpower is its ability to stay strong when wet. With that said, modal is often blended with cotton and spandex to create stretchy workout clothes like our Cotton Slub Twist Front Tank. P.S. Next time you're on the hunt for a yoga outfit, check the fabrication. If it's made with modal you can stretch and bend your body without a worry.
Pro Care Tip: Items made with modal are pretty low maintenance and can be washed and dried in the machine, no problem. However, you want to keep an eye out for modal blends that contain other materials that may require various levels of care.
What is Recycled Polyester?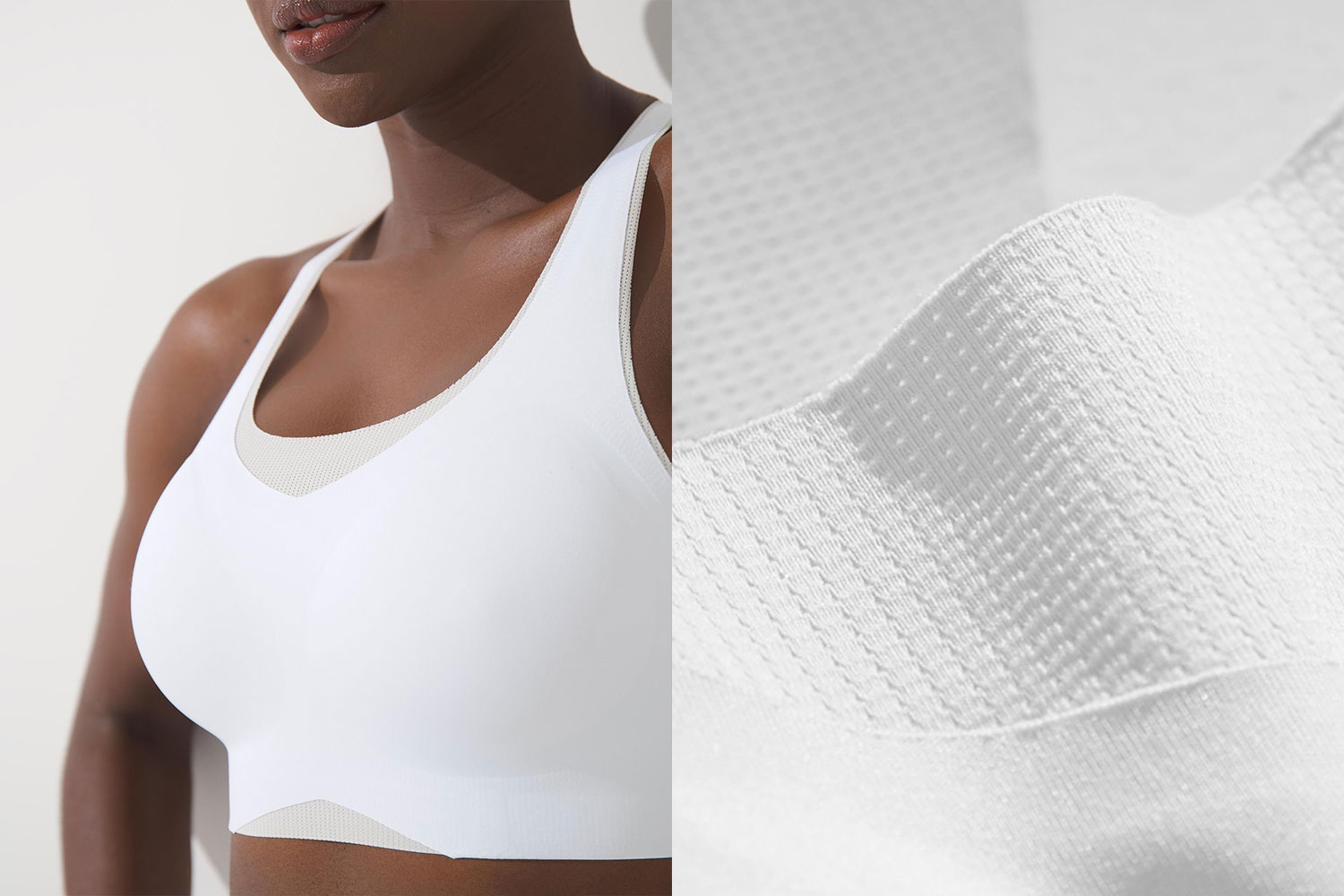 If you've ever wondered what recycled polyester is, the answer may be cooler than you think. As a matter of fact, it's made from recycled plastic bottles that are melted down and re-spun into new yarn. This helps give previous waste new life and keeps it out of the landfills. That is a win-win in our book. Recycled polyester is durable, lightweight, crease-resistant, and quick-drying. These qualities make it ideal for outdoor clothing, loungewear, and activewear that will hold up throughout a sweaty workout just like our Bliss Breathe Racerback Sports Bra.
Pro Care Tip: Probably the most low maintenance clothing fabric types, recycled polyester is machine washable and dryable. Just like regular polyester, it's best to wash it in warm to cool water since high heat can break down the fibers over time.
What is Recycled Nylon?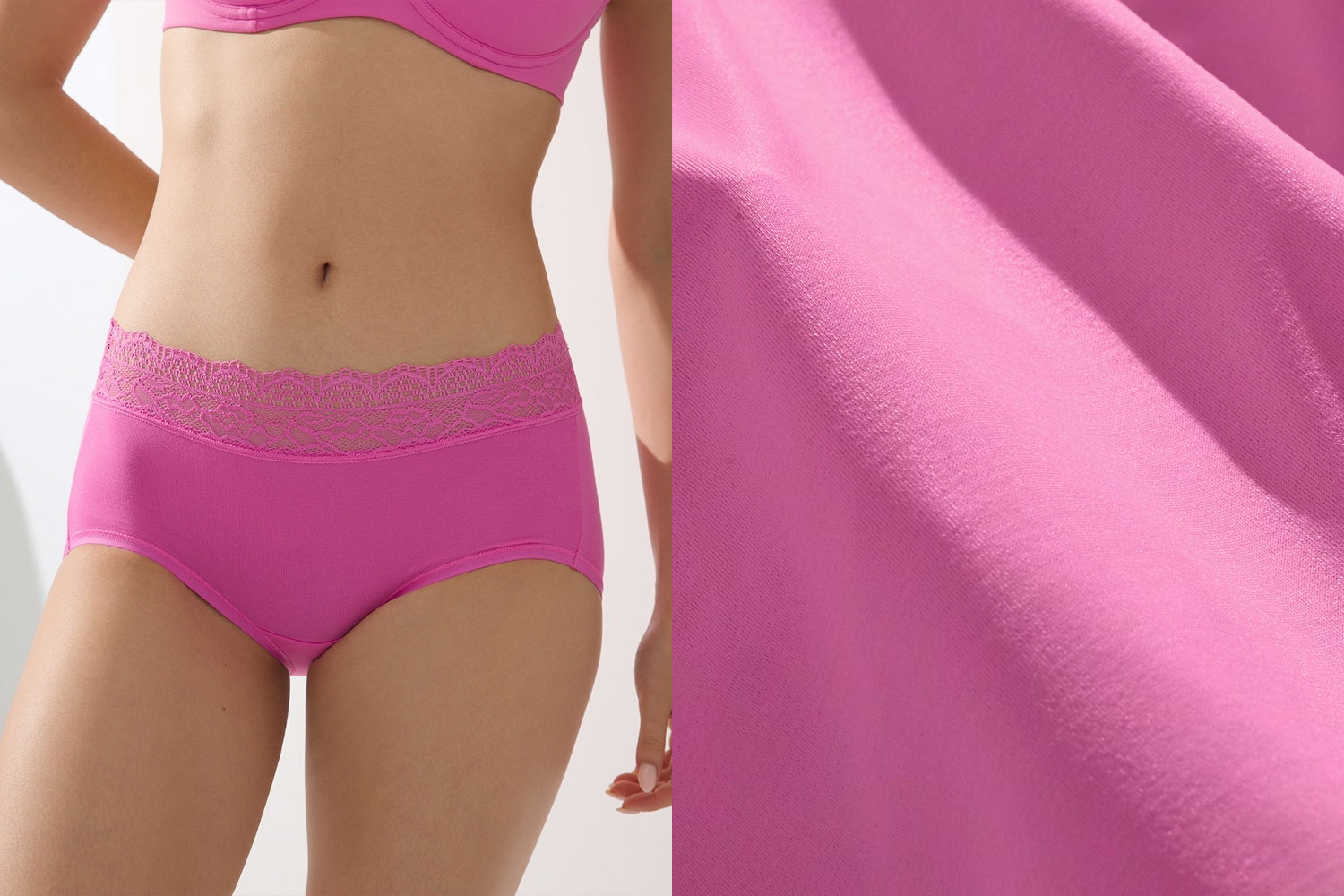 Last but not least, our final fabrication inquiry. What is recycled nylon? It's essentially a more sustainable version of nylon (a synthetic fiber that doesn't break down easily) since it uses fewer valuable resources to make than the virgin version. It also diverts waste from landfills since recycled nylon is made from discarded nylon waste. Did you know that recycled nylon is used to make many different items from durable backpacks to delicate lace trims—just like on our Embraceable® Super Soft Enchanting Lace Briefs. A few standout attributes of recycled nylon is that it's incredibly lightweight, elastic, and water resistant. Pretty neat, huh?
Pro Care Tip: Help your recycled nylon items last by washing on low temperatures and hang or lay flat to dry. For those ultra-delicate items like underwear and pantyhose, use a mesh laundry bag for added protection against snagging in the washing machine.
Are you feeling a little more versed in the world of textiles? Now you can peruse our selection of super-soft modal panties or add a cool-to-the-touch pajama set to your snooze-worthy collection. Browse online or come to the store to feel what the fuss is all about.