PSA—pajama parties are for adults too. A holiday pajama party is the perfect theme for a friend gathering that is low-key yet festive. Eat, drink, and be merry with your nearest and dearest all while wearing effortlessly elegant pajamas.
This isn't your average pajama party. Stay in the holiday spirit with the right choice of pajamas, decorations, activities, goodie bags, and more. Amid the holiday chaos, you'll love how easy it is to pull together. We're sharing all the pajama party ideas to make your get-together a holiday hit.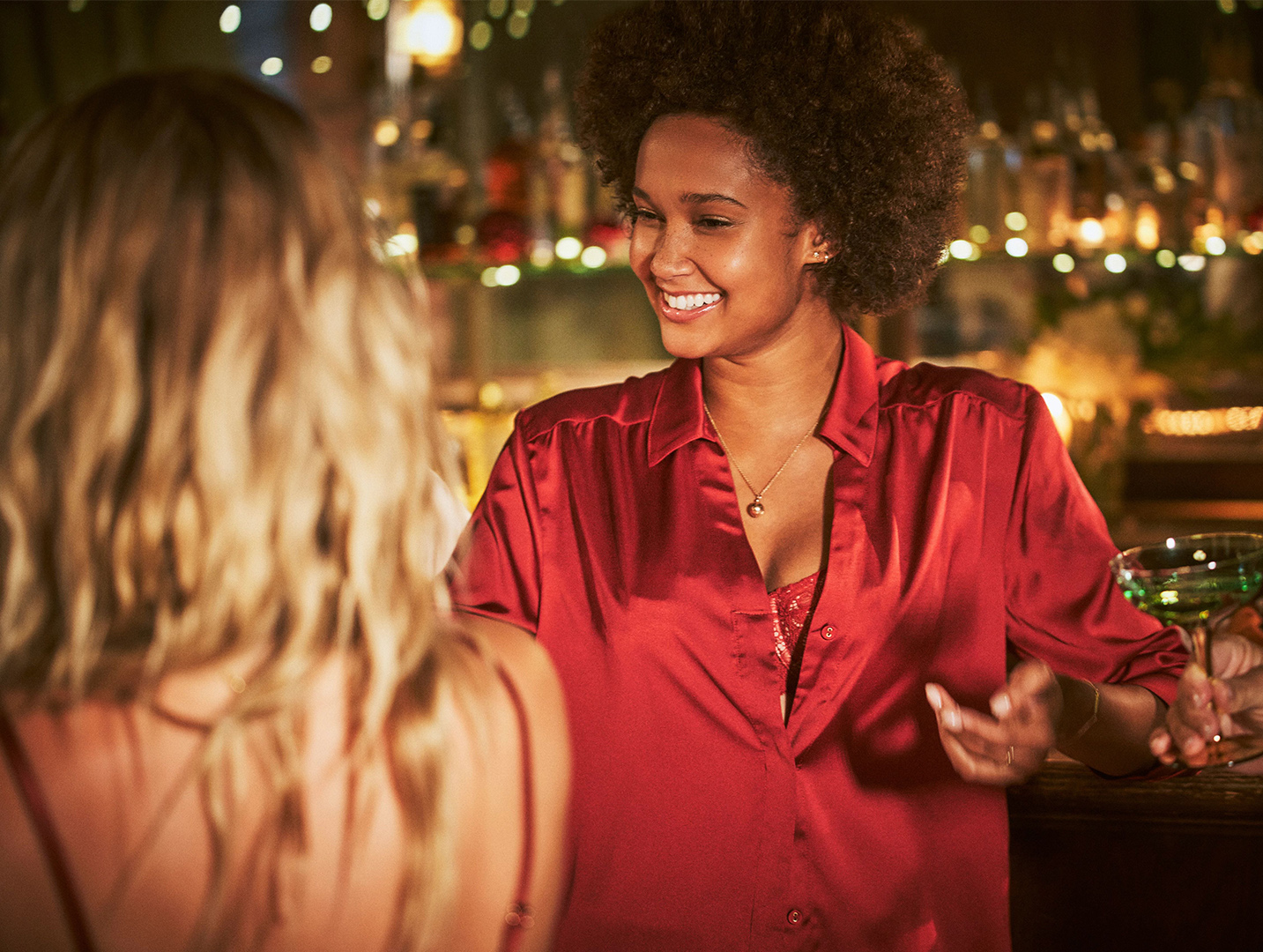 What is a Holiday Pajama Party?
A holiday pajama party is just as it sounds—a party where guests gather in their pajamas to celebrate the season. Plus, it's a relaxing reprieve throughout the hustle and bustle of the holidays. It's an easy theme to customize based on the ambience you set as well as the location you plan to host at. The easiest (and coziest) option would be to have it right in the comfort of your home.
What Do You Need to Throw a Holiday Pajama Party?
No holiday party is complete without the magic of the holidays. Keep that in mind when deciding what you need to throw a holiday pajama party. Everyone will be in their pajamas but that doesn't mean your soiree can't have a festive or glamorous vibe. Set the mood with lighting and music that complement each other. Pair a ton of twinkle lights with traditional yuletide tunes or something holiday adjacent like oldies or a cozy jazz playlist.

Once you've nailed the ambience, you'll need to decide on food, decor, party games, and goodie bags. As the host, don't forget to decide what you're wearing! See our outfit recommendations and favorite pajama party ideas below.
What to Wear When Hosting a Pajama Party?
Are you hosting this year's holiday pajama party? It's your time to shine. Wear your prettiest holiday pajamas or favorite Christmas pajamas that you're comfortable wearing around others. We suggest pieces made from luxe fabrics like stunning satin or silk pajamas that give a dressed-up feel.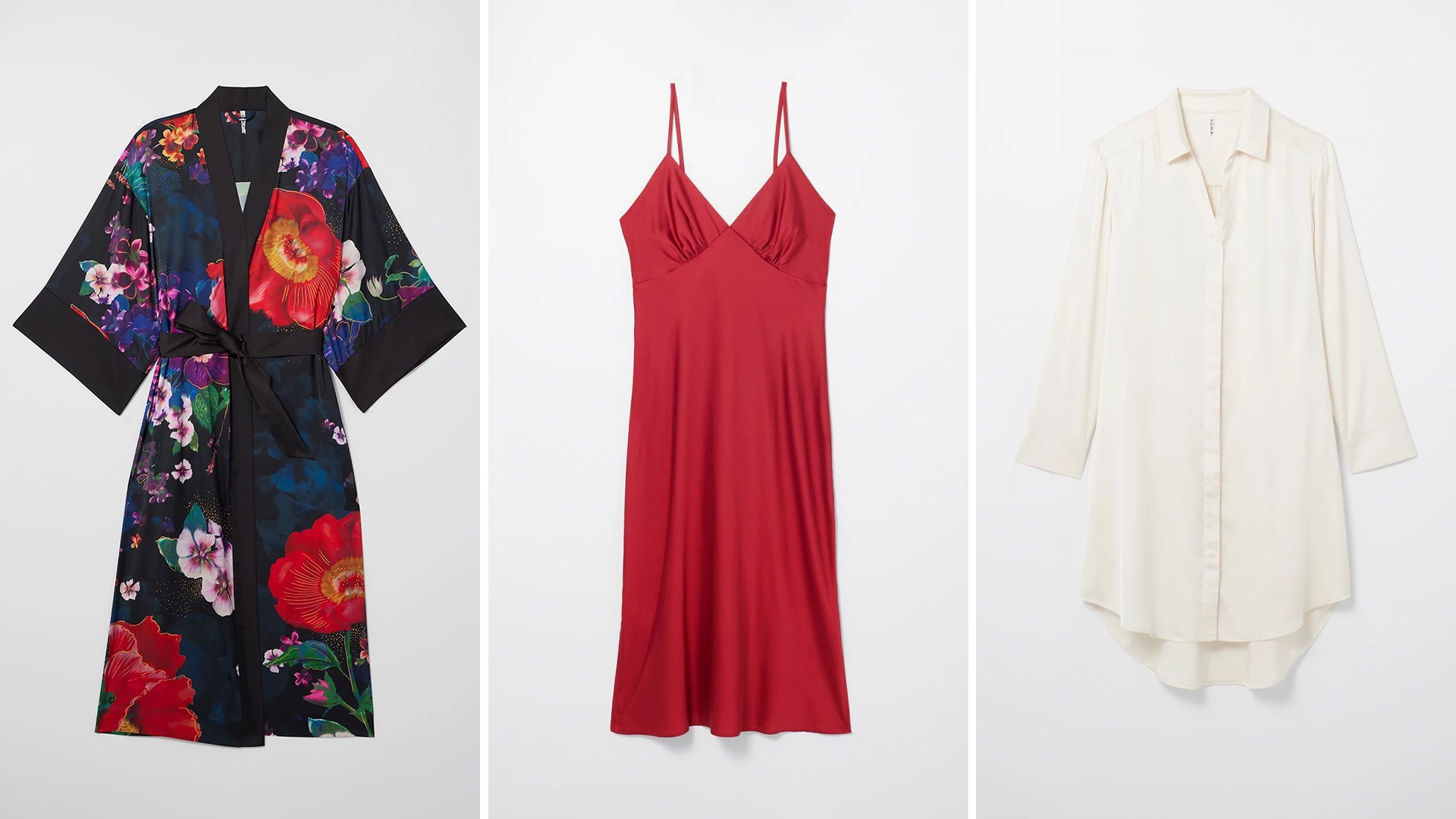 A red satin sleep gown is an instant stunner with sparkly jewelry and fuzzy slippers. Layer with a beautiful robe if you'd like extra coverage on your shoulders. If you're wearing a solid chemise, choose a patterned layering piece for a fun pop of print or a robe with lace trim for a feminine boost.
Looking for more coverage? Go for satin pajama pants and a matching long-sleeve collared sleep top for an instant and effortless outfit. Or opt for a classic long-sleeve sleepshirt in jewel tones and holiday hues—the satin options are endless!
What to Eat and Drink for Your Pajama Party?
It's true that good food brings people together so don't forget to plan this part. For food, you can go the classic pajama party route and order pizzas for ease and tradition. Or make it a potluck and ask everyone to bring a main dish, appetizer, or dessert. If you're up for something a little fancier, offer small bites—think charcuterie and a variety of tapas. You can even hire a caterer if you want to go all out. Remember, there are no hard and fast rules when planning a stellar pajama party.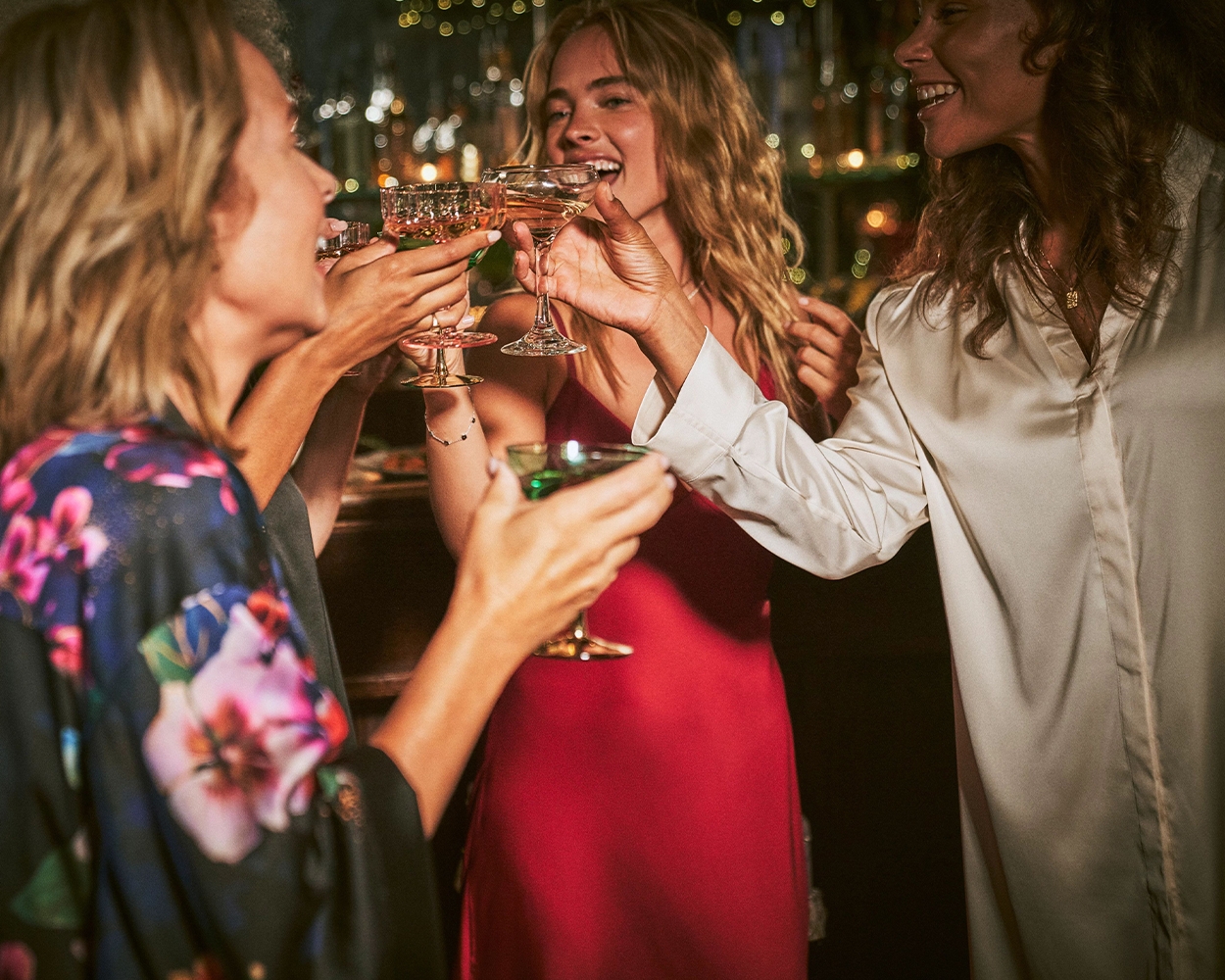 Bored of the usual drink options? An easy way to add pizzazz to your beverage offering is to feature a signature drink. Look for ingredients like eggnog, cinnamon, or cranberry to stay on theme for the holiday season.
P.S. Consider offering a mocktail drink option for those who don't partake. Classic apple cider and hot cocoa topped with marshmallows or candy cane are perfect for the cozy pajama party vibe.
What Games to Play at Your Pajama Party?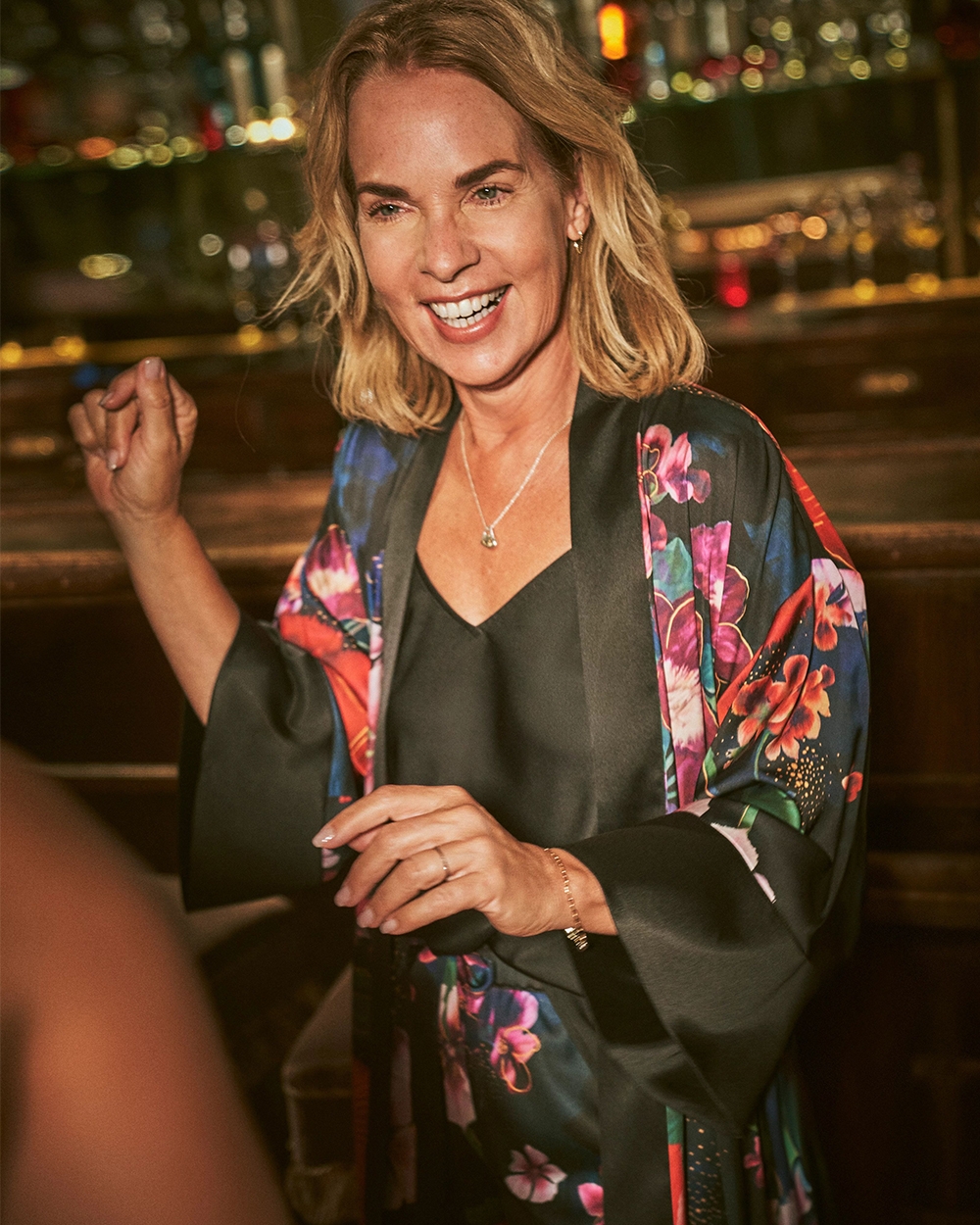 Let the games begin! From classic charades to musical chairs, it's great to have a few party games in mind to entertain guests. If games aren't your thing, plan some fun activities instead. Lean into the PJ theme and organize a DIY activity where you supply fabric markers and guests bring their own pillowcases to decorate. Want something simple instead? Gather around the couch and have a holiday movie marathon.

Other great pajama party ideas for the holidays are to do a Secret Santa or White Elephant gift exchange. For smaller groups, designating time away from family to wrap presents can turn a mundane task into a fun time. You can even share and swap wrapping supplies!
How to Decorate for Your Holiday Pajama Party?
Not sure how to decorate for a holiday pajama party? It's easy! You likely have your holiday decorations up, so you cross that off the list. Feel free to make it cozier with extra blankets and pillows to add to the pajama party theme. Light a fire if you have a fireplace or stream this YouTube video on your T.V. that mimics the real thing.
Themed Goodie Bags
End your party on a high note with goodie bags so your guests can continue the pajama party at home. 'Tis the season for gifting after all. Look for sleep accessories like cozy eye masks or satin hair scrunchies and pair them with fuzzy slippers or warm cable knit socks. Comfy robes are always a nice option for gifting and something you can even give as people arrive at your party. They'll enjoy wearing them throughout the night!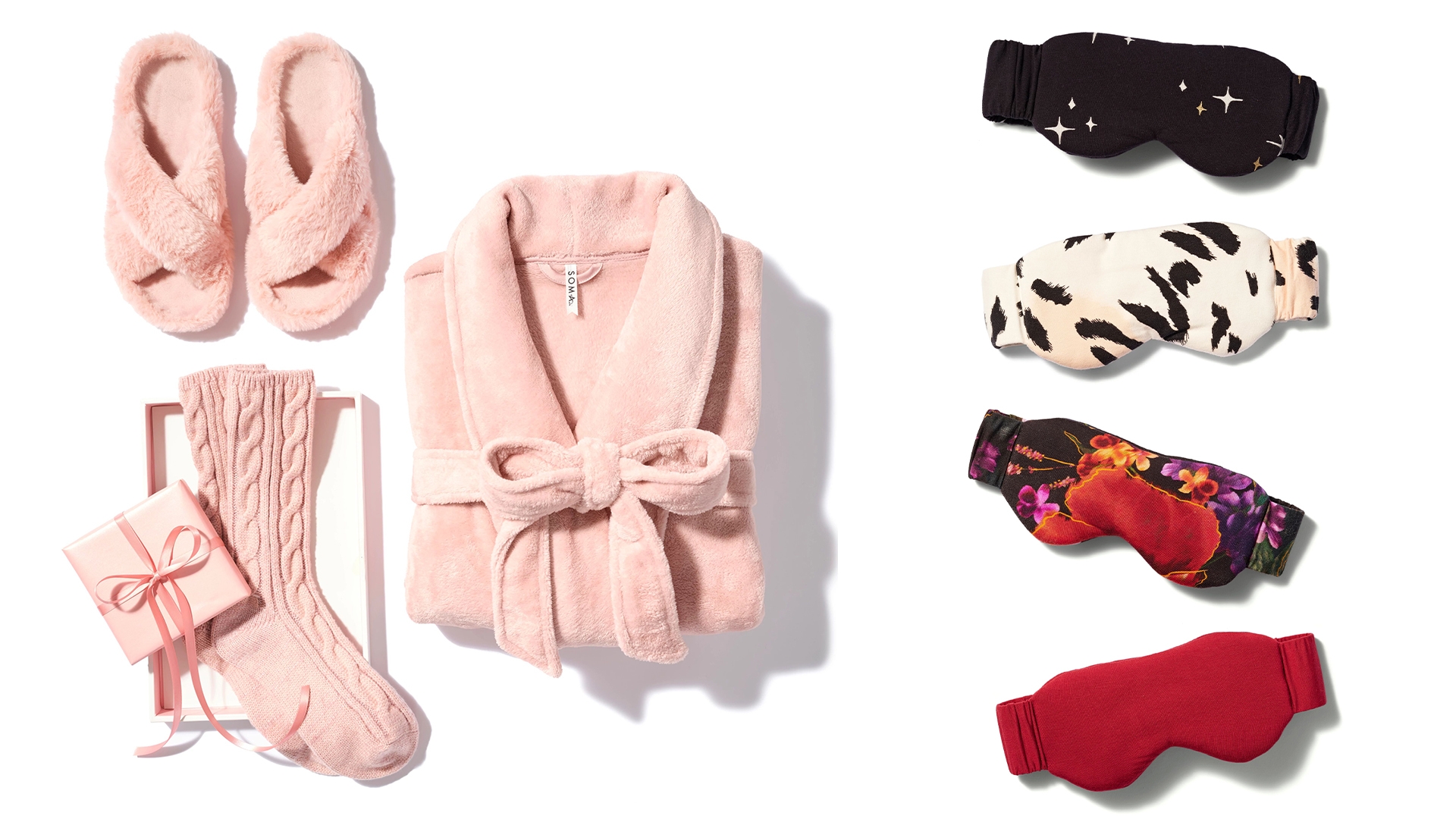 If you'd rather not curate your own goodie bags for your holiday pajama party, no worries. Instead, make gift giving simple and easy. Opt for gift-and-go options like already-packaged matching pajama sets or panty packs with three or more pairs of panties so they can instantly refresh their top drawer.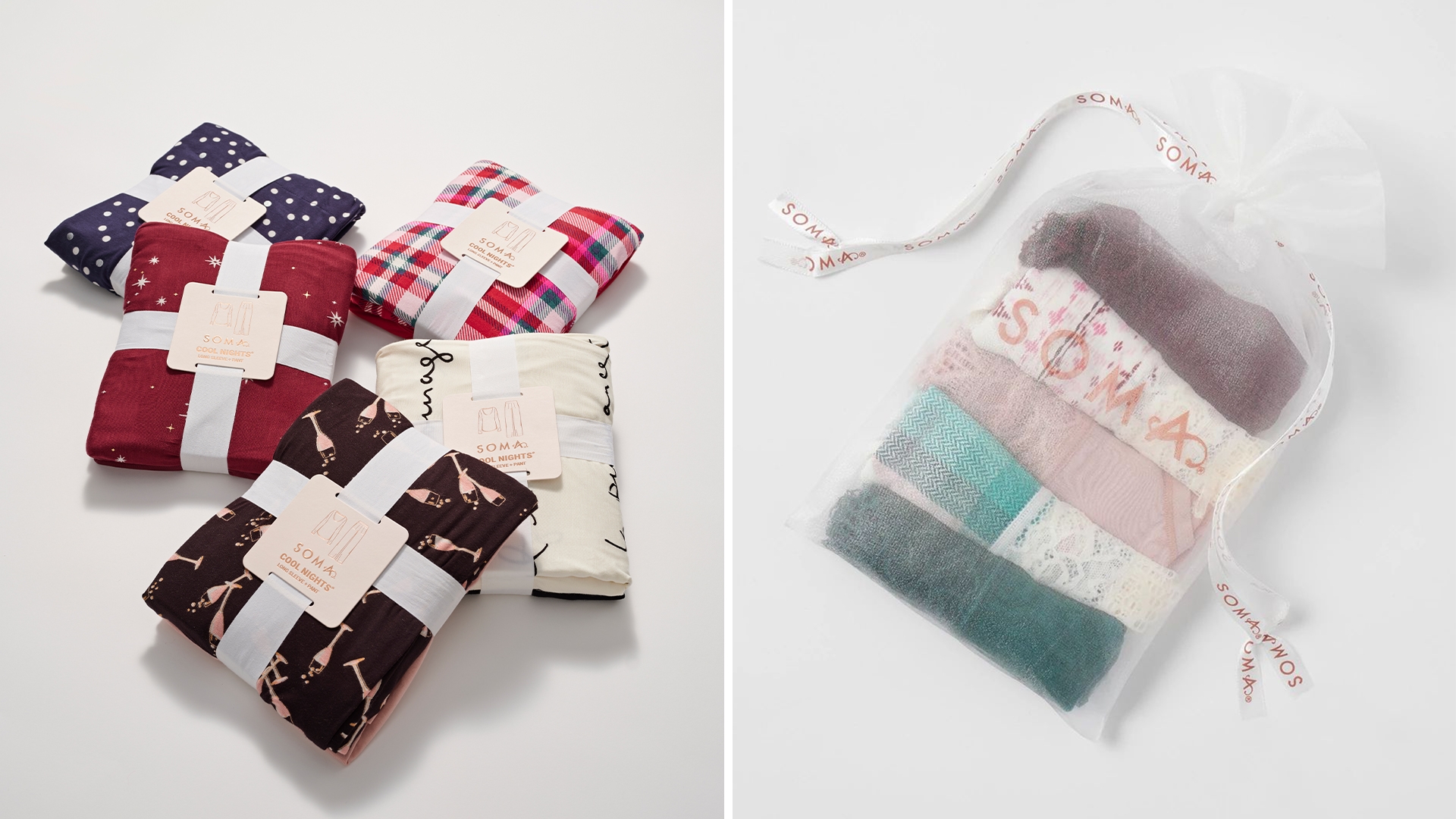 Find all your goodie bag must-haves and elegant pajama needs right here at Soma®. Shop our curation of exclusive holiday styles—no matter her personality, we have just the right picks for bedtime and beyond.