From sleep clothes to bras—and everything in between—selecting the right fabric for you is essential. Different types of materials offer varying levels of comfort, durability, and style.
Satin and silk fabrics are two popular choices for sleepwear and lingerie, but what is the difference between silk and satin? And which should you choose if you're looking for premium comfort? As a matter of fact, we're taking the should out of the equation and helping you decide whether silk or satin is best for you depending on budget and personal preferences. Spoiler alert: both are stellar options!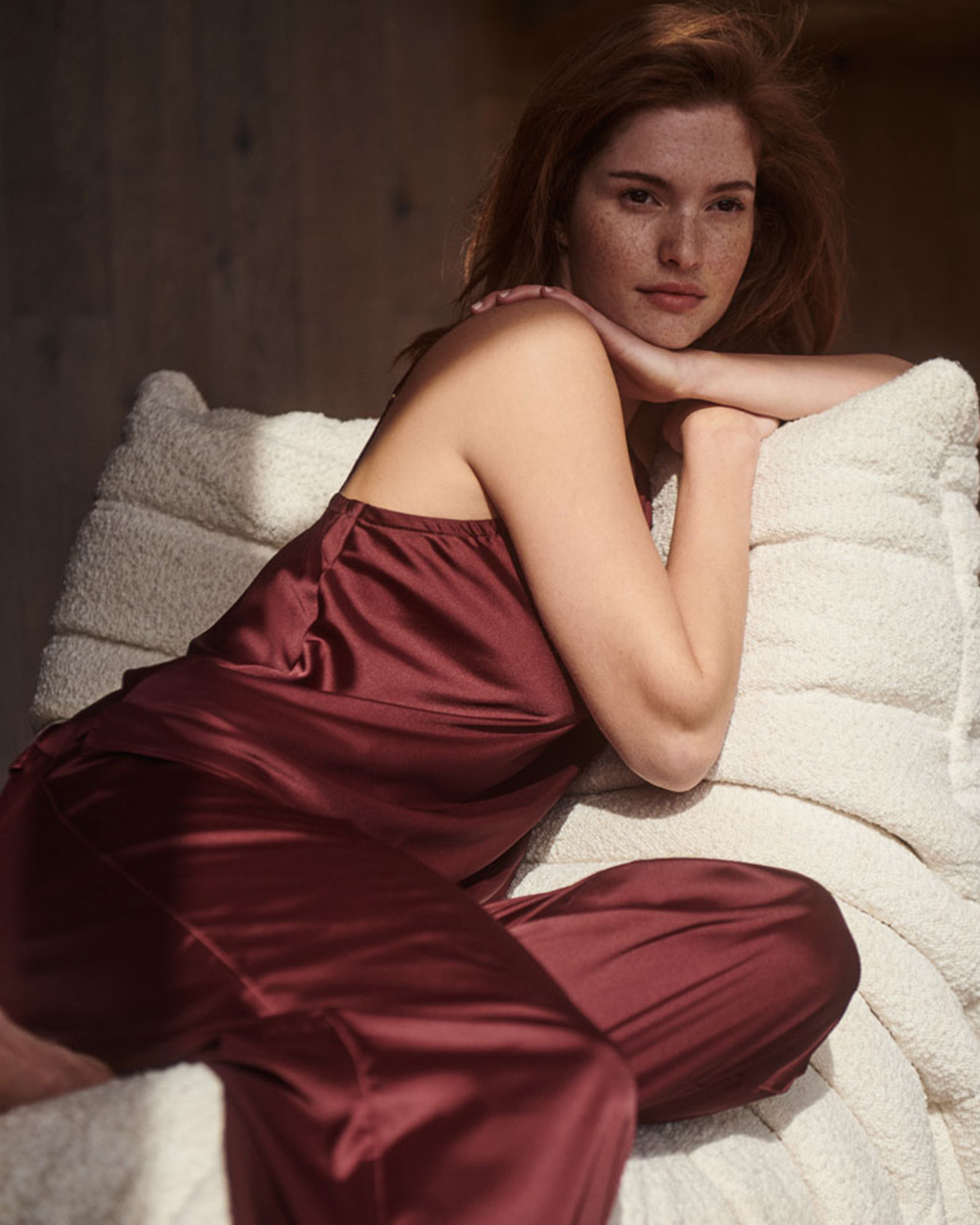 In this guide, we'll compare silk vs. satin and break down all the key differences. Keep reading to learn more about your favorite fabrics.
What Is Silk?

What Is Satin?

What Are the Main Similarities of Silk & Satin?

Is Satin or Silk Right for Me?

What Are the Main Differences Between Silk vs. Satin?

What to Look for When Shopping for Silk Sleepwear

What to Look for When Shopping for Satin Sleepwear

Find Comfortable, Luxurious Silk & Satin Sleepwear
What Is Silk?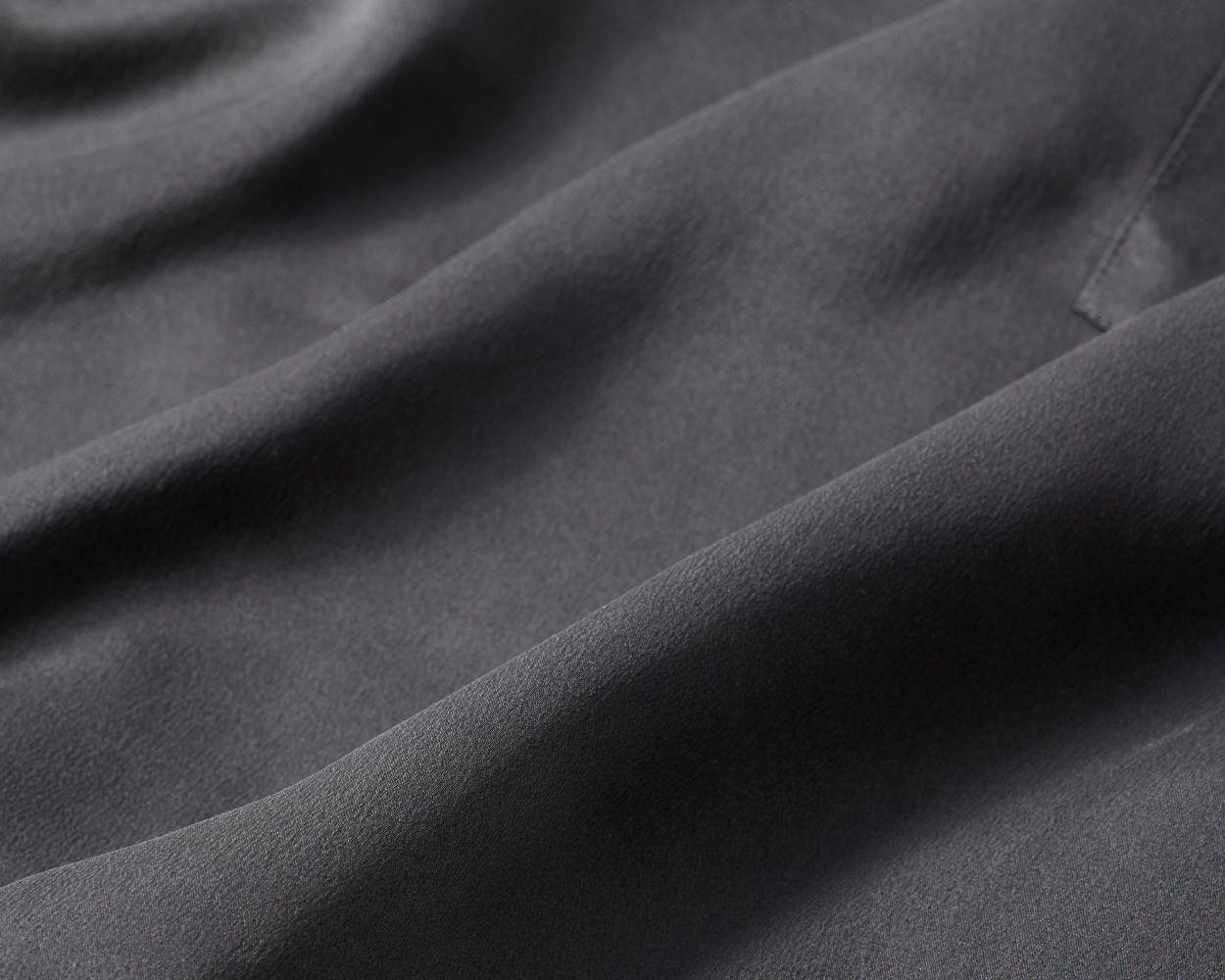 Silk is a natural fiber that is sourced from certain insects, including the domestic silk moth. Silk is used for everything from clothing and bedding to parachutes and surgical sutures. This material is heralded for its soft and luxurious feel, making it an excellent choice for sleepwear and bedding.
What Are the Benefits of Silk Sleepwear?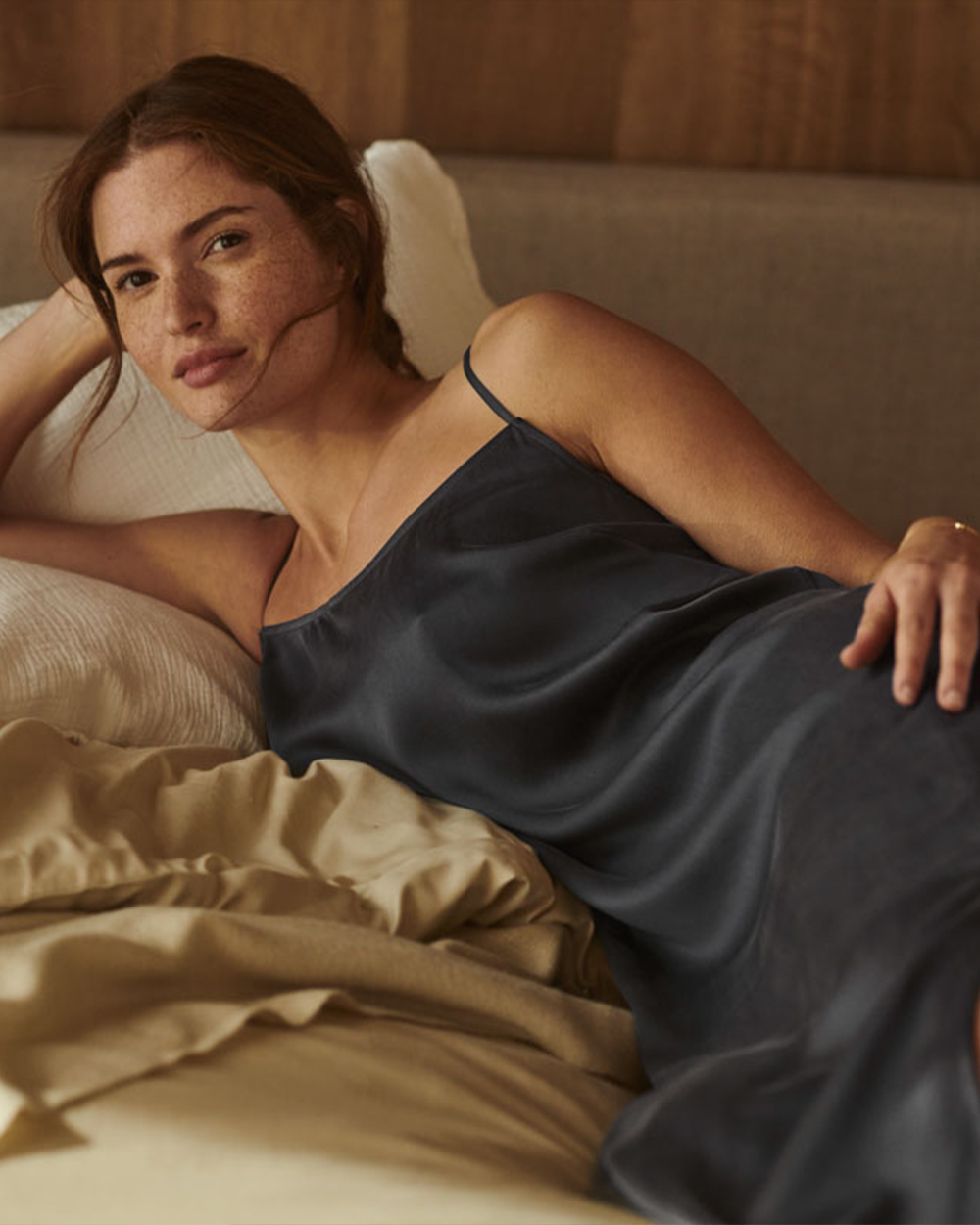 There are several reasons you might consider silk over other materials. Silk is incredibly soft and luxurious, so silk clothing and linens are exceptionally comfortable. Because silk comes from silk moth larvae, it's a naturally sourced fiber material that's considered more sustainable than many other fabrics.
When it comes to clothing, silk is also popular because it's durable, hypoallergenic, and thermoregulating. You can sleep comfortably in silk pajama sets without getting too hot.
Even better, your silk sleepwear can last a long time if you take good care of it.
What Is Satin?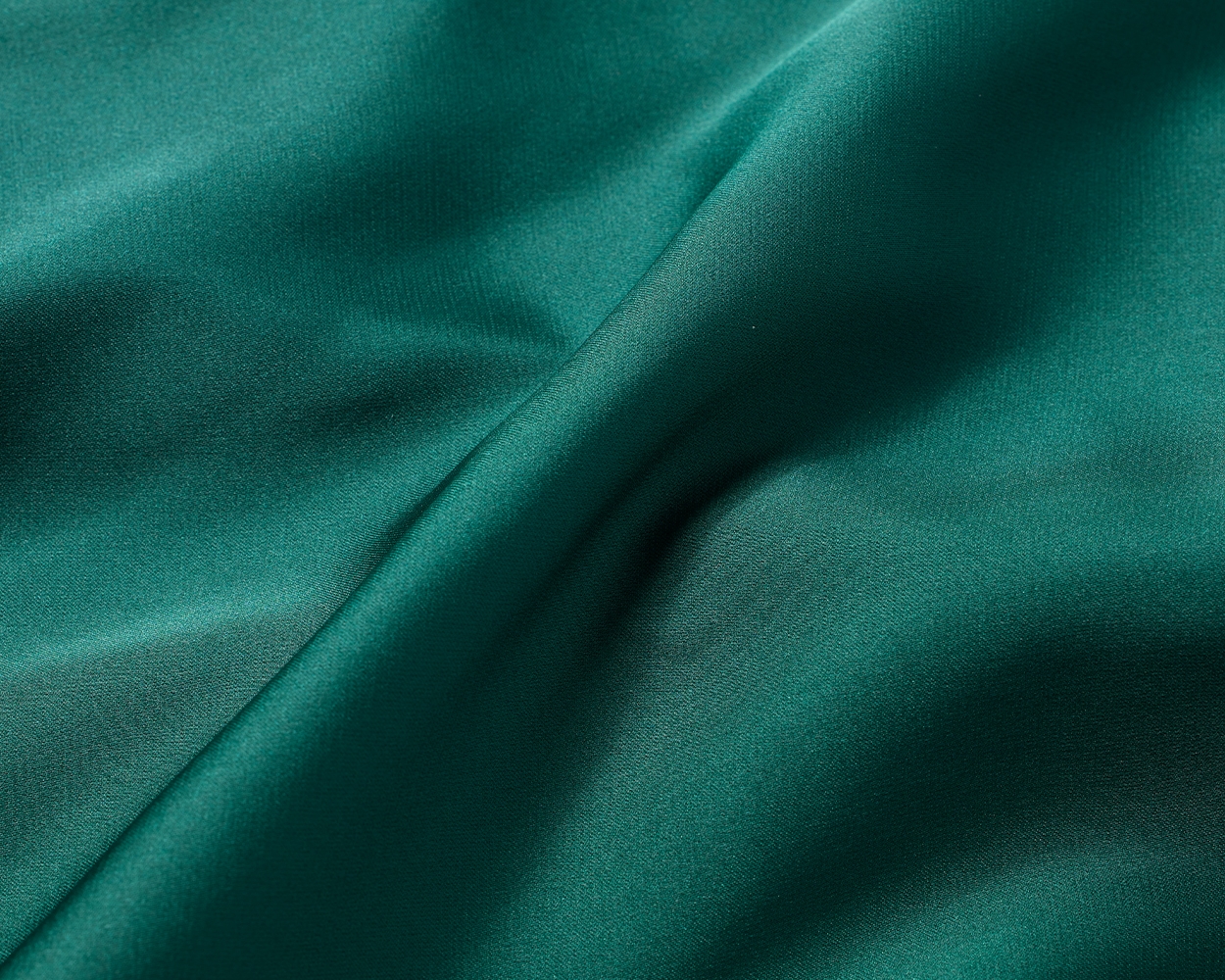 As opposed to silk, satin isn't one specific type of fabric. Rather, it's one of the fundamental types of weaves, and it results in a smooth, shiny finished product. Several materials are commonly used in satin weaves, including silk, nylon, and polyester.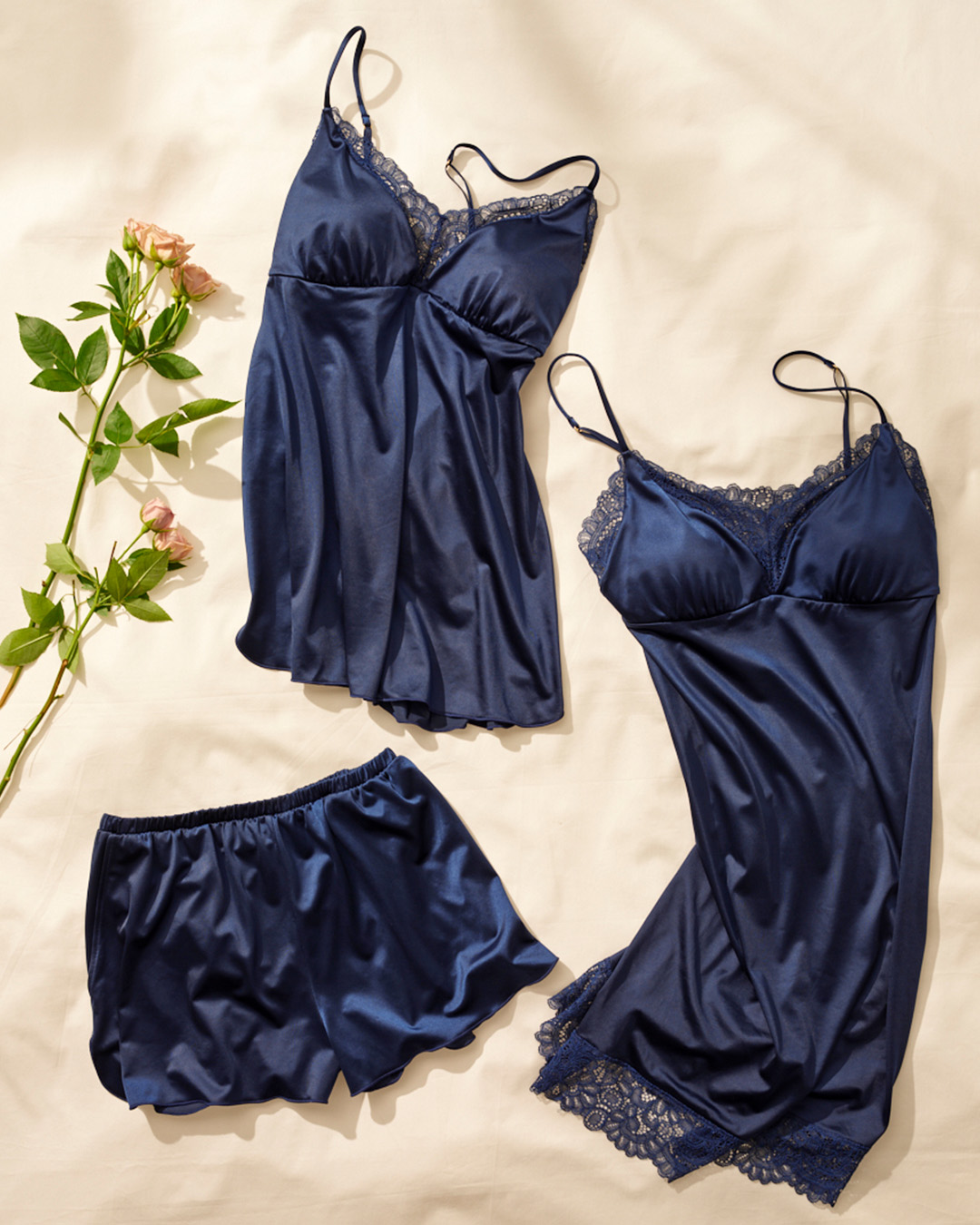 Satin styles aren't typically known for their stretch which makes our Knit Stretch Satin pieces so special. They're crafted using a specific type of satin weave that's designed to be stretchy as well as soft and shiny. Stretchy satin may include materials like nylon, polyester, and spandex.
What Are the Benefits of Satin Sleepwear?
Choosing satin sleepwear is a smart decision if you love silky smooth pajamas. Because many satin weaves are made using silk fabric, you can often enjoy the benefits of both. That said, satin is often made from more affordable fabrics which is easier on the wallet making it a budget-friendly option.
Satin can be a good choice if you have dry skin or skin that's easily irritated. Rougher materials can cause friction against your skin, but satin is gentle because it's so smooth. With satin, you won't have to worry about your pajamas disrupting your sleep.
Deciding between silk vs. satin fabric can be tricky, but it's all about your preferences. Both materials offer many benefits when it comes to a good night's sleep.
What Are the Main Similarities of Silk & Satin?
While satin and silk aren't exactly the same, there are many similarities between satin vs. silk. Both are known for their soft, luxurious feel, which makes them popular choices for people who want to sleep better.
Because silk and satin are both soft, they're gentle on your skin. Materials like cotton and flannel don't have the same gliding effect which isn't always ideal for those with sensory issues. Silk and satin are incredibly smooth to the touch, allowing the fabric to slide over your skin without irritation.
Oftentimes, satin is made using silk. When silk fabric is used to create a satin weave, it's known as silk satin fabric. In many cases, the satin sleepwear or bedding you're using is also technically silk.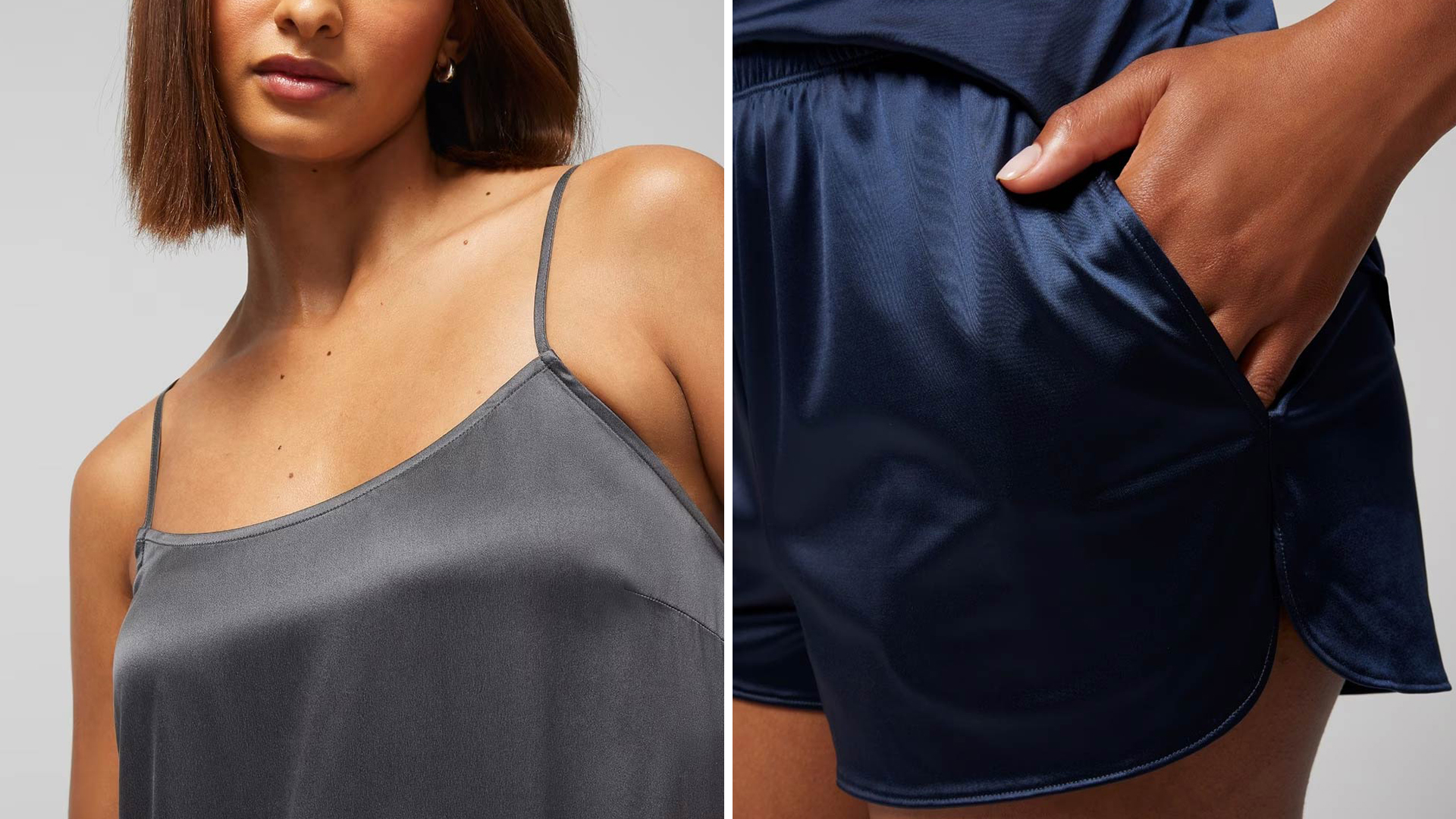 What Are the Main Differences Between Silk vs. Satin?
Like many people, you might be wondering, "What is the difference between silk and satin?". Often, they're used synonymously, but there are a few things that make them unique.
The primary difference between satin vs. silk is that satin isn't a material — it's actually a type of weave. Satin weaves create a shiny look that's similar to silk, but the actual material may vary.
While satin may be made of materials like polyester and nylon, silk is a material produced from natural resources. This makes silk, and satins made from silk, more sustainable options.
Silk sleepwear is known for its high maintenance when it comes to laundry day. On the flipside, many non-silk satins are machine-washable and easy to care for. Do you want to invest in the best of both worlds? Washable silk pajamas check all the boxes!
Lastly, satin is sometimes less breathable than silk, which means it may not be the ideal sleepwear fabric if you're a hot sleeper but can be perfect for those cooler months.
Is Satin or Silk Right for Me?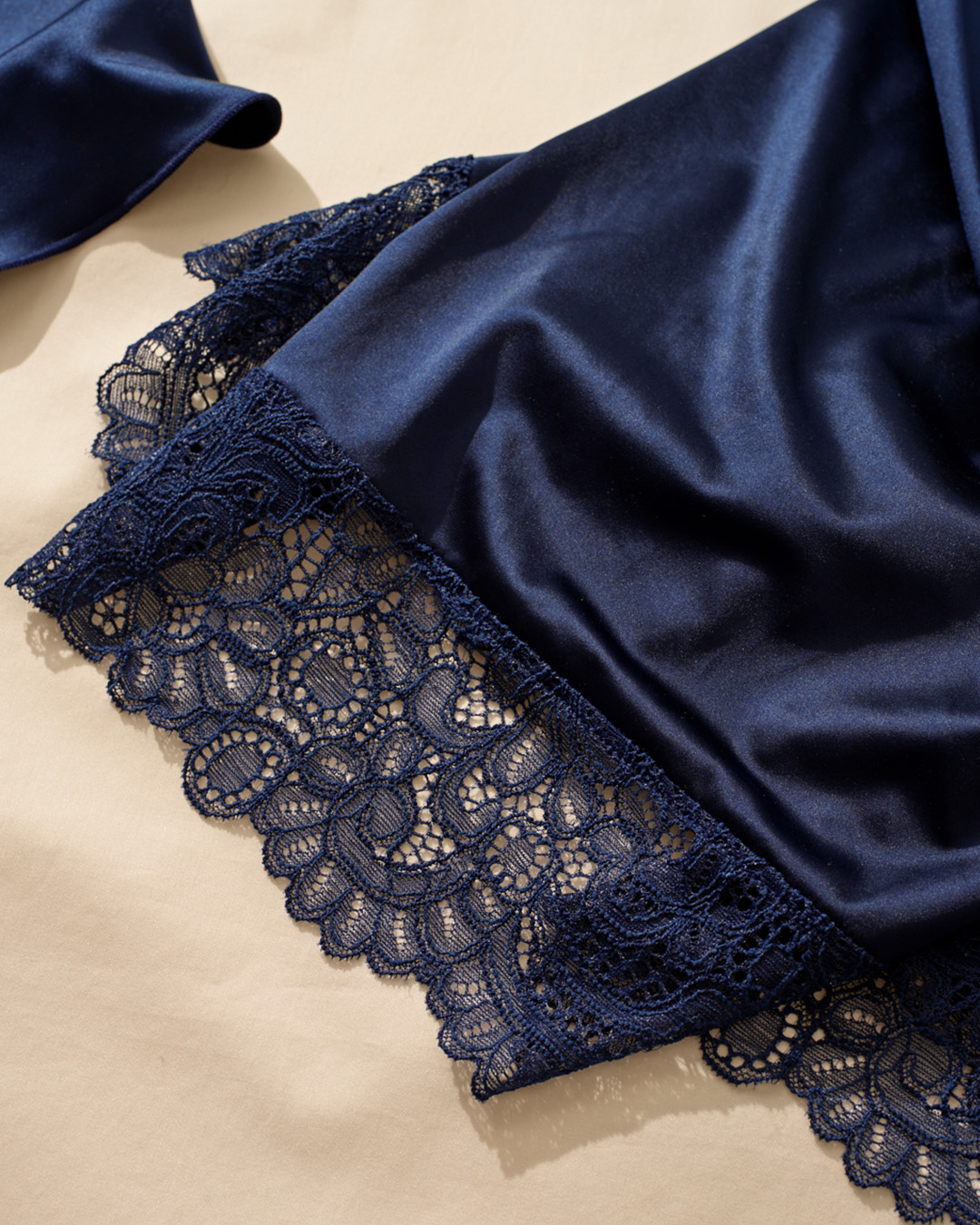 If you're having trouble deciding between satin and silk, there are a couple of things to consider.
Silk is soft, breathable, and durable, making it an excellent choice for summer sleepwear and hot sleepers. Silk is also hypoallergenic, which means it's a good material if you have sensitive skin or sensory issues. If you want premium comfort and cooler temperatures, silk is a smart choice.
Satin is smooth and lightweight, and often more affordable. Because breathability isn't always a main characteristic of satin, it's a cozier choice during fall and winter. However, there are weaves that are designed to keep you cool year-round, so depending on where you're shopping, it may be a non-issue.
All in all, both satin and silk are great options for sleepwear, bedding, lingerie, and more. For many people, it just comes down to preference and what's available in their favorite pajama style!
What to Look for When Shopping for Silk Sleepwear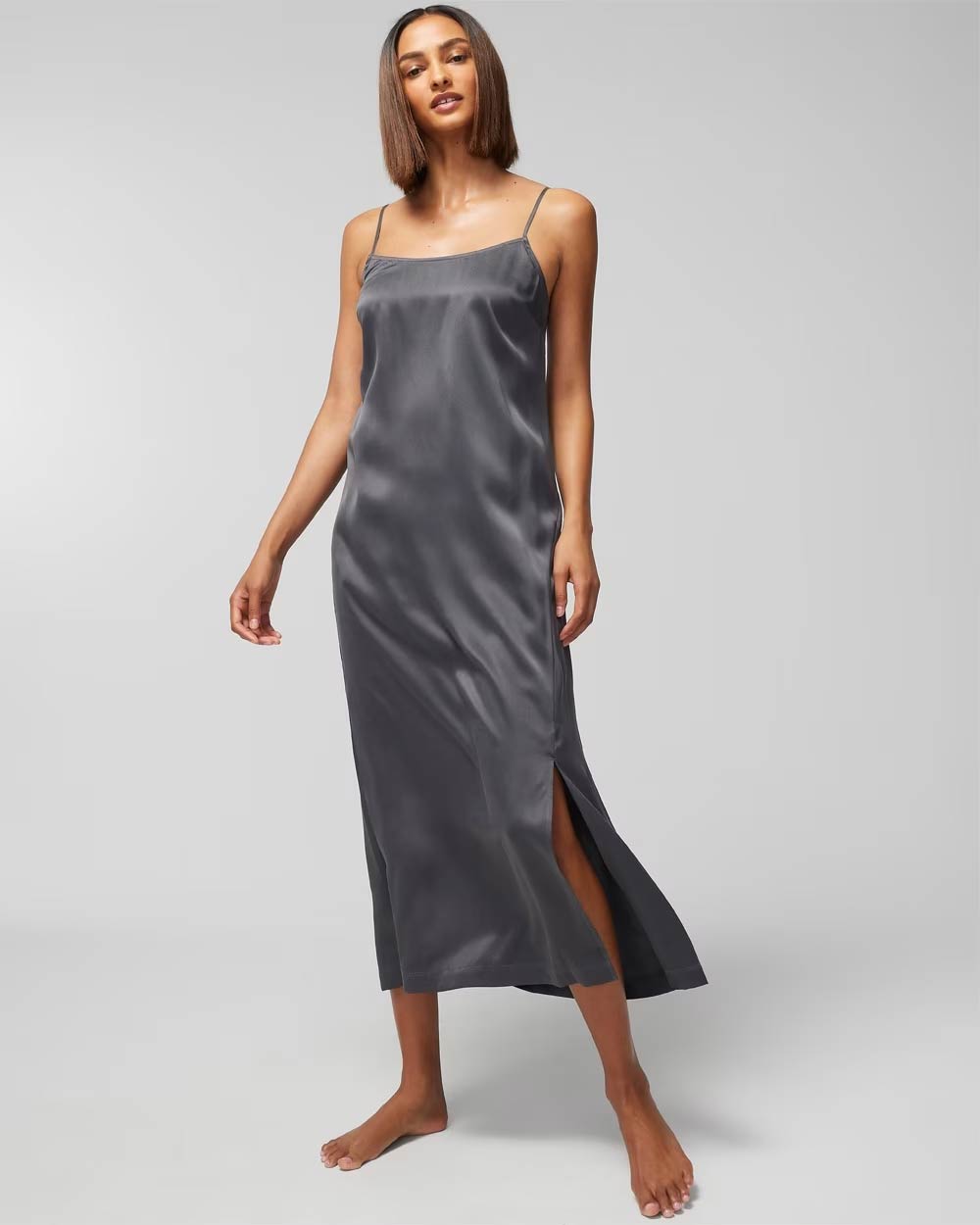 Let's be real, buying silk is an investment so you want to do it right. When you're shopping for silk sleepwear, take note of a few key factors.
Comfort and quality are essential when you're shopping for pajama separates, so look for high-quality silk sleepwear. While silk is generally a luxury material, all silk isn't of the same quality.
Selecting Washable Silk sleepwear makes it so much easier to keep your new favorite pajamas clean. No more trips to the dry cleaner; Washable Silk sleepwear from Soma® provides premium comfort with simplified care.
Finding high-quality silk sleepwear that won't break down or get ruined in the wash will help make them last so much longer.
What to Look for When Shopping for Satin Sleepwear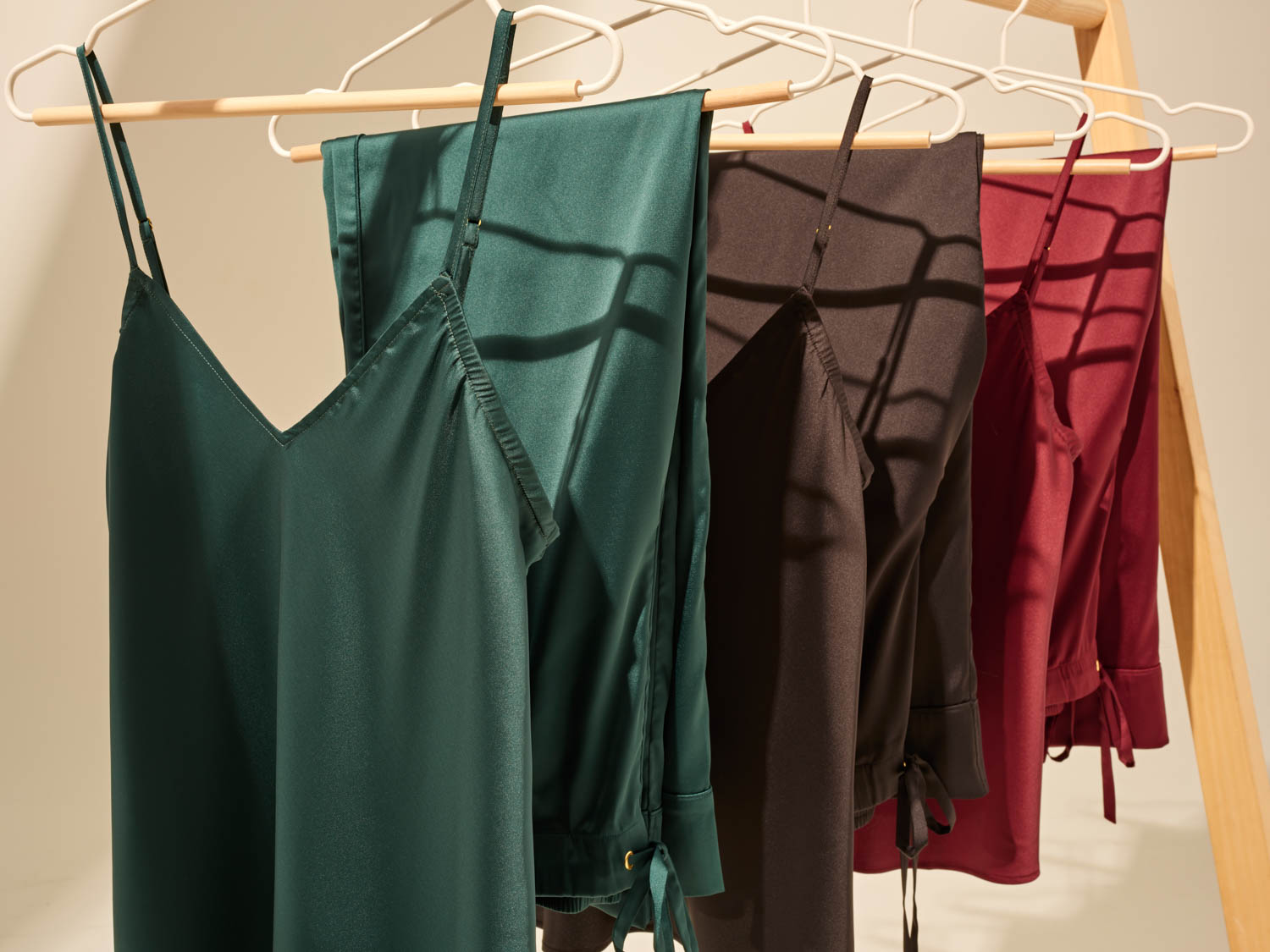 When shopping for satin sleepwear, the actual material is one of the most important factors to consider. Satin sleepwear can be made from nylon, polyester, silk, and other materials—some will be more affordable than others. You can even find satin materials with spandex, so they offer comfortable movement while you sleep.
Before you buy satin sleepwear, check the product details to see what materials it's made from and what innovative features might have been considered when creating the garment.
Whether you're shopping for everyday pajamas, a sleepwear gift for someone else, or bridal lingerie for your big day, you should look at the reviews to see what others are saying. That way, you can always make the best decision.
Find Comfortable, Luxurious Silk & Satin Sleepwear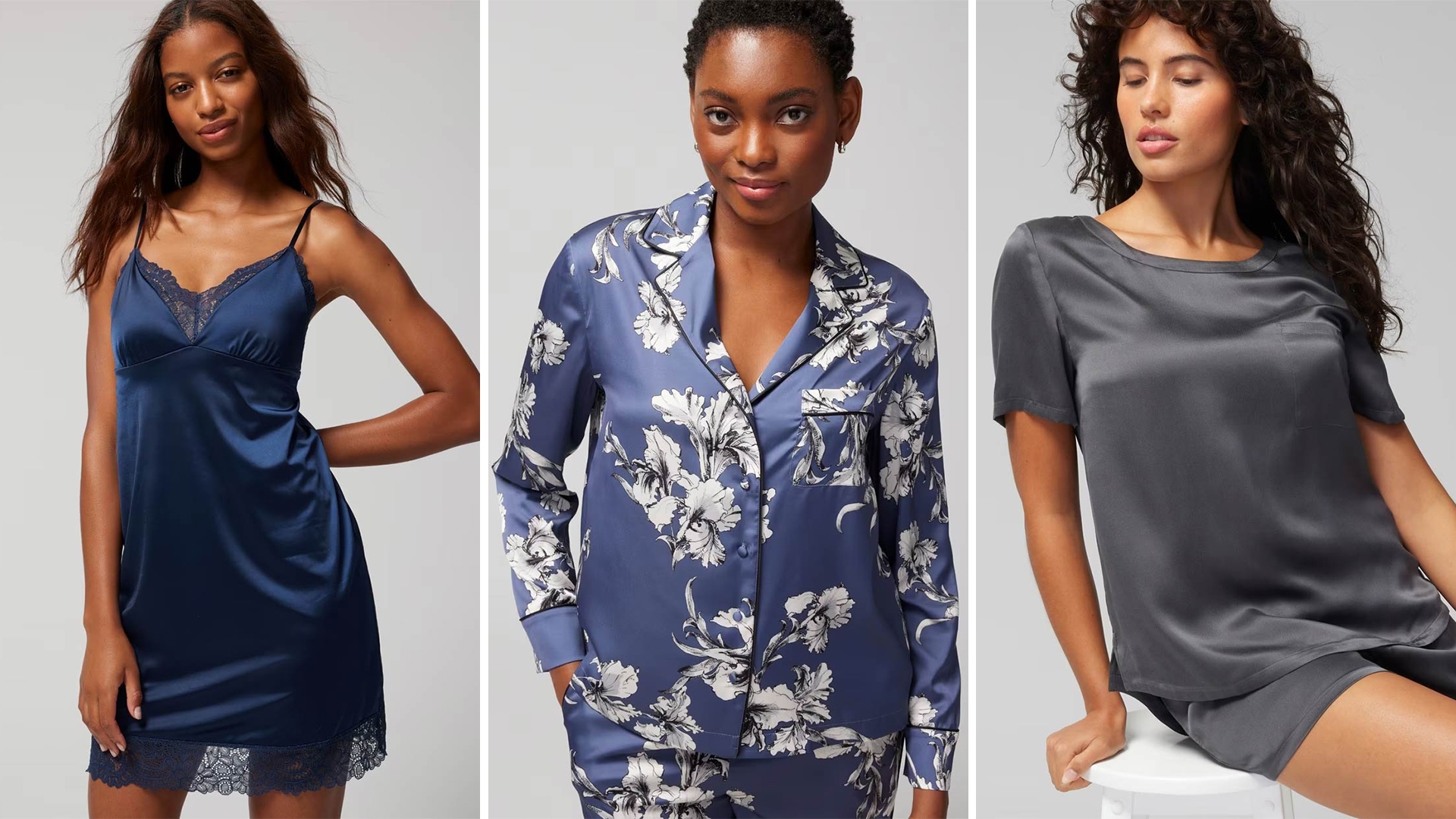 Getting a good night's rest is an essential part of a healthy lifestyle, and quality sleepwear can help. Silk and satin sleepwear can help you sleep in peak comfort each night. Even those with sensitive skin or picky preferences are sure to love the smooth texture of these pajamas.
Choosing between silk and satin comes down to personal preference, so you'll have to try them to see what you think. And the best part is, you don't even have to choose satin vs. silk fabric; you can own both.
We have a wide range of silk and satin sleepwear that's designed to keep you cool and comfortable all night long. Shop our latest satin and silk pajamas and see why so many people love them.