Do you ever get overwhelmed when packing for a trip? Maybe you're a chronic overpacker (like many of us!) or you miss the mark creating outfit-appropriate options while you're on the go. The solution to these packing problems is to have a go-to travel wardrobe with pieces that are comfortable and a breeze to mix and match.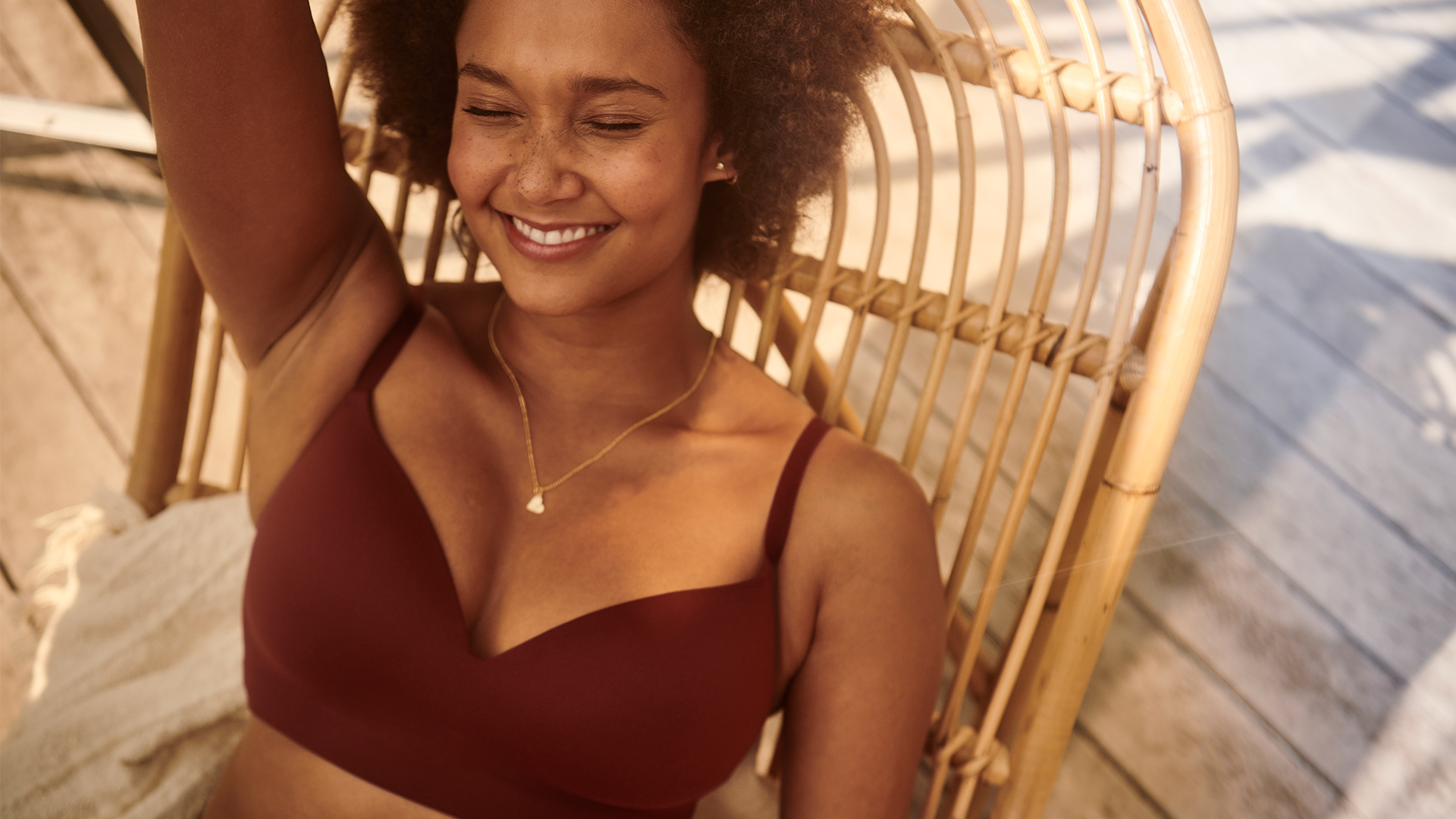 There's also power in picking the perfect panties and bras that'll help make all of your outfits look and feel great on you. To help get you started, we've rounded up ten of our top travel-friendly wardrobe must-haves—based on color, fabric, and functionality—that are ideal for road trips and red-eye flights alike.
1. Soft Jersey Racerback Bra Tank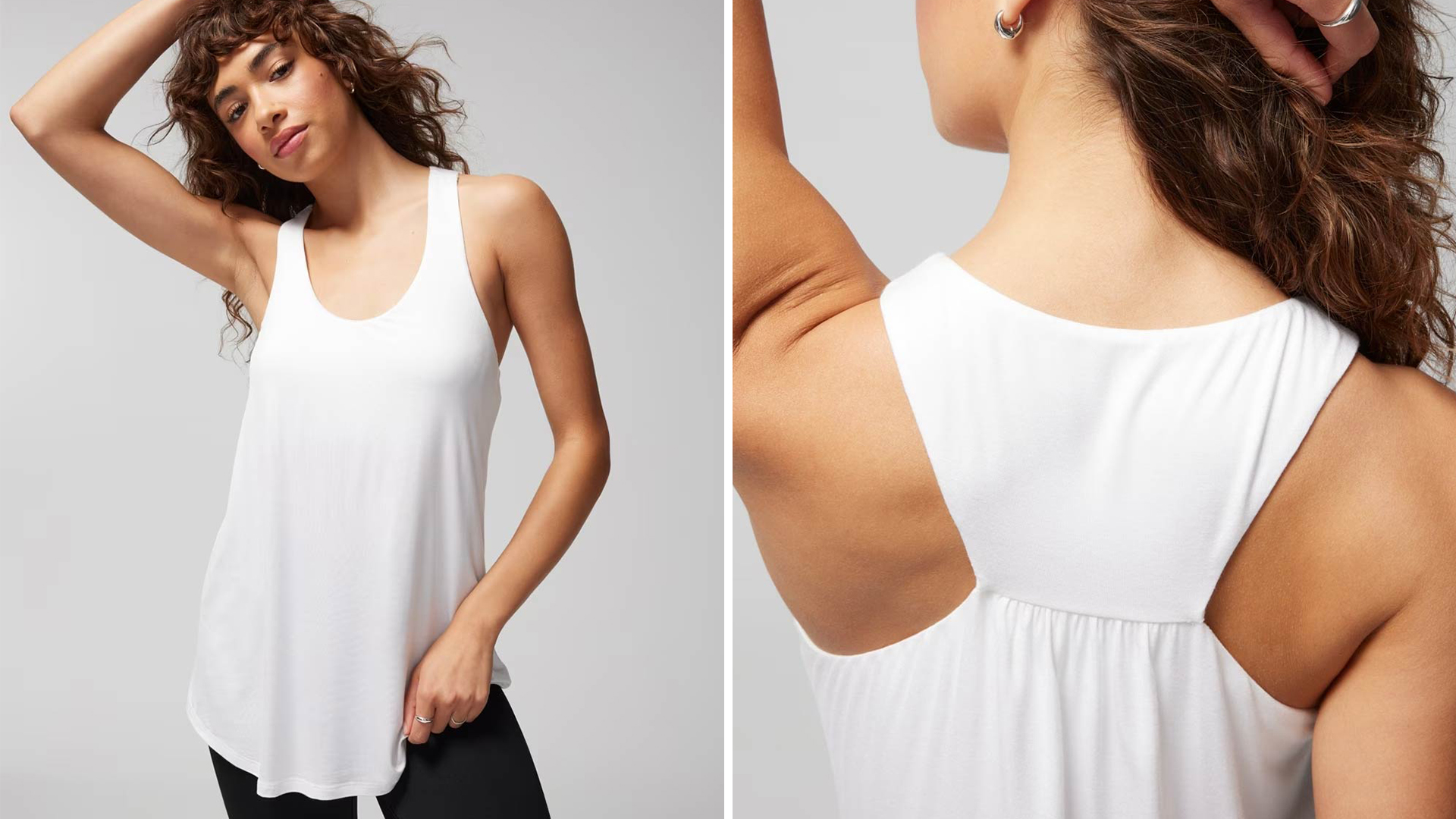 When creating the ultimate travel capsule wardrobe, easy to mix-and-match pieces in neutral colors are key. A classic white tank top will add miles to your styles simply because it goes with everything. Pair it with jeans, joggers, leggings, skirts—the list is endless. Take it one step further and choose a style like our Soft Jersey Racerback Tank featuring a built-in bra. You'll save room in your suitcase and it's one less step you need to worry about when getting dressed.
2. Recycled Yarn V-Neck Poncho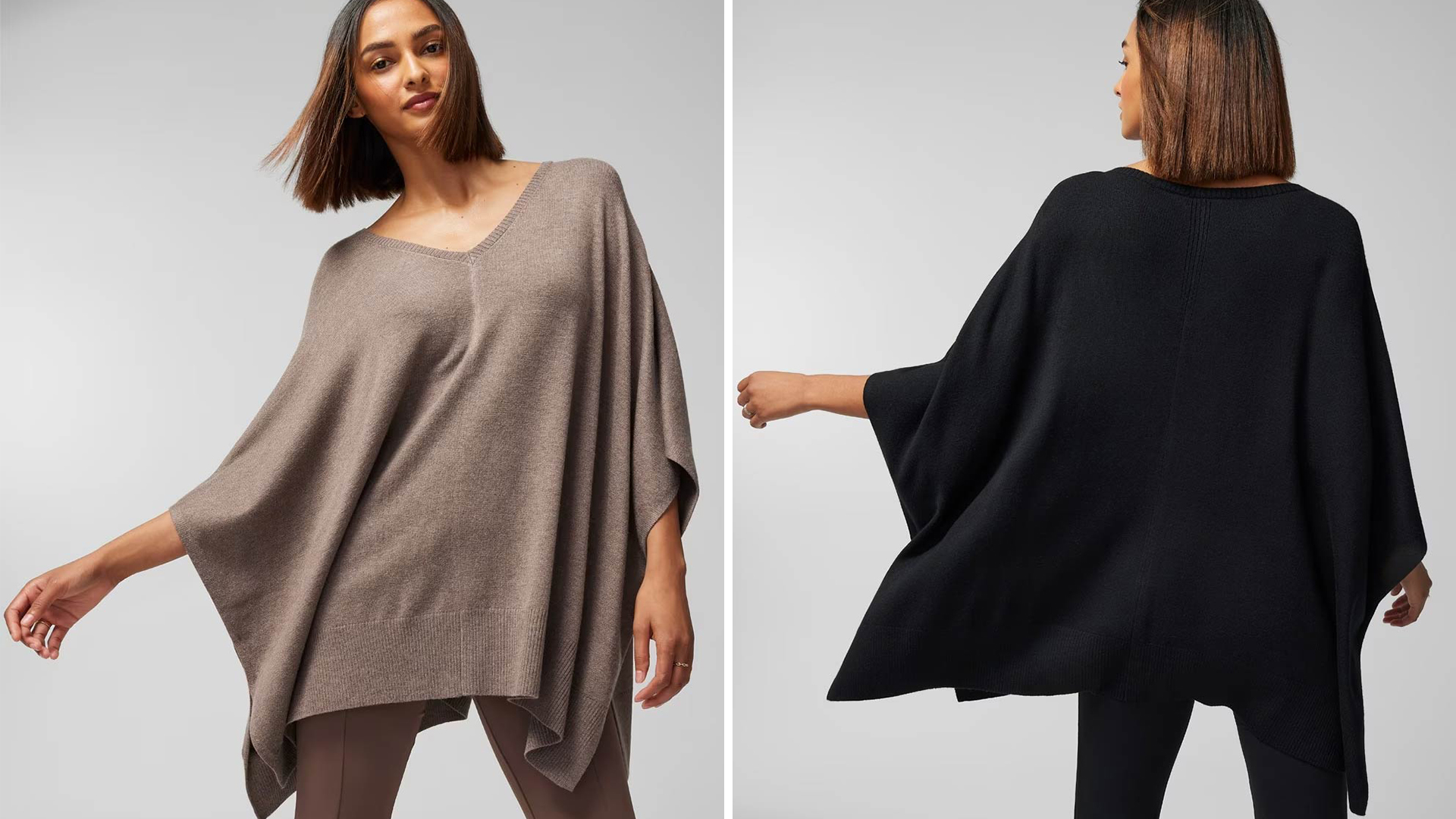 While putting together your travel outfit ideas, never forget a soft sweater option. Toss it into your carry-on travel bag since you never know when you'll end up on an extra chilly flight or when the weather at your destination is colder than expected. Stay cozy without sacrificing a high-end look with our Recycled Yarn V-Neck Poncho. Easily layer it over your outfit no matter if it's sleeveless or long-sleeved, you'll look chic and you'll love the pure luxurious comfort and stretch of the fabric.
3. Tech Knit Zip-Front Jacket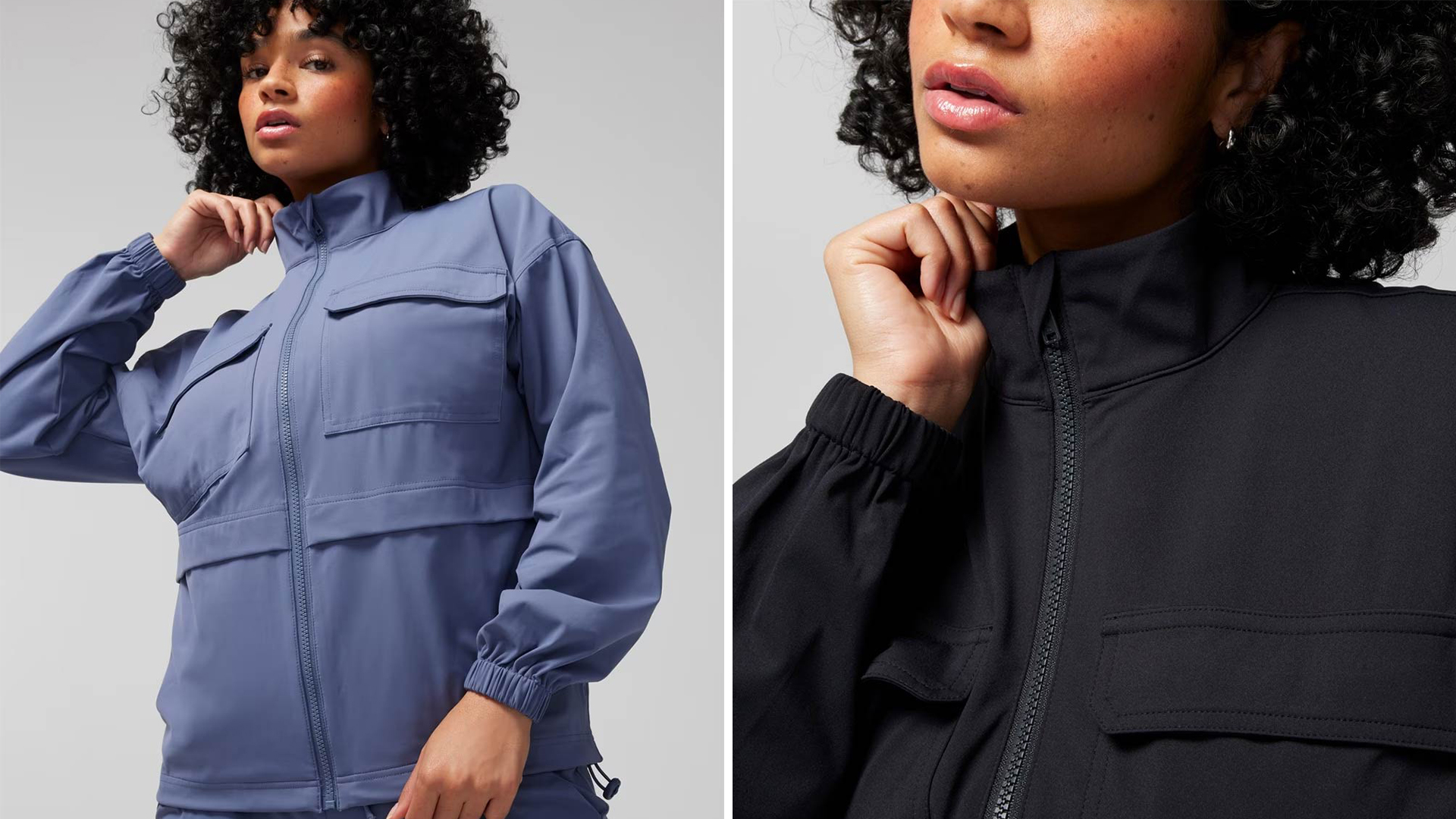 Layers, layers, layers—a versatile jacket is a must on any travel essentials packing list. Choose a jacket that provides a happy balance between function and fashion. Our Tech Knit Zip-Front Jacket comes in a sleek design that'll complement most any travel outfit while keeping you comfortable at the same time. Effortlessly cool for every part of your day, the tech knit fabric is lightweight, wicking, antibacterial, durable, and stretchy so it'll move with you, no matter the activities.
4. Tech Knit Joggers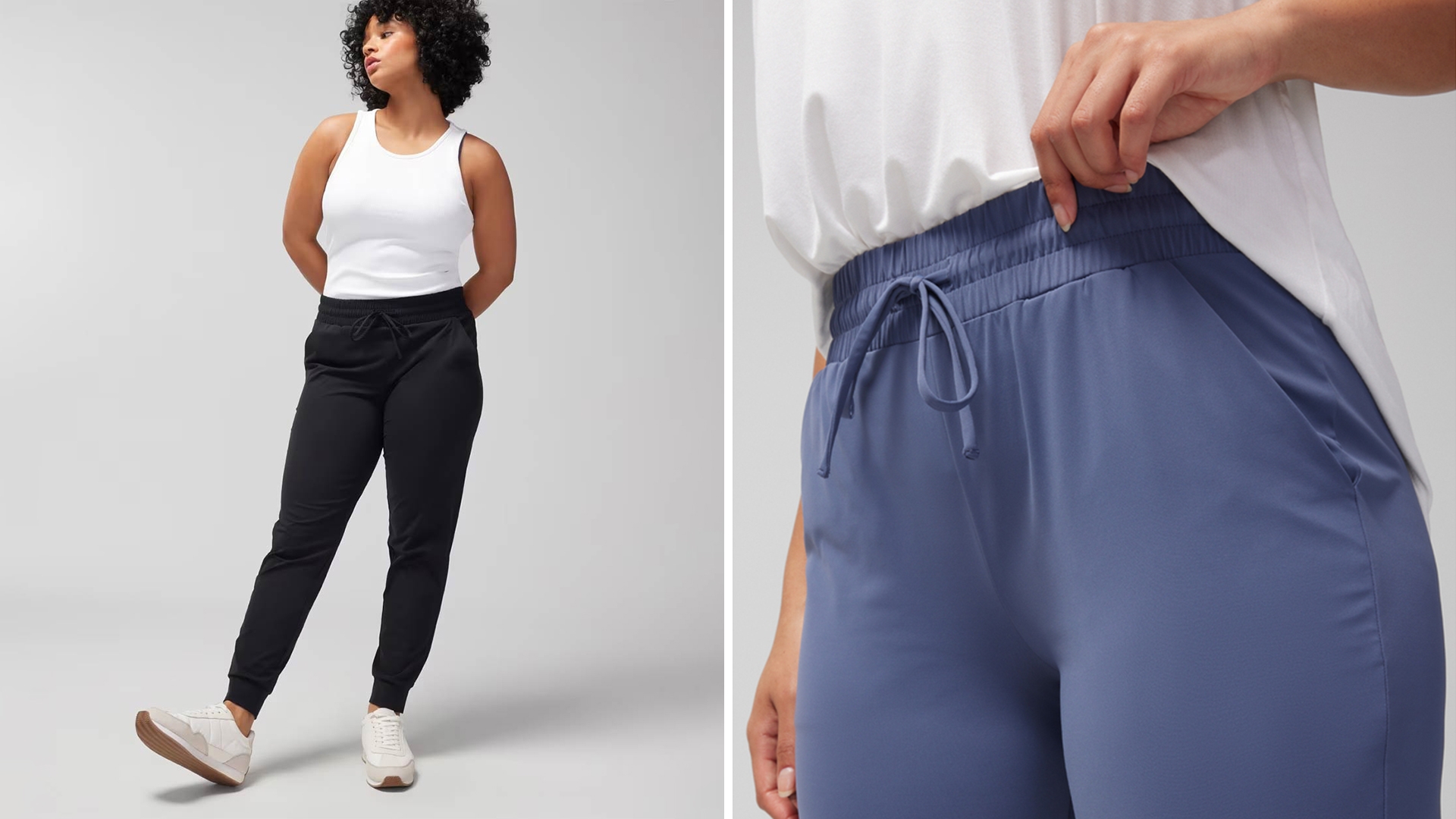 Made with the same tech knit fabric, these joggers are a true star when it comes to travel essentials for women. They've got the performance properties you know and love from our Tech Knit line while leaving no stone unturned when it comes to comfort. The wide elastic drawstring waistband, convenient pockets, and athleisure design ensure a comfortable fit and effortlessly cool look during long travel days. Style them with your favorite tees, tanks, and outerwear with ease.
5. Essentials Leggings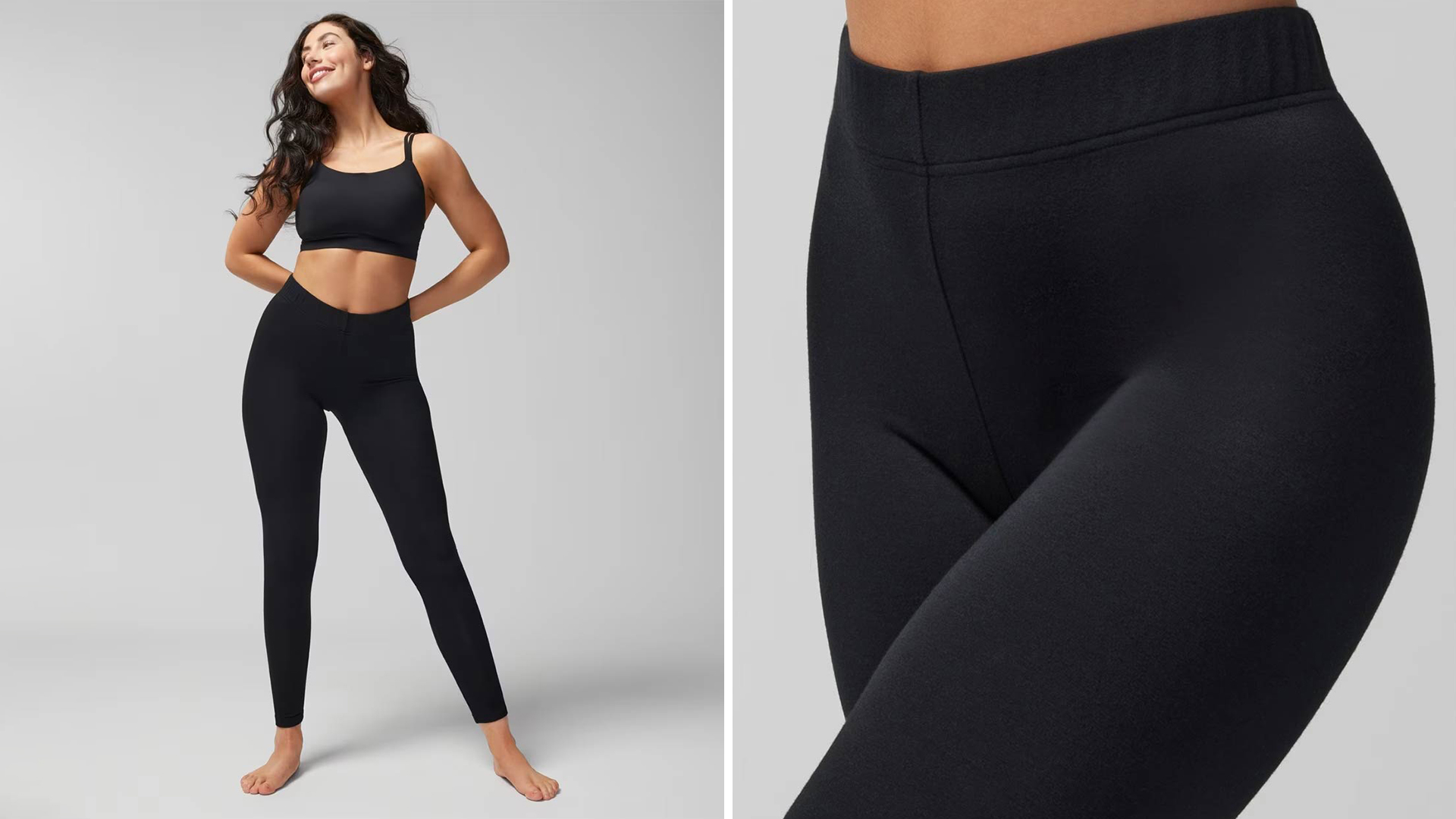 Have you ever gone to unwind at a hotel and wished you brought a comfy pair of pants to relax in? Add a soft pair of leggings to your travel essentials list and you won't regret it. Our Essential Leggings are the perfect pick for lounging in. The fabric is super soft and stretchy but it retains its shape (no baggy knees!) so you don't have to worry about only wearing them once on your trip.
6. Cool Nights® Notch Collar Pajama Top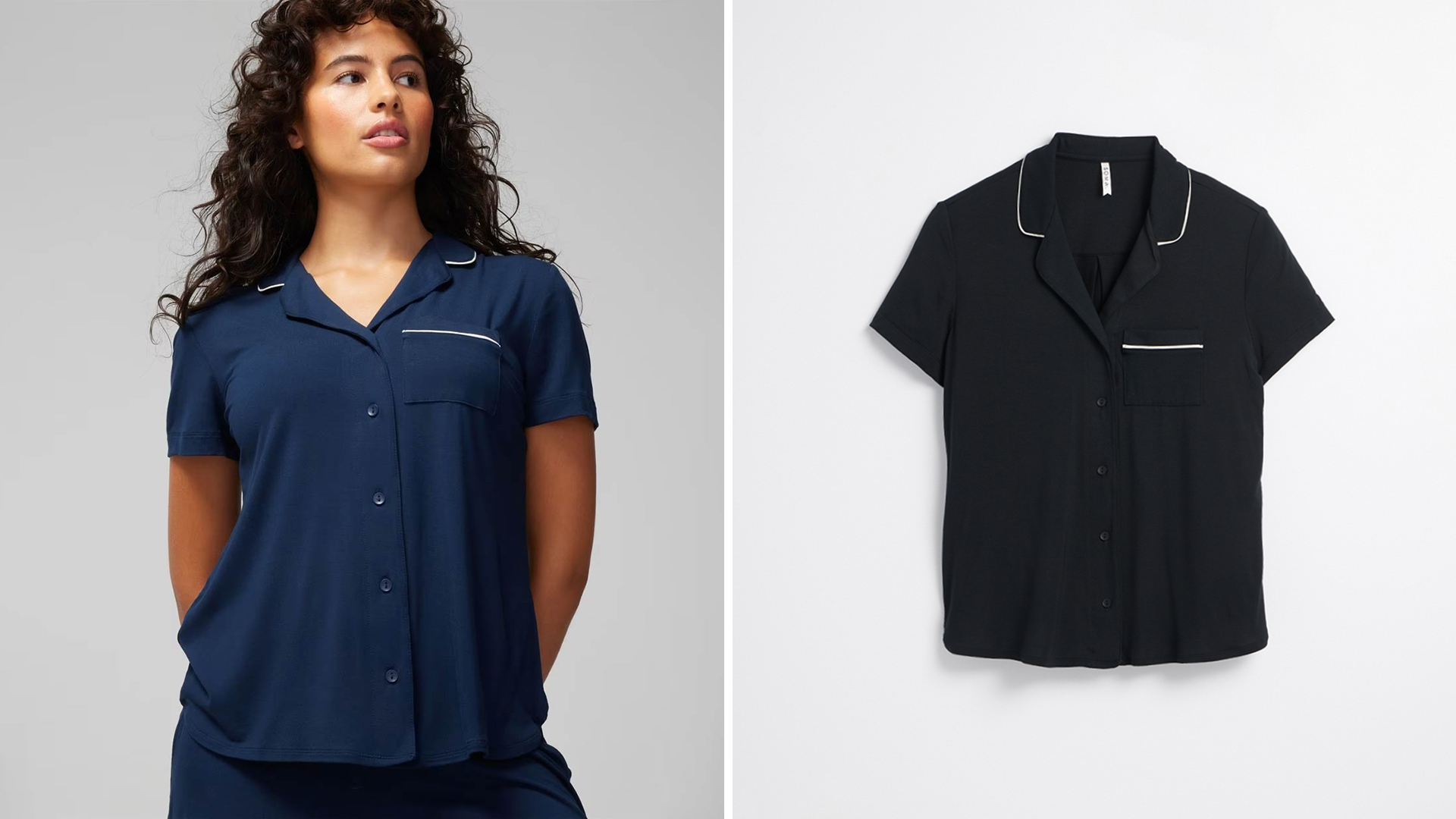 Make life easier by having designated pajamas that always travel with you. If you're traveling with friends or family, it's nice to have a style you feel comfortable being seen in. Our Cool Nights® Notch Collar Pajama Top has a sophisticated look while also being super comfy and soft. It's made with our bestselling fabric that's cool to the touch—millions of women get a good night's sleep with Cool Nights®. There's arguably nothing better than enjoying restful shuteye on vacation.

P.S. The effortless, button-front design is an excellent travel essential for breastfeeding mamas!
7. Cool Nights® Pajama Pants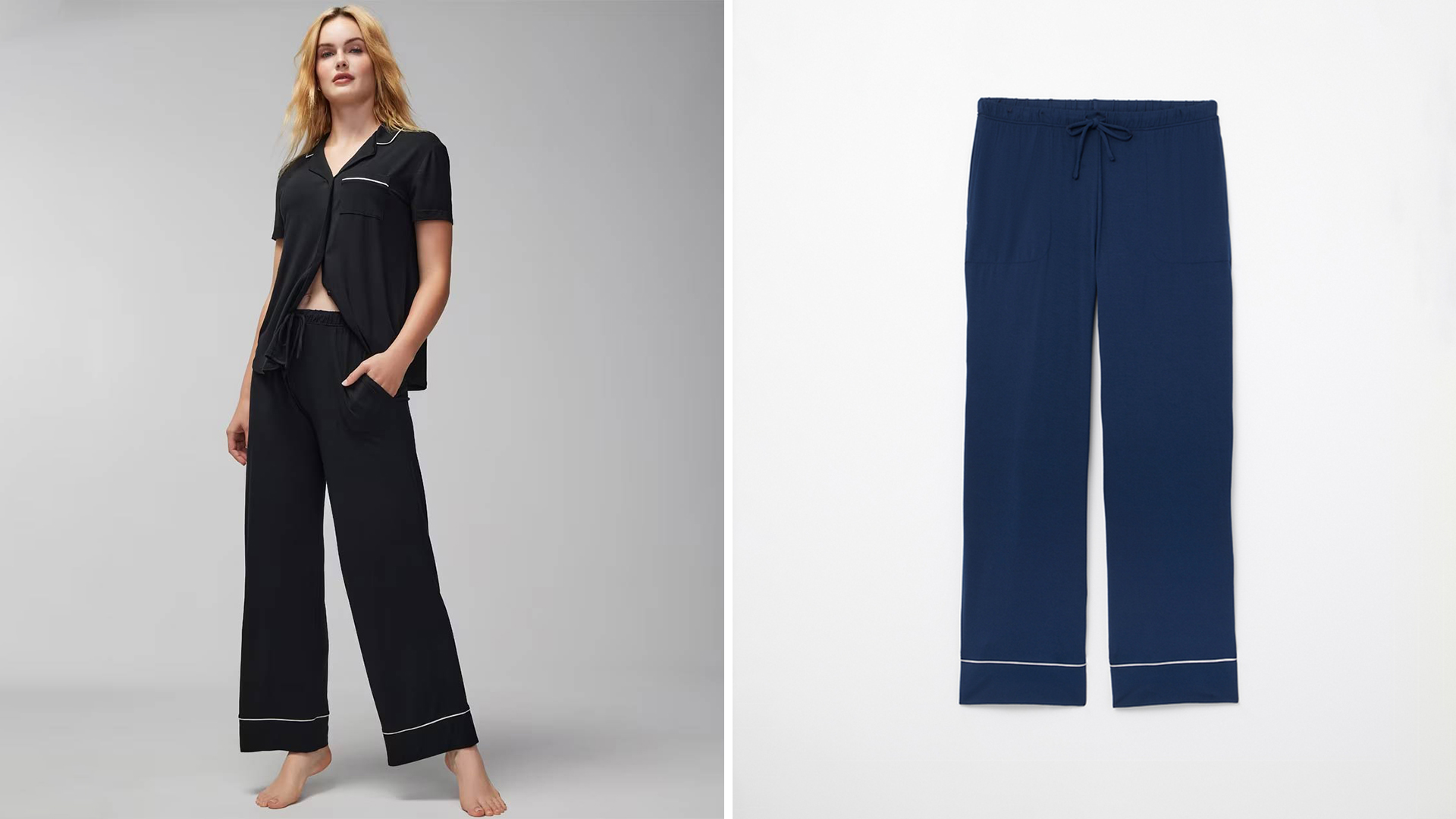 Speaking of keeping life simple, make your pajama ensemble a match made in heaven with the matching Cool Nights® Pajama Pants. No matter where your wanderlust takes you, add these to your travel wardrobe along with the notch collar pajama top as your go-to sleepwear set. It's got a comfy elastic waistband and handy side pockets to hold your small bedtime essentials, and of course it's made with our bestselling fabric. The lightweight rayon fibers are specifically designed to be cool to the touch and keep the fabric from sticking to your body.
8. Cool Nights® Short Robe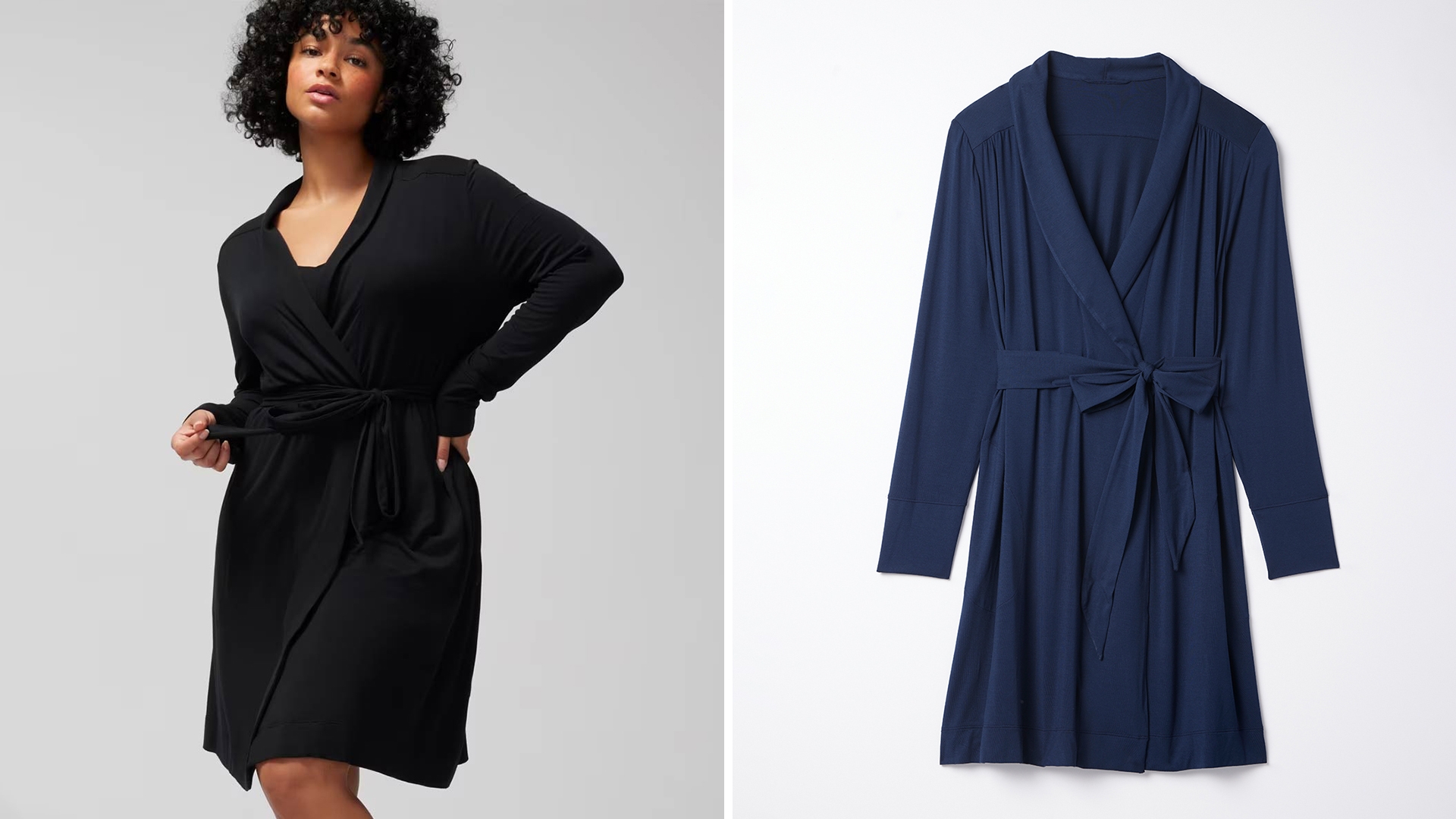 Whether you're staying at a hotel, rental, or friend's house, having a comfy robe is often forgotten about when creating a travel packing list. After all, it's life's little luxuries that can make a good vacation great. Wear it during breakfast or after a shower while you're still getting ready. In fact, our Cool Nights® Short Robe is designed with sleeves that are easy to roll up or down so you can wash your face with ease.
9. Enbliss® Wireless Bra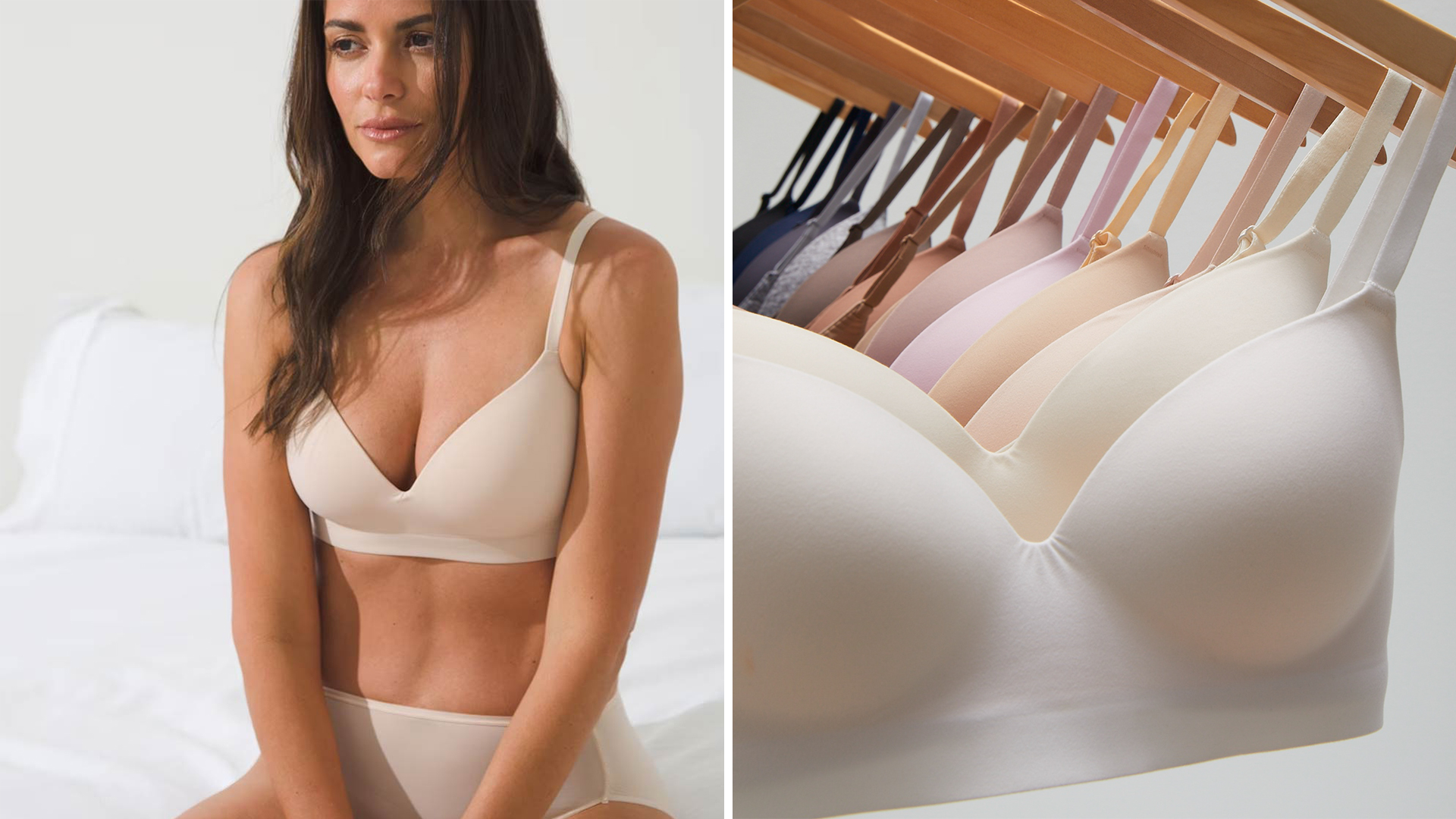 Now that you've got a few travel outfit ideas on the brain, don't forget one of the most important parts of getting dressed. Wearing the right bra can make or break an outfit. Choose one that's not only flattering and supportive, but also comfortable. Our Enbliss® Wireless Bra is all three of those things combined. It provides major support (without the wires) and such a comfy fit, it feels like you're wearing nothing at all. From the wide range of nudes and neutrals, pick a shade closest to your skin tone so it disappears under your clothing!
10. Vanishing Edge® Microfiber High-Leg Brief 5-Pack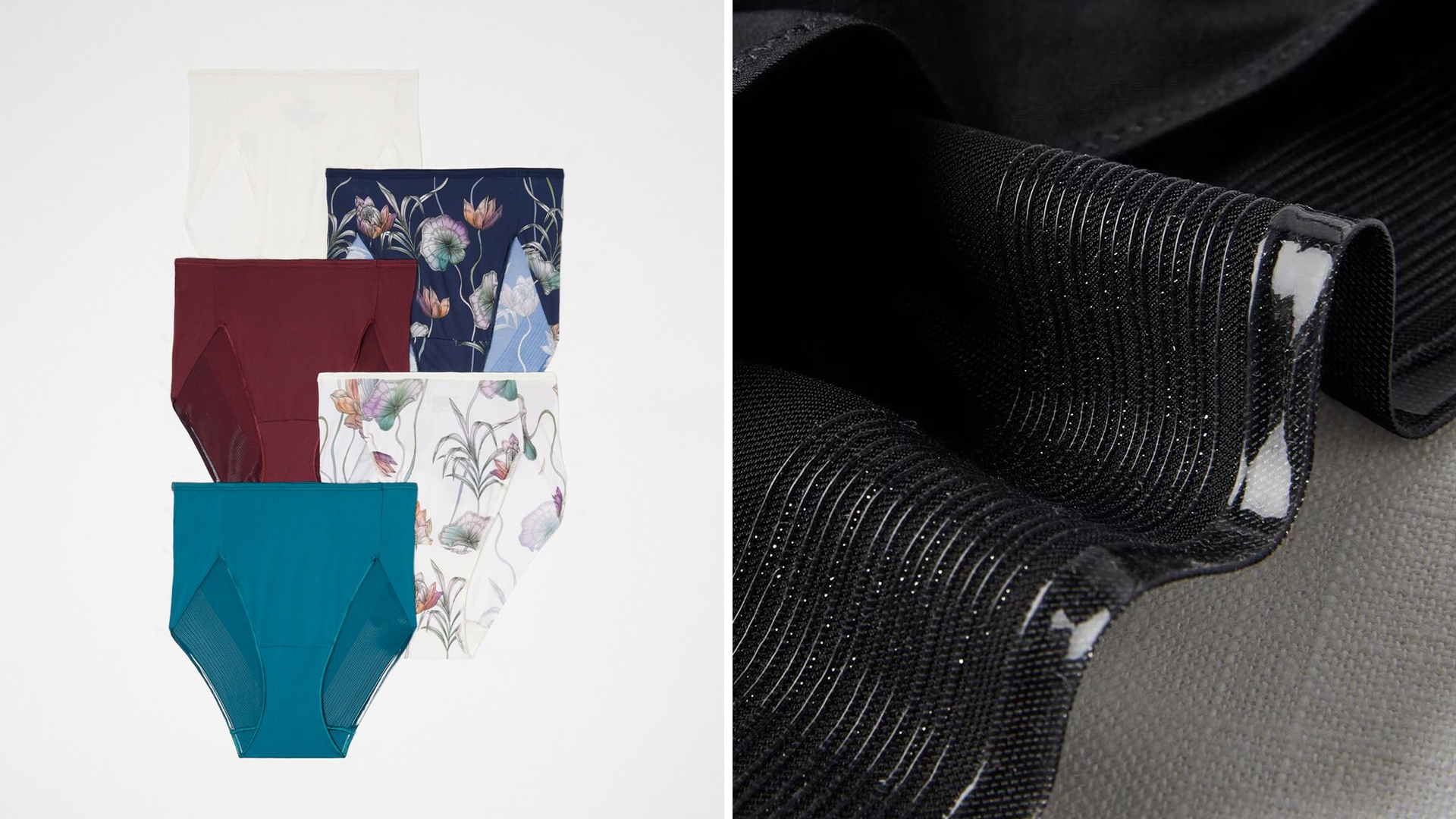 Last but not least, you never want to leave panties off your list of travel essentials. Refresh your selection by opting for our Vanishing Edge® Microfiber High-Leg Brief 5-Pack. Simply toss the pack in your travel bag and you're good to go.
Not only will you get a nice mix of solids and patterns, our patented technology built into these panties will make panty lines disappear. The stay-put silicone ensures a no ride, no roll, no show finish so you'll feel confident in all of your travel outfits.
How Can I Set Up a Travel Capsule Wardrobe?
Creating a travel capsule wardrobe focuses on a small collection of versatile clothing items that are easy to mix and match. First, choose your pieces based on the purpose of your trip (beach destination vs. business trip) and the weather. From there, try to narrow down your selection to as few tops, bottoms, layers, and shoes as possible that will still create the appropriate amount of outfits you'll need for your trip.
How Many Outfits Do I Need to Pack For a Trip?
The amount of outfits needed to create a solid vacation wardrobe will differ from person to person. To help you determine your needs, first answer two important questions. First, how many days will you be there? And second, what events or activities are planned? If you can rewear or wash any of your clothes during your stay, that will make it even easier to narrow down on the amount of outfits you need to pack!
How Many Bras and Underwear Should I Pack For Traveling?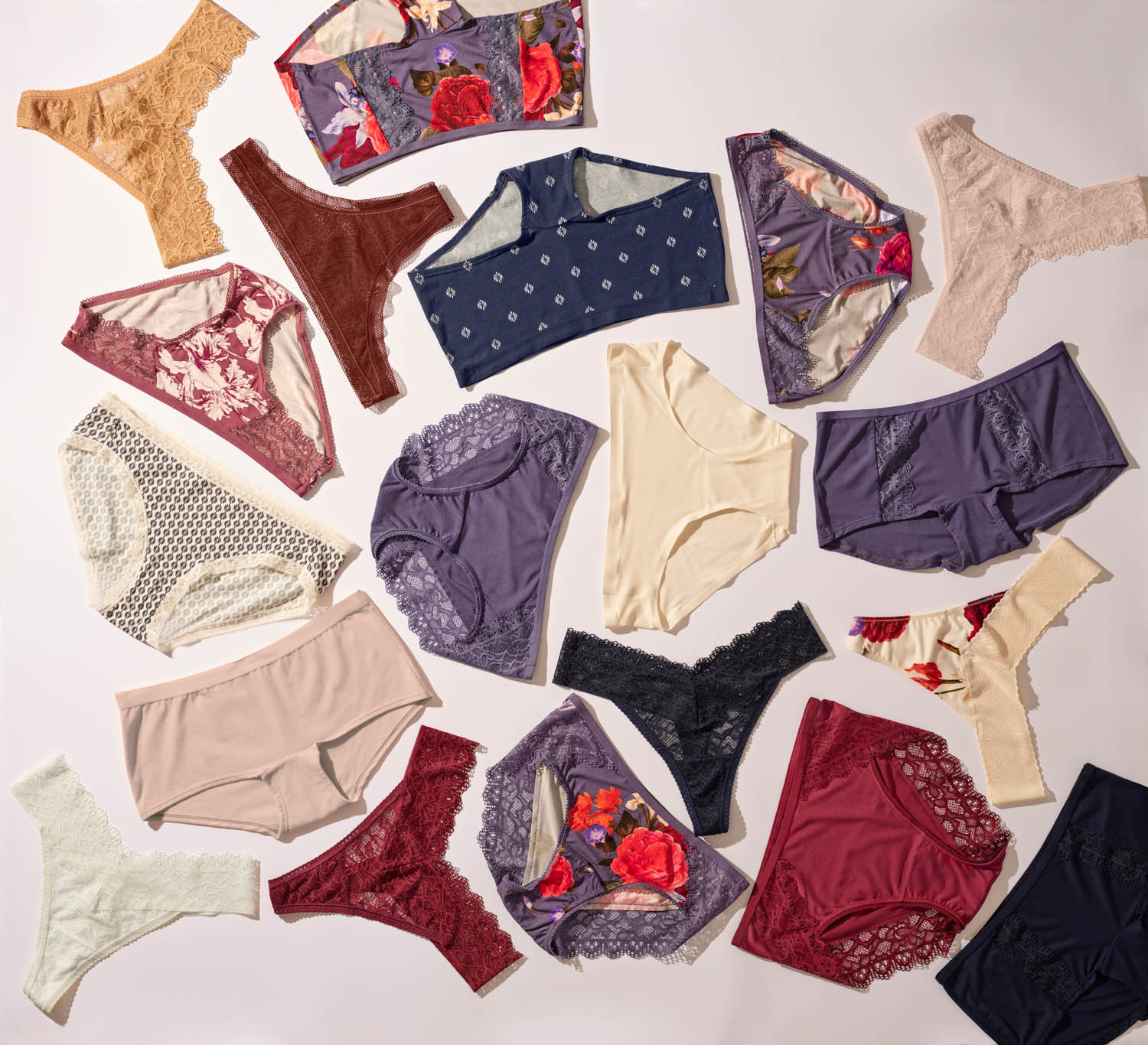 It's always a good idea to pack a pair of panties for each day of your trip, plus a couple more. You never know when that extra pair will come in handy. When it comes to bras, if you find a style that goes with all of the outfits you packed, you might just need one. For longer trips, you might want to pack a couple, especially if you won't have any way to wash your bra.
How Do You Pack to Save Space?
Aside from choosing versatile pieces that'll create multiple outfits, there are a few additional ways to save space when packing. The rolling method is a popular way to fold underwear, base layers, and non-bulky fabrics that optimize the available room in your suitcase. Also, using packing cubes helps compress clothing and keep everything organized!
UP NEXT: What is a Demi Bra?