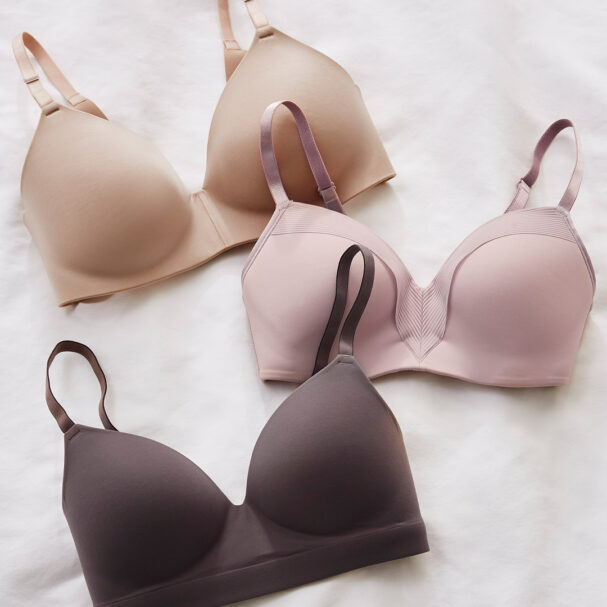 We get it—with everything going on in life, your bra is the last thing that crosses your mind. Our lingerie experts are here to help. We shared solutions to common bra mistakes with Real Simple and now, here they are for you—so you can be an expert, too.
1. Not Investing In a Quality Bra
Solution: Buy from a brand that believes in fit and stands behind their bras.
There is a big difference in how a $15 bra and a $50 bra will perform, even if they don't look very different on the hanger. A good quality bra will fit more comfortably from the minute you put it on, provide all-day support and will hold its appearance over many wearings and washings.
2. Going Too Long Between Bra Fittings
Solution: Get Professional Bra Fittings Regularly
You may need new bras whenever your body goes through a change—gaining or losing five pounds or more, pregnancy, post-pregnancy, during and after nursing, or after breast surgeries or menopause. All of these events will affect how your bra fits, the support that you need, and how comfortable it feels. Many stores (including our boutiques) offer free bra fittings. We recommend a fitting every six months to a year.
3. Wearing the Same Bra Every Day
Solution: Rotate your bras.
We recommend you avoid wearing the same bra two days in a row. Why? Perspiration can cause a bra's elastic to deteriorate. Have at least three bras in your wardrobe: one to wear, one to wash, and one to rest for a day. Rotating your bras in this way will help each last longer.
4. Putting Your Bra in the Dryer
Solution: Hang or lay flat to dry.
Every bra has unique fabrics, trims, and care requirements. Read labels for washing and temperature instructions. The good news is you don't have to hand-wash all of your delicates. Most bras can be washed in a lingerie bag on your machine's gentlest cycle. Close the hooks and eyes on the bra before putting it in the bag, zip shut, and then wash in the washer with cool water. But never put a bra in the dryer—the heat ruins the stretch. Simply hang it on a hanger or lay flat to dry.
5. Storing Your Bras Incorrectly
Solution: Stack your bras.
After your bras are completely dry, stack them in a row so the cups fit into each other in your drawer, or hang them on hangers in your closet. This is especially important for bras with a molded foam cup. Avoid folding bras in half with one cup inside the other, which could alter their shape.
6. Wearing a Bra with a Problematic Band
Solution: Find the right size.
Your bra's band is the key to good support. The bottom edge of your bra should sit level and straight all the way around your body. If the band is too loose, it will hike up in the back and the cups will fall down, causing your breasts to sag. Just as bad, if your band is too tight, it can dig into the skin and create painful, unflattering lines and bulges on your back and sides. Just because a bra's tag says it is a certain size doesn't mean it's a perfect fit. Approach bra buying like shoe buying—try a variety of sizes and styles to gauge fit, look, and feel.
7. Wearing a White Bra Under White Clothing
Solution: Choose a color closest to your skin tone.
The key to looking polished when wearing light summer fabrics is to ensure you've chosen pieces that vanish underneath. That means matching your bra to your skin tone, not your clothing. We recommend choosing a neutral shade such as light nude, soft tan, mocha, or black—any color that closely matches your skin tone will disappear under light colors or sheer fabrics.
8. Wearing Basic Colors Every Day
Solution: Don't be afraid to go for fun colors or prints.
It's a common misconception that everyday bras should be a basic color. While having bras in neutral colors (such as black or soft tan) is essential to completing your bra wardrobe, wearing a fun printed bra (such as leopard or polka dots) or an uplifting color can feel like a special treat.
9. Not Completing Your Bra Wardrobe
Solution: Know which styles work for your body and outfits.
Different cup sizes and outfits call for different bras. If you have a fuller cup size and want the most cup coverage and maximum support every day, choose a full coverage bra. For smaller cup sizes, push ups or demi bras offer enough coverage. If you're wearing a blouse and want to avoid gapping between buttons, go with a minimizer bra. It reduces the bust from 1 to 3 inches. Wearing a t-shirt? Choose a bra that's invisible under clothing. With open-neckline tops, balconet bras work well because they offer a lower cut.
10. Throwing Your Gently Worn Bra Away
Solution: Support bra donation programs.
A little-know fact: Bras are the most needed, yet least donated item of clothing for women. Support women in need by giving bras to initiatives like the Soma Bra Donation, which benefits women staying in local shelters affiliated with the National Network to End Domestic Violence.


Real Simple logo and content used with permission. For the original article, click here.