Winter months usher in holiday celebrations, freezing temperatures, and family visits. With all of that going on, there are inevitable moments you'll be relaxing in your pajamas. Prepare your closet with the sleepwear you need to get you through the season in style.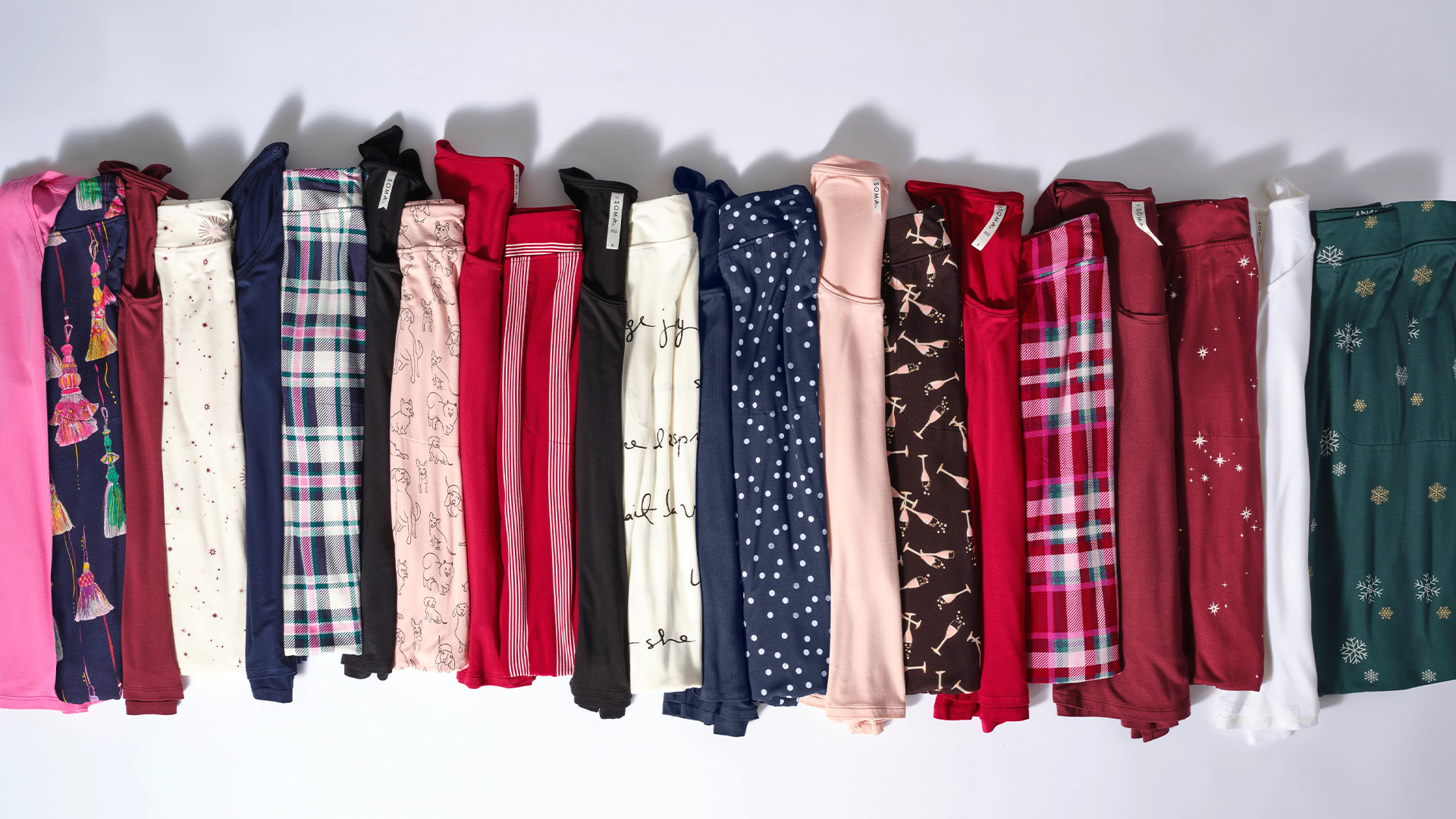 Not sure how to choose the best winter pajamas for your busy holiday calendar? We're sharing our top pajama recs with the help of our ultimate fabric guide. We're considering fabric weight, feel, style, and print to bring you your perfect pajama selections.
If you happen to live somewhere warm all year round but want to enjoy festive pajamas without overheating—we've got you. Are you looking for coordinating sleepwear for family photos? It's on our list! Keep reading to see which style (or styles!) are right for you.
Cool-to-the-touch Women's Pajamas for WARM WINTERS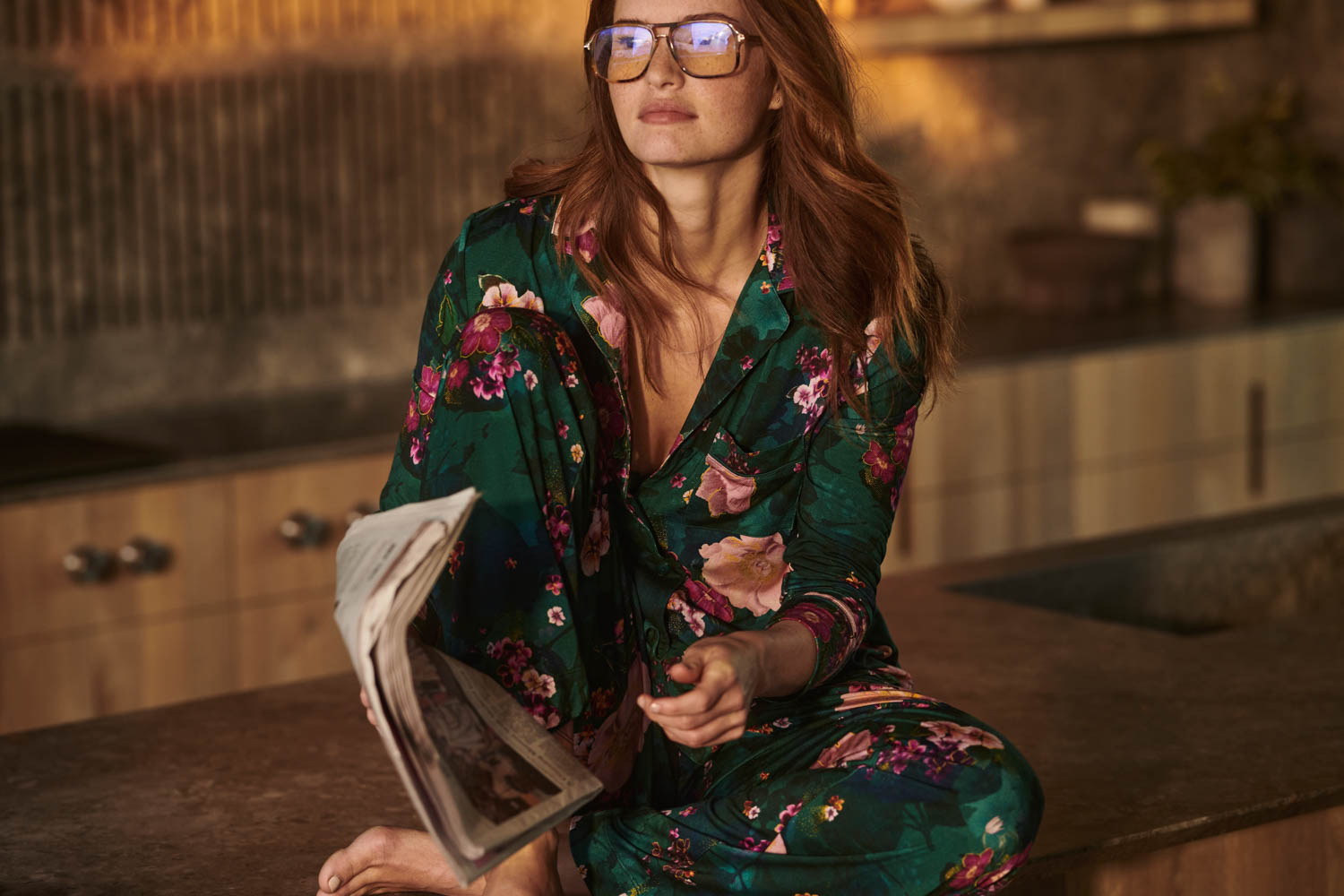 If you're lucky enough to live somewhere warm during the winter (we're looking at you Florida), you might have unique sleepwear needs. Are you searching for the best winter pajamas that won't overheat you during mild evenings? Or maybe you're a year-round hot sleeper who wants to keep the night sweats at bay.

Either way, our famous cool-to-the-touch Cool Nights® pajamas fit the bill. They're made with lightweight rayon fibers that are specifically designed to keep from sticking to your body. Always made with fresh and exclusive prints, you can enjoy seasonal patterns no matter what your weather app forecasts.
Textured Winter Pajamas for CHILLY NIGHTS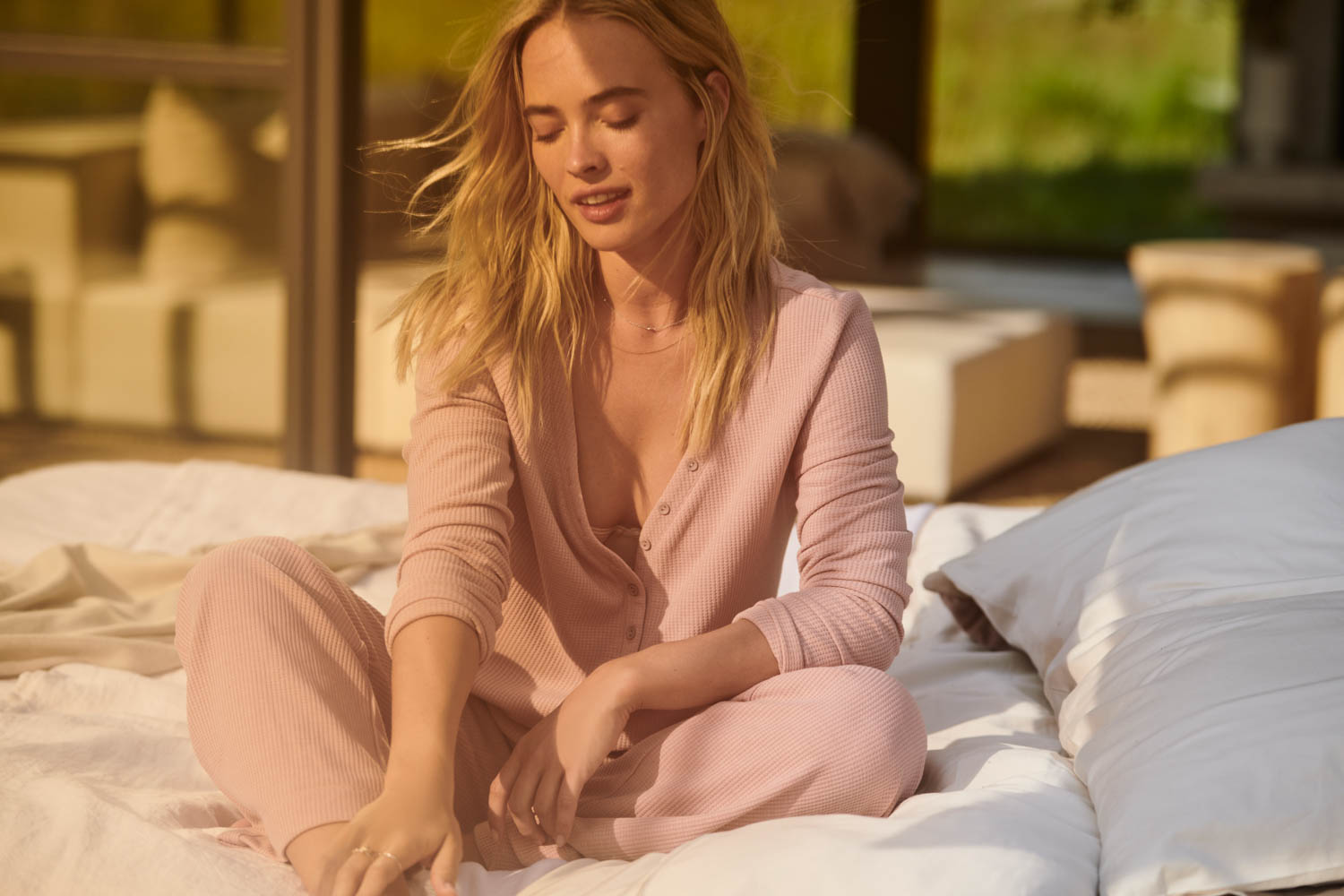 Brrr—is it freezing where you are? Warm women's pajamas are a must for those bone-chilling nights. Look for pajamas made with a textured waffle fabric and soft brushed interior that feels nice against the skin. Our Cozy Waffle pieces are thoughtful constructed to keep the heat in, forming a warm layer on your skin. Simply add a pair of fuzzy socks and you're all set for a snowed-in night.
Luxe Satin Sleepwear for a FESTIVE PAJAMA PARTY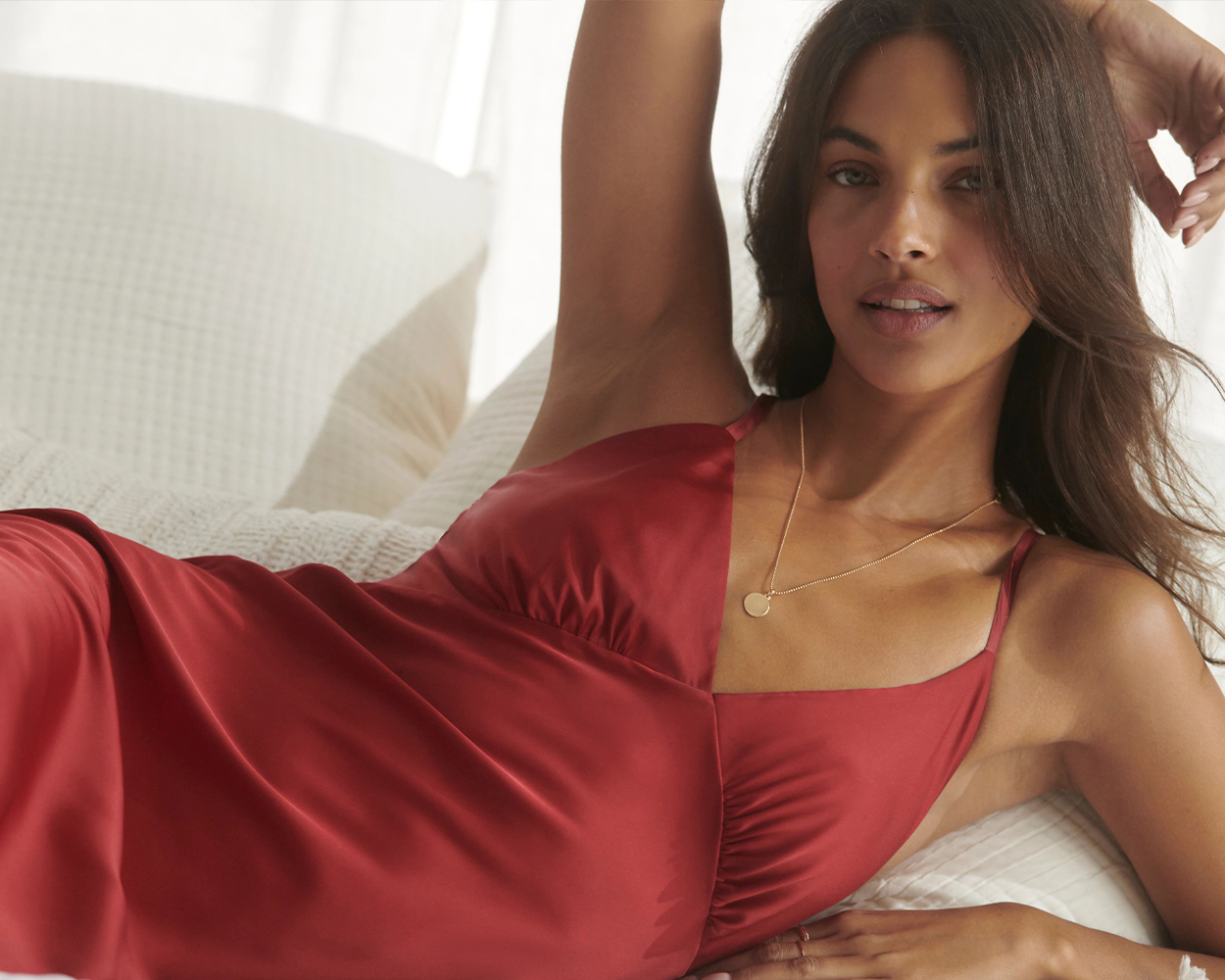 Attending or hosting a pajama party this holiday season? Look for silk or satin sleepwear styles for a glamorous pajama look. Whether you're ringing in the new year with your besties on the couch or gathering for a low-key Friendsgiving, you'll look the part with an equally festive and comfy ensemble. Dress up a satin slip with sparkly jewelry and heels or keep it casual with a matching satin robe and open-toe slippers for the finishing touch.
Classic Flannel Pajamas ADD HOLIDAY CHEER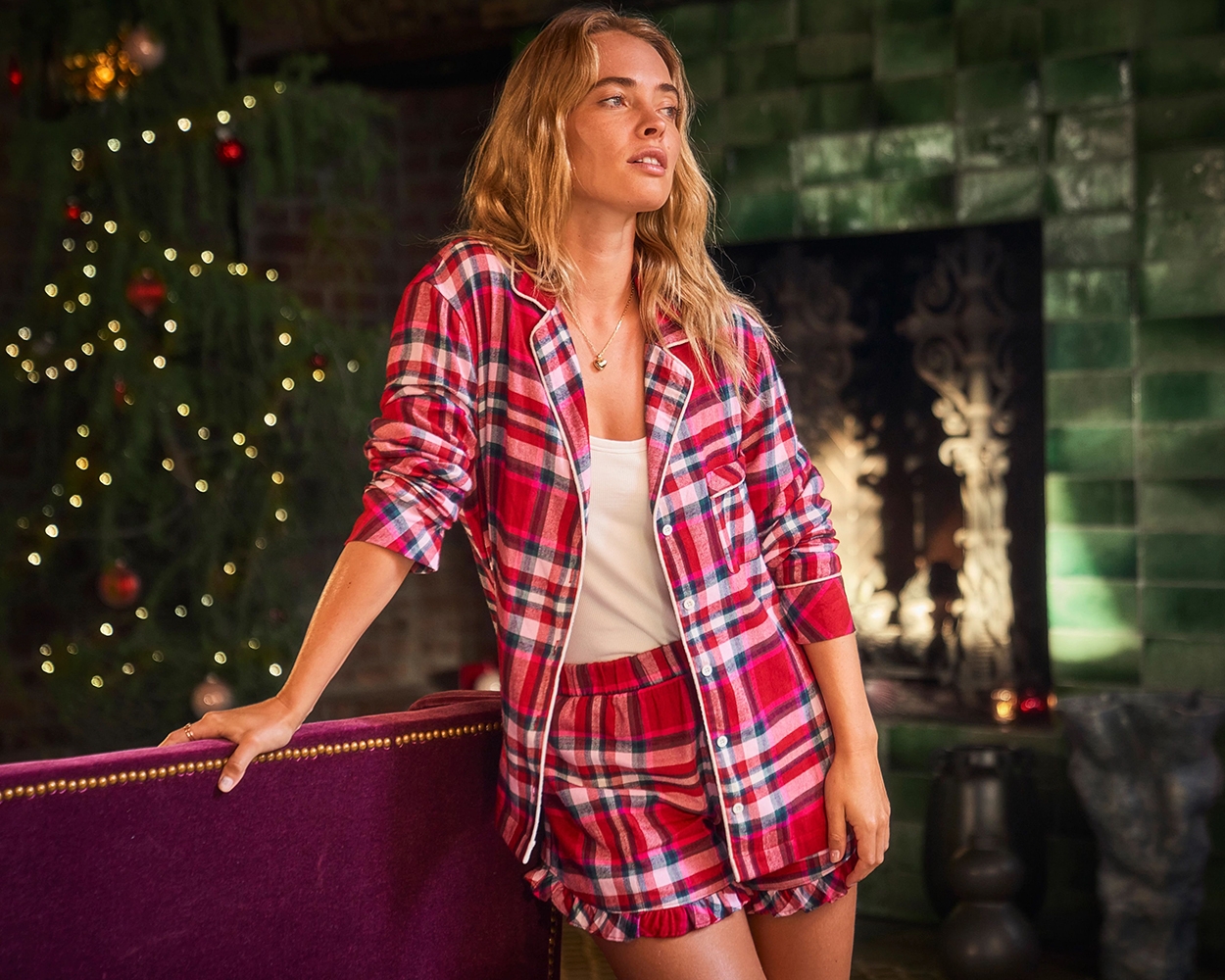 We couldn't talk about winter pajamas for women without mentioning flannel. It's a staple fabric for the season—and for good reason! The smooth warm material feels like a hug and often comes in festive prints and colors which adds to the holiday magic. Feather-soft flannel pajamas are the ultimate companion for opening presents early in the morning, cuddling by the fire with hot cocoa, and watching all your favorite feel-good movies.
Add Plush Layers for CRISP WINTER MORNINGS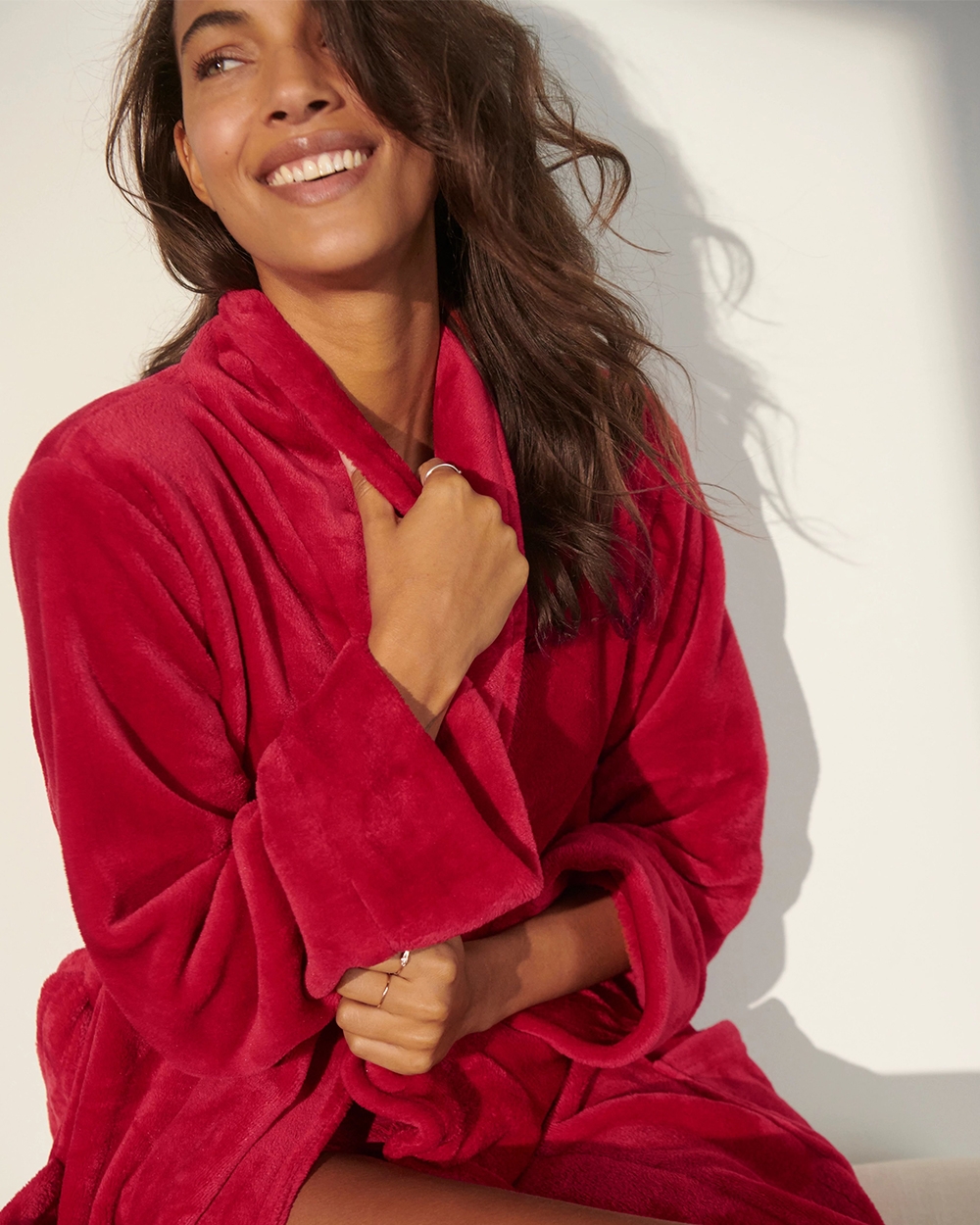 If you're in charge of breakfast duty for the family or you're an early riser, make getting out of bed a little easier with a plush robe. Plush fabric is what warm pajama dreams are made of thanks to its thick, lush feel. Whether it's a short or long robe, wrap yourself in warmth before you brave the cold of the morning. It'll quickly become a staple for your winter morning routine, you may never want to take it off.
Marshmallow Soft Winter Pajamas for ALL-DAY LOUNGING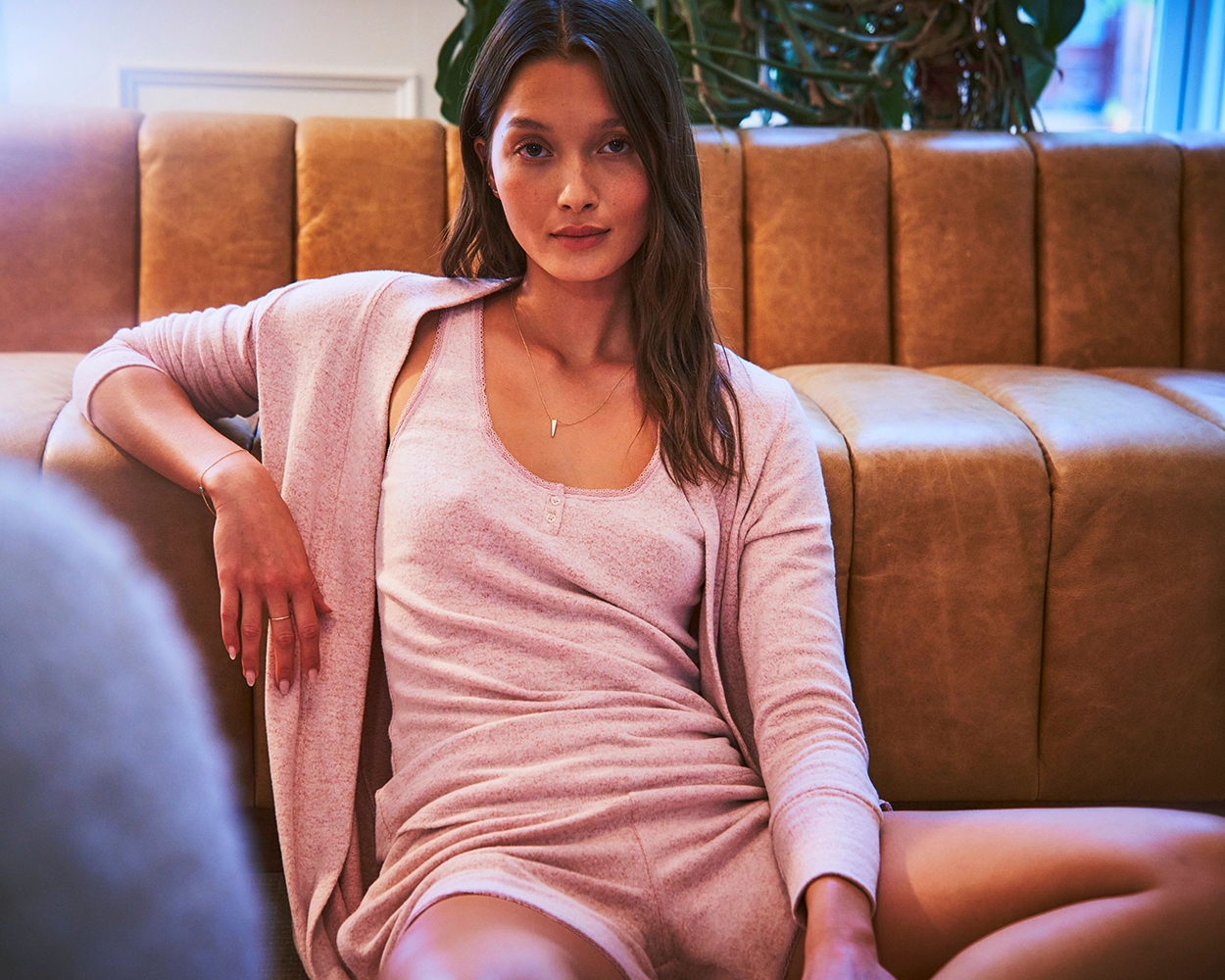 Holiday breaks and time off at home call for days you forget to change out of your pajamas. Choose women's pajamas that are ultra-soft, lightweight, and layerable to keep you comfortable all day long. Our CozyLuxe collection checks all the boxes on comfort and versatility making it effortless to put together an outfit you'll love wearing morning, noon, and night.
Picture Perfect Pajamas for COORDINATED FAMILY PHOTOS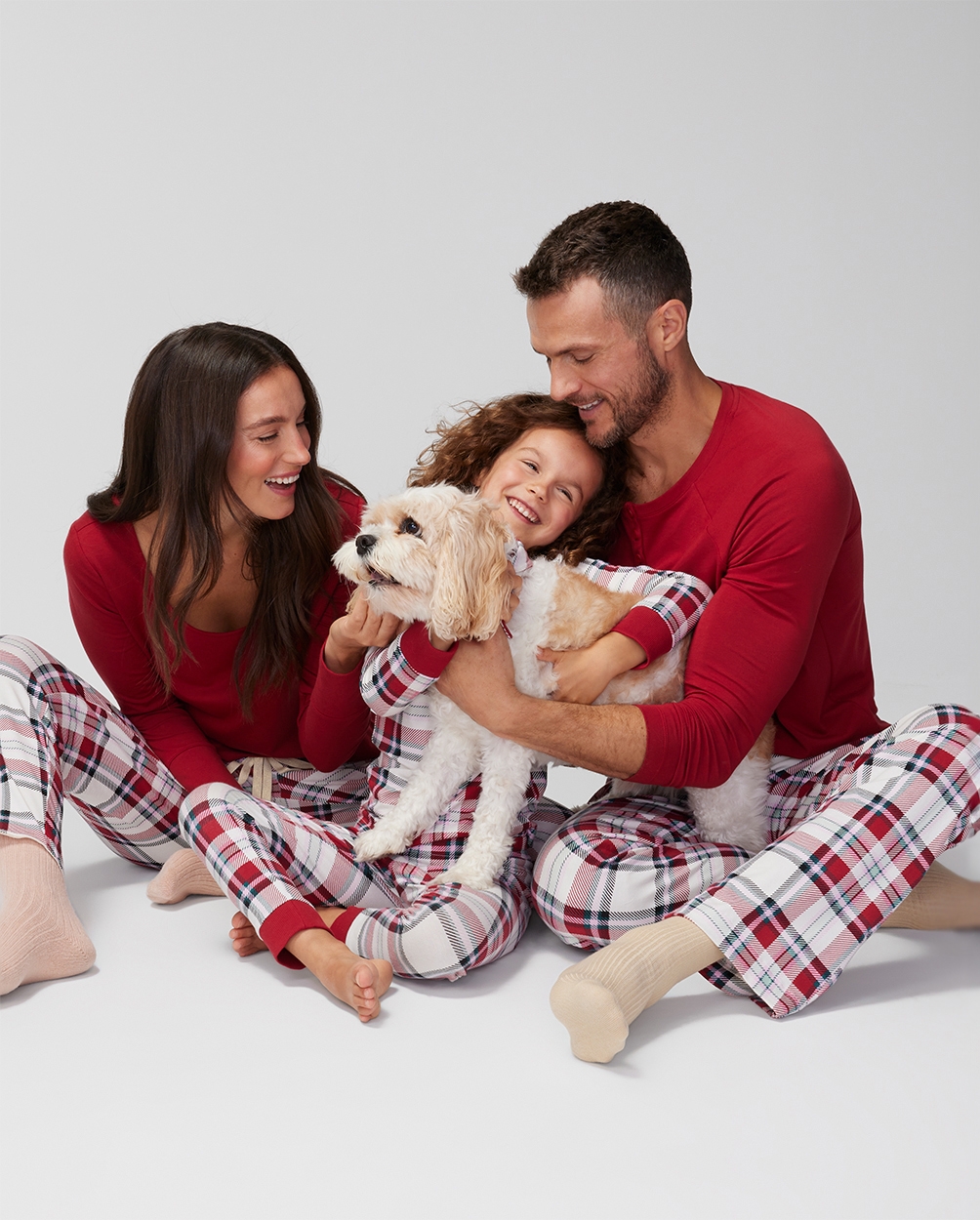 Get those smiling faces ready because it's holiday photo time and we've got picture perfect pajamas for the whole family. With matching styles for him, her, and the kiddos, it makes posing for pictures that much easier. P.S. Don't forget the coordinating pet bandana—our furry friends are part of the family too!
Best Winter Pajamas for GUEST VISITS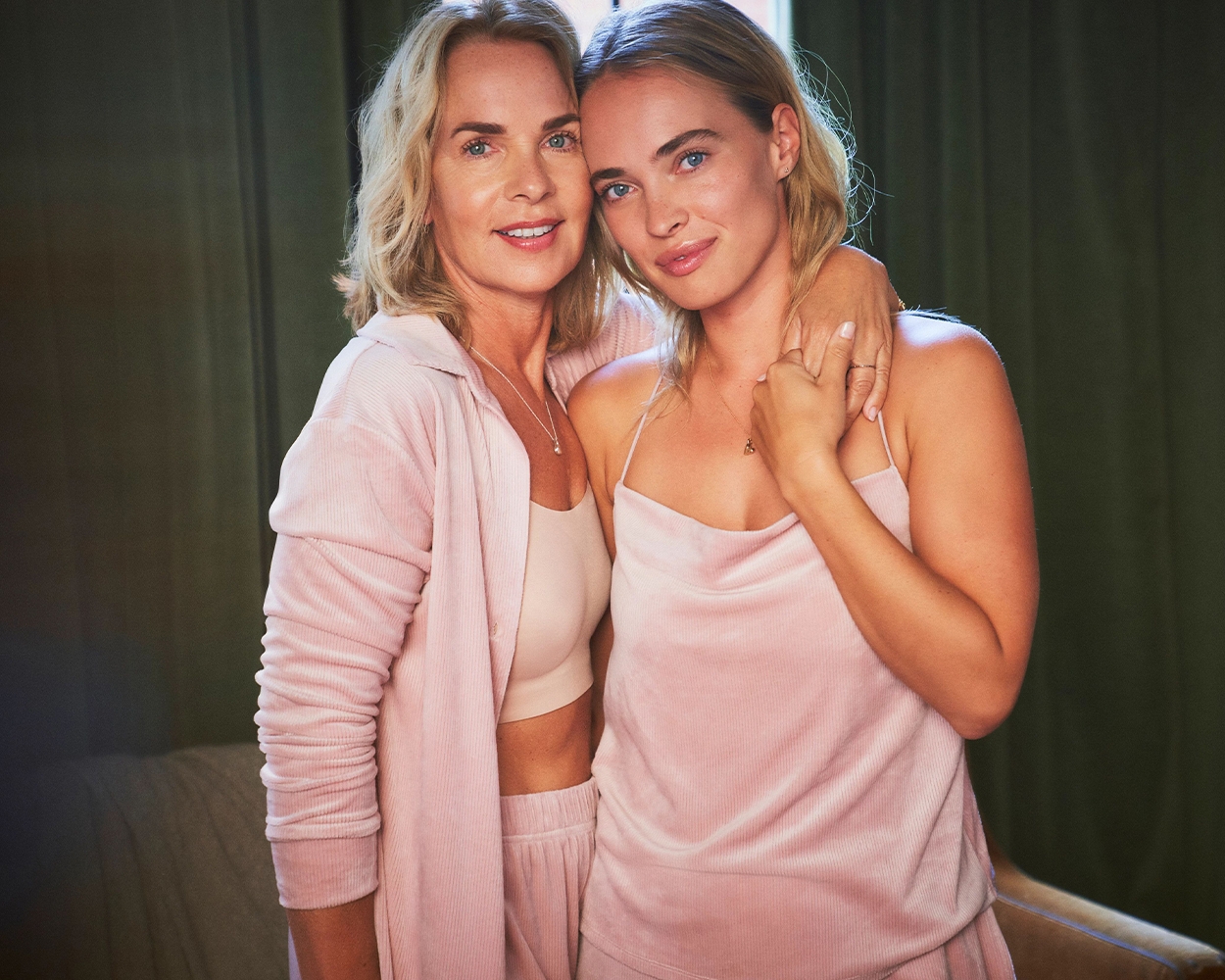 Whether you're house hopping for the holidays or everyone's flocking to your place, you'll need winter pajamas you feel comfortable in no matter who's around. These Velvety Ribbed pajamas are seriously soft and boast a super stylish look that'll even impress the in-laws. Elevated details such a cowl neckline combined with a velvety fabric make it easy to look effortlessly put together.
How To Choose the Best Fabric for Your Pajamas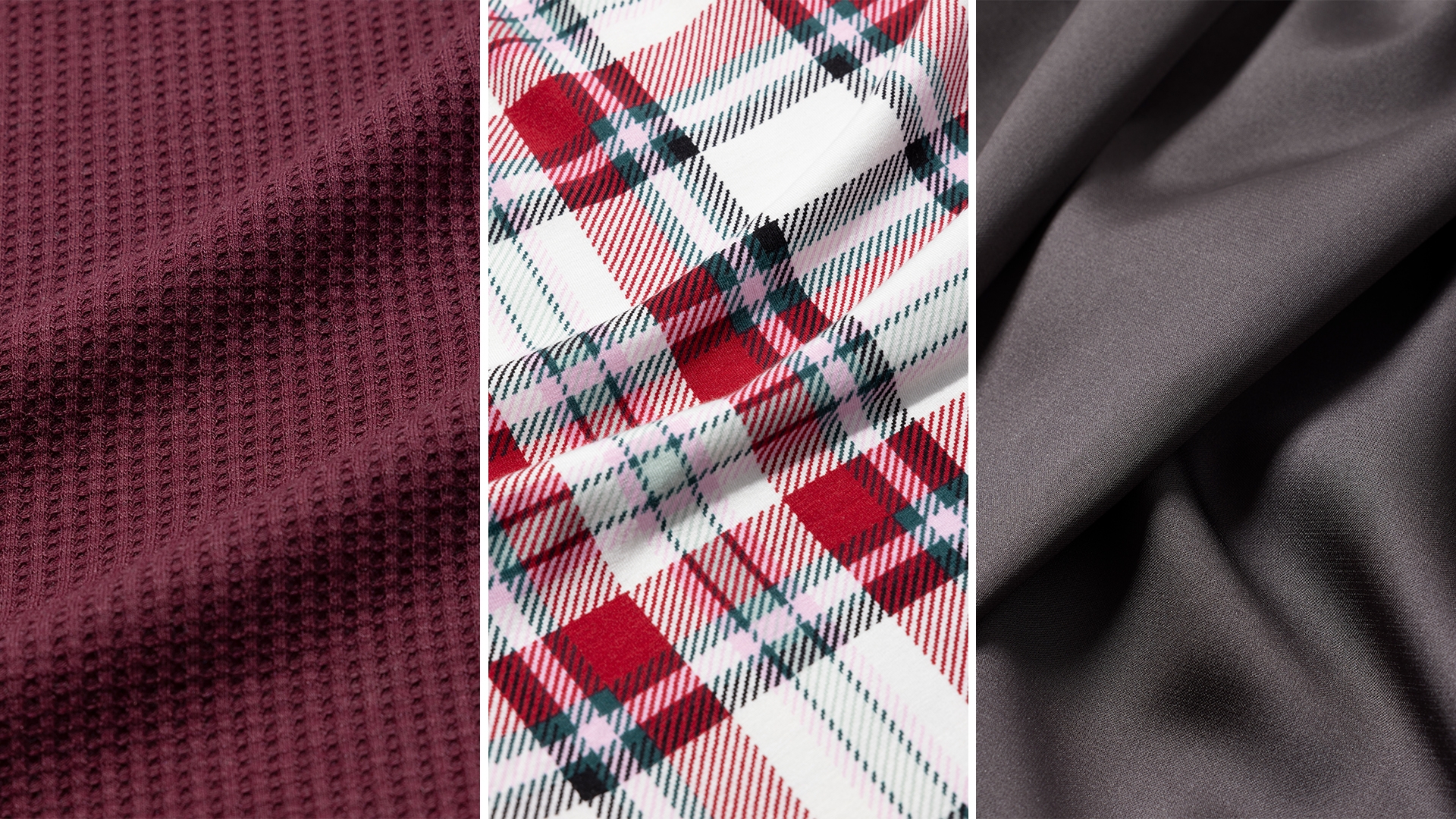 Choosing the best fabric for your winter pajamas depends on a few different factors. Whether you're a hot sleeper with night sweats or a cold sleeper who loves to layer up, your fabric choice is going to differ. Become familiar with the look and feel of a wide variety of fabrics to help you decide. Some fabrics like cotton or rayon are more breathable while flannel and ribbed materials focus on keeping you warm.
What Pajamas are the Warmest in the Winter?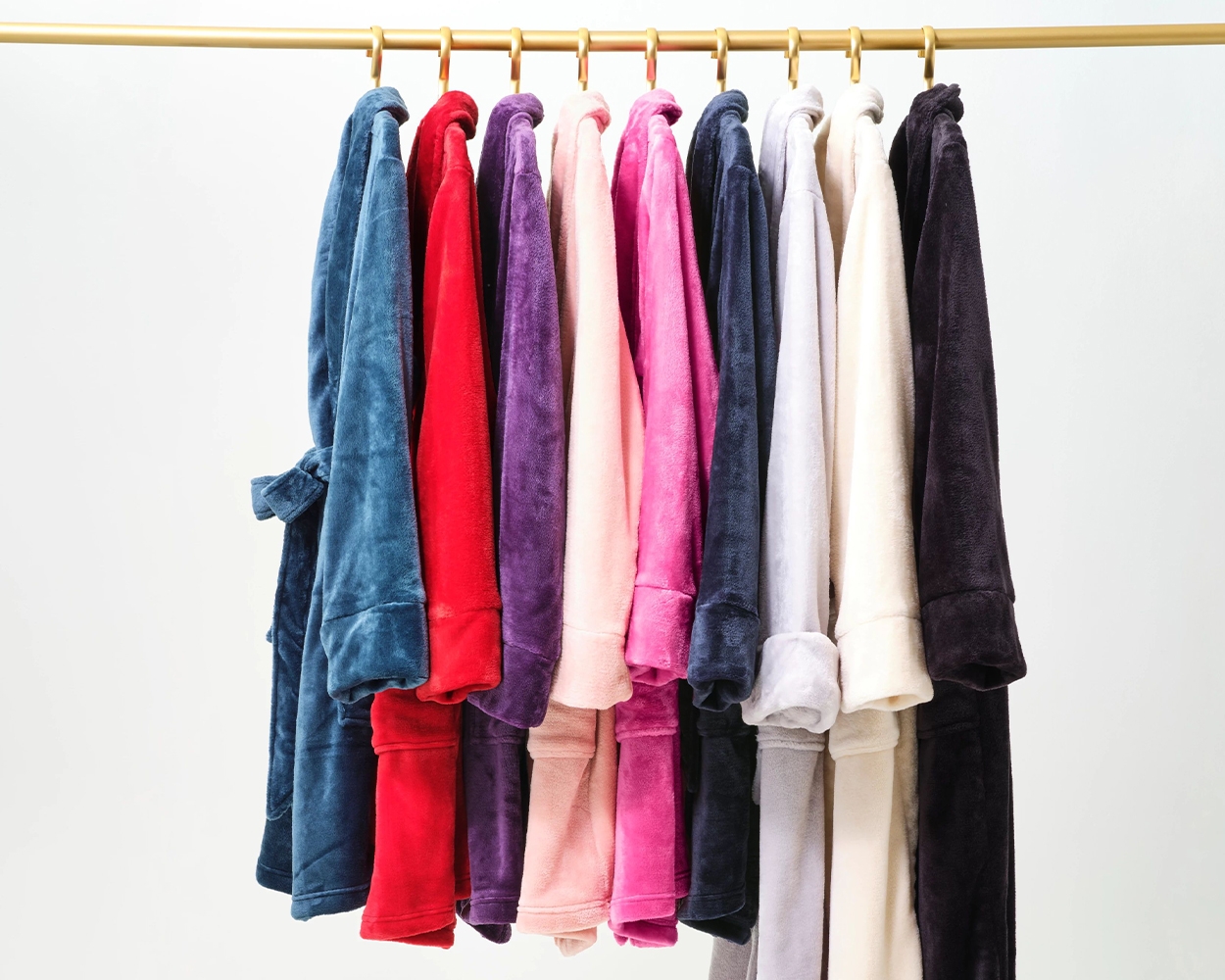 Are you on the hunt for warm women's pajamas? The warmest pajamas will be crafted from fabric designed to keep you toasty. Think flannel, fleece, and ribbed thermal fabrics. Choosing warm pajamas that are right for you all depends on your unique needs and the climate you live in.
What are the Softest Winter Pajamas?
If you're looking for soft and cozy pajamas that will outshine the rest, look for styles made of dreamy to-the-touch fabric. This can feel like brushed fleece, silk-like satin, smooth flannel, or even plush material that feels like your favorite blanket.
What are the Most Comfortable Winter Pajamas?
Comfort can look and feel different for everyone. Do you prefer styles you can comfortably wear around house guests, or is soft fabric most important? When defining what the most comfortable women's pajamas look like to you, keep everything from fabric and fit to changing weather and personal sleep needs in mind. Don't forget to order your Christmas pajamas for that perfect Christmas morning family photo!
Shop Soma® sleepwear in all of our feel-great fabrics to find everything you need to have a beautiful night's sleep.
UP NEXT: 6 REASONS TO LOVE OUR COOL NIGHTS® PAJAMAS